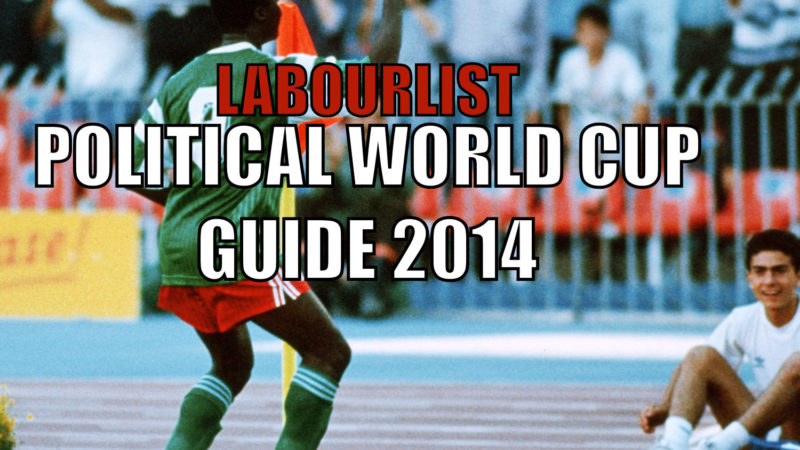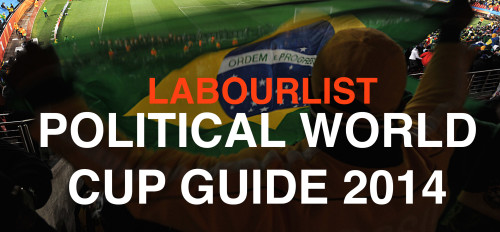 The biggest game in world football returns tonight. The World Cup Final. However cagey these affairs may have become in recent decades, it still has the capacity to introduce single moments that will become part of a collective global psyche. Hurst's shot bouncing off the underside of the bar. Baggio's penalty that went into orbit. De Jong's kung fu kick into Alonso's chest. Zidane's header. Zidane's headbutt. The Pele pass.
But what will always be remembered, above all else, is who wins.
For us on the left of the political spectrum, we can be comfortable of attaining the moral victory in whatever competition we enter. But devotees of my Political World Cup Guide (and there must be at least one of you) will know that success doesn't come that easily. Even those fighting the good fight have to win games.
How has it gone so far? As I've previously written, we started with 17 right wing teams and 15 left wing teams, but the balance of power has shifted in each round since, until we are left with only two: democratic left Argentina and democratic right Germany.
For an excellent concise round-up of events so far, the Sunday Politics this morning reviewed our Political World Cup Guide:
But let's go a little more in-depth. Which ideology is most successful? Which is the best to watch?
First of all, let me announce, conclusively, that democratic socialists have won the Political World Cup 2014. Of the 63 matches played so far, 27 have been won by countries with democratic left governments, while 22 were won by democratic right teams.
Put into a table, with three points for a win and one for a draw, the league would look like this:
1. Democratic left: 86 points
2. Democratic right: 71 points
3. Authoritarian right: 10 points
4. Semi-democratic left: 7 points
5. Authoritarian left: 4 points
6: Semi-democratic right: 0 points
Despite starting the tournament with fewer teams, the left have won overall, no matter what the result is tonight. Unsurprisingly however, the democratic right has produced the more exciting football: big wins for teams like Germany and Netherlands (not Holland) have produced a profligate 79 goals over the past month. Left wing democracies have scored a more austere 67. But before the 7-1 mauling hosts Brazil by Germany on Tuesday, the goal difference was much closer – 69 to 66.
The worst ideology, football-wise, is to be a semi-democratic conservative: the only representative here, Honduras, scored a single goal and notched up no points at all. Only slightly worse than England, then.
Those goals do not include penalty shoot-outs – and of the four so far, three have been left-right two have been won by the right, one by the right, and the other was a left v left battle.
The Final
If we are to extrapolate this data into a prediction for the Final tonight, Five Thirty Eight style, we can safely say that Argentina will win, but Germany will score more goals and then the two will draw on penalties.
Most football pundits (what do they know?) seem to reckon that Germany will lift the trophy, so if you do want to support them tonight, there are a few reasons why lefties can get behind the Nationalmannschaft.
For starters, Chancellor Angela Merkel may be centre-right, but she presides over a grand coalition that includes the German Social Democrats, and the Government seem to have a productive (if not exactly friendly) relationship with trade unions. Only ten days ago, a vote was passed in their parliament to introduce a minimum wage of €8.35 an hour. They are currently moving towards free education and Merkel ran last year's election with a promise to tackle rising rents. For a good analysis of the popularity of Merkel the centrist, read Calum Young's piece on Left Foot Forward last summer.
There are good reasons too, to withhold your support from Argentina. Reports today say that Argentina have signed a series of nuclear deals with Russia's right wing dictator Vladimir Putin – a man who supports the regimes in Syria and Iran when he's not busy invading democratic countries. Putin declared that he and Argentinian President Cristina Kirchner share "a very similar, very close view of international relations". Nice.
As for their teams, Argentina have been largely carried by the individual talent of superstar Lionel Messi, while Germany have shown more success by the strength of their common endeavour than they would have achieved alone. Messi had a tax evasion case against him dropped a few weeks ago, although his father is still under investigation for failure to pay £3.2 million in tax from Messi's image rights.
In conclusion, support who you like. I just hope that after all this, no one has come to incorrect conclusion that politics is somehow more important than football.
More from LabourList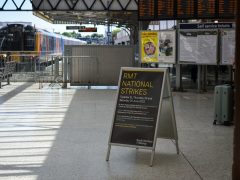 News
Labour metro mayors have argued that the cost-of-living crisis is "forcing" people into industrial disputes and that striking…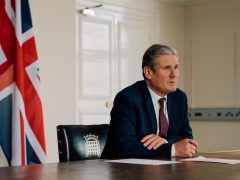 Comment
Below is the full text of the speech delivered by Labour leader Keir Starmer to the Centre for…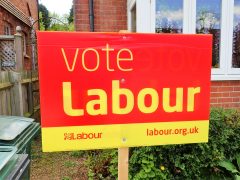 News
The process to select the next Labour parliamentary candidate for Exeter is underway. The constituency has been represented…