The start of the week saw Alistair Darling and Alex Salmond go head-to-head over the Scottish referendum for the second time. There's been general agreement that Darling won the first round clash but that this time, Salmond triumphed.
We asked LabourList readers what they thought about the debates – whether Better Together or Yes Scotland gained more from them. The figures aren't too promising for either campaign. Better Together just pipped Yes Scotland to the post with 32% to the yes campaign's 27%.
However, a similar number (33%) thought that the debates didn't benefit either campaign over the other and 8% were unsure. Although of course not all LabourList are not eligible to vote in the referendum, the split of these results suggest that with less than 3 weeks to go until the referendum there's still everything to play for.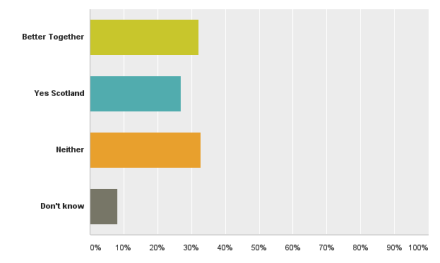 Last week, the NEC election results were announced. As Mark Ferguson noted, only one of the eight people selected lives outside of London and the South. Conor Pope argued that this is cause for concern because, he says, a lack of diversity will result in poor representation, no matter how hard those elected work. We wanted to know if LabourList readers agreed.
The answer was, for the most part, yes. A substantial majority (70%) of people said that they thought there was a London-centric bias in the Labour Party and that it was concerning. 19% agreed that there was a bias but said that they didn't think it was a problem. While a small minority (9%) said that they didn't think there is a bias within Labour towards the South and 2% weren't sure.
What these results seem to suggest is that the Labour Party needs to be doing more to encourage and include party members from across the country to get involved in internal party politics. Ultimately, this comes down to ensuring that people feel like they have a means by which to make their voice heard within the party.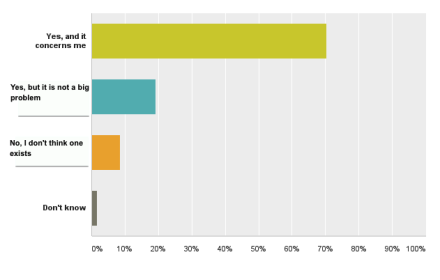 Austin Mitchell recently caused a stir within the Labour Party (and beyond) when he said that the party was undergoing a 'feminisation' due to All-Women Shortlists, which called for an end to after the general election. Understandably, Ma number of prominent Labour Party figures were outraged by what Mitchell said – Johanna Baxter responded saying Mitchell was ageist, sexist and the problem with British politics.
We wanted to know what LabourList readers thought. Most (60%) agreed with Baxter, and condemned Mitchell's comments outright. However, a sizeable number (24%) thought that Mitchell was right but had simply gone the wrong way about communicating his thoughts. While 7% agreed with Mitchell and had no qualms about the way he launched his criticism and 9% were left unsure.
Given the number of people who said they agreed with Mitchell (31% when you combine those who agreed with him unequivocally and those who agreed with him but thought he should have explained himself in a different way) it's worth noting that despite the arguable rise of feminism in the mainstream, the gender balance in Parliament, and throughout the rest of British politics, is not doing so well.
The results of a study released yesterday showed that women are underrepresented at all levels in British politics and that Britain has dropped to 65th in a global league table of female representation – it was 33rd 15 years ago (still a damning position). This fall shows that we're not doing as well on gender as we'd like to think…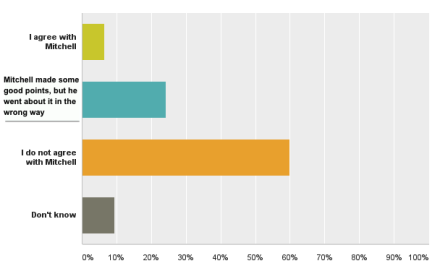 580 people voted in this week's survey. Thank you to everyone who took part.
Value our free and unique service?
LabourList has more readers than ever before - but we need your support. Our dedicated coverage of Labour's policies and personalities, internal debates, selections and elections relies on donations from our readers.
If you can support LabourList's unique and free service then please click here.