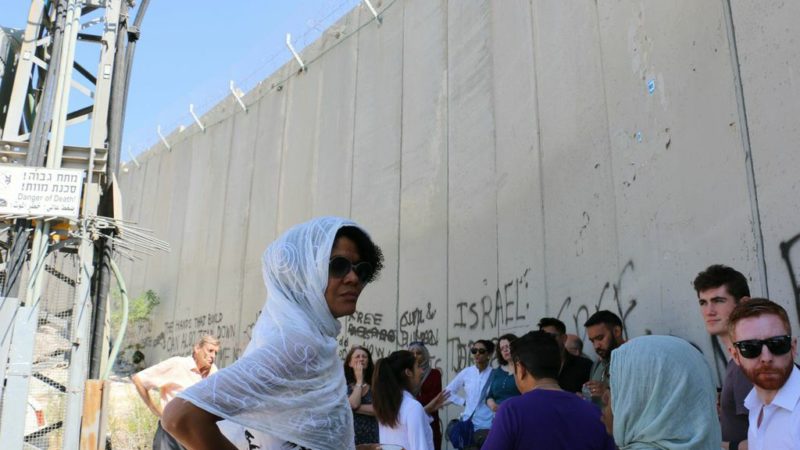 Three young boys raced round the corner as we left our guide, stopping so abruptly they fell into each other, tumbling, laughing to the ground. One, seeing me looking at them and correctly guessing I was a stranger in his land, nodded at the thick yellow line on the ground where he'd stopped.
"We can't cross that, only Jews can."
It was heart-breaking to hear a young child speak so matter-of-factly of such blatant discrimination. It did not help that I knew that he was wrong. I was about to cross the line and I am not Jewish. The truth is, it is only Palestinians that are not allowed to cross that line, both sides of which are in the West Bank.
I joined a twenty strong week long delegation from my constituency of Newcastle Central because, as for many in the Labour movement, the Israeli Occupation of Palestine has long tugged at my conscience.
However there are so many conflicting narratives around Israel and the West Bank, I felt that unless I had a much deeper understanding than we glean from the press and social media, I would not be a credible voice in so passionate, polarised and occasionally vitriolic a debate.
So I wanted to 'see for myself'. I had few if any expectations. I do not like to prejudge my journeys.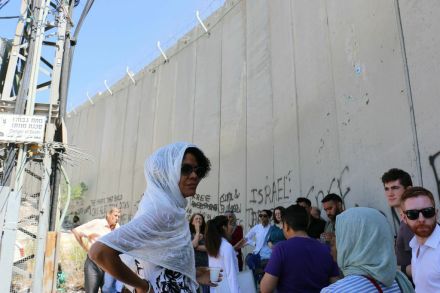 But I suppose I did expect to be seduced by the beauty of Jerusalem as so many have been, a city venerated by three great religions.
I was not. The historical testaments to that veneration can be seen – great churches, mosques, synagogues – but the devastating impact of today's divide left the city ugly in my eyes.
I don't think anything can prepare you for the harsh brutality of the separation wall snaking over hilltops and valleys through Palestine and Jerusalem itself.
On one side rubbish heaps, graffiti, half demolished buildings houses extended hurriedly and dangerously because the Israeli authorities will not let Palestinians build, plastic water butts everywhere because the Israeli authorities will not provide consistent water, unpaved roads, no street lighting, bullet scarred walls.
And on the other, lush, manicured lawns, flower displays, luxury housing and imposing statues.
The contrast is startlingly brutal. As are the stories of those who have try to pass from one side to the other for family, for work, for hospital treatment – not into Israel proper but simply within the Occupied Territories.
Our visit was as inspiring as the wall is oppressive. We saw refugee camps, local and international NGOs, house demolition sites, schools and settlements. We met with Fatah politicians including PLO negotiator Nabil Shaath and the inspirational first woman Mayor of Bethlehem, Vera Baboun who spoke of the irony of representing a city whose central message to the world is eternal peace but which is occupied.
With our Israeli sister parties, Meretz and Labor, we discussed the reality of the right wing political landscape in Israel as well as the devastating impact of Hamas's indiscriminate rockets firing on civilians. We talked of the impact of international criticism and the rise of anti-Semitism.
We witnessed the weekly non-violent demonstration against the Separation Wall in Bel'in where one member of our group was arrested and another hit by plastic bullets. The rest of us were merely tear-gassed.
Ultimately we returned with a sense of urgent hope. Despite the conflict being decades if not centuries old, the time for peace is now. As the Mayor of Hebron told us, peace cannot wait to the next generation.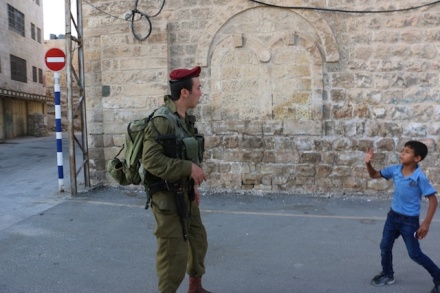 The Israeli politicians confirmed that Israeli youth are to the right of their elders, less willing to compromise, more willing to accept the brutal treatment of the Palestinian population.
Whilst the Israeli army of occupation continues to criminalise Palestinian youth imposing prison sentences of up to 20 years for throwing a stone. In the first six months of this year 96% of Palestinian child detainees had their hands tied, three-quarters experienced physical violence and 97% had no lawyer prior or during their interrogation.
We also heard how the Jordan Valley could potentially add 100,000 jobs to the Palestinian economy, but settlements and the occupation stand in the way. Whist Israeli settlers can get goods to European market in six hours, Palestinian produce can take two days just to leave the West Bank with many roads barred to them to 'protect' settlers and long queues at checkpoints. Continued settlement development, such as the recently announced annexation of land around Bethlehem, will make Palestinian economic development even more difficult.
So the next generation may be in a worst position to make peace than this one. Whilst David Cameron would not even call Israel's incursion into the Gaza Strip 'disproportionate', the Labour Party was clear that the deaths of over 2000 mainly civilians would not foster peace or security for either side. In Government, Labour introduced clearer labelling to ensure that settlement goods could be identified. The previous British Consul-General, Jerusalem Palestine Sir Vincent Fean recently argued strongly that Britain is uniquely placed to give a lead in support of Palestinian statehood and Israeli security.
In his speech during the debate on airstrikes against IS, Ed Miliband emphasised Labour traditions of internationalism – our sense of solidarity extends beyond our national borders. As Douglas Alexander has said, the Government's approach to the crisis "has been characterised by incoherence, misjudgement and division". Now is the time to use our solidarity to deliver a strong, coherent message for peace and Palestinian statehood and against the brutal divides that limit so many lives.
Chi Onwurah is MP for Newcastle Central and Shadow Cabinet Office Minister
More from LabourList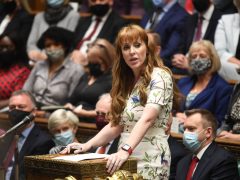 News
Angela Rayner has accused Boris Johnson of "watering down the rules to save his own skin" after the…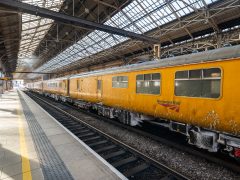 Comment
Network Rail, the company that owns and maintains Britain's railway infrastructure, has recently announced plans to cut over…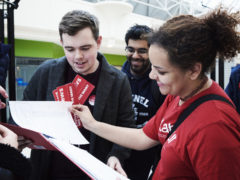 Daily email
The leadership of Momentum, elected in 2020 on the 'Forward Momentum' platform, promised change. And they now reckon they've…