I'm a scouser and we tend to have long memories. One of my childhood memories is of a whip-round on a picket line at my Dad's factory to pay for me to go to London to see if Moorfields eye hospital could save my sight. Sadly the answer was no, but the surplus money was used to buy a Braille machine which I still use for drafting attacks on the opposition.
I also share the deep disgust felt by Merseysiders at the Sun's coverage of the Hillsborough disaster. I recall sitting in a pub that terrible night with a few hundred people watching TV in silence, until Margaret Thatcher appeared on the screen and the place erupted in collective anger. Whilst this was both a frightening moment, it was so symbolic of the destruction and isolation felt in the 1980's by Tory rule.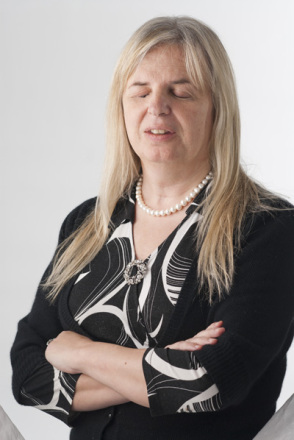 Part of my reason for my recent decision to go public about the fact that I'm a woman with a transsexual background was that I didn't want to be "outed" by a powerful newspaper with the inevitable negative spin they would put on it. The papers I had in mind were the Mail and the Sun.
So you can imagine the satisfaction I got from writing a column which was headlined "Emily Brothers: We want respect … stop the mocking."
Their introduction said "the equality campaigner says why the vulnerable should always be treated with respect." They printed precisely what I wrote:
"Many disabled people live in fear of hate crime, bullying and harassment. I know because I am blind and I have been a campaigner for the rights of the disabled all my adult life.
"Several years ago I went through the transitioning process to align physical characteristics with how I have always felt – living legally as a woman. The climate of fear particularly affects disabled people and those changing their gender identity."
I explained that I'd come out because "I didn't want the decision forced on me – to have a powerful newspaper hold me up to ridicule and notoriety." Surprisingly, this was printed in one of those powerful newspapers.
The column had come about because of widespread protests at comments by Sun columnist Rod Liddle, asking how a blind person like me could know their sexual identity. I retorted with my own question – whether he knows he's a man when he turns the light out:
"I believe strongly in press freedom. But it should hold the rich and powerful to account, not mock and undermine the vulnerable and disadvantaged. So I support transgender campaigners who are calling for a more effective press code to ensure papers show respect and sensitivity."
Liddle has apologised, but wrongly suggests it was a joke. The Sun hasn't apologised or accepted responsibility. Offering me the column suggests contrition and we can only hope they heed the calls to show respect to vulnerable people – although a paper that supports Cameron's bedroom tax with all it's awful consequences for disabled people and the poisonous changes that have put the NHS at the mercy of the market has a long way to go.
The NHS is at the centre of my campaign in Sutton and Cheam. The sitting Lib Dem MP, Paul Burstow is a man with his prints all over the Health and Social Care Act 2012. As health minister in the Coalition government he piloted it through the Commons before being sacked by Nick Clegg. Andy Burnham's promise to abolish the internal market – for which Paul Burstow is a strong advocate – is a big plus for Labour's campaign.
I "came out" because in an age when trust in politics is low, I need to be honest with the people of Sutton and Cheam about my background. I am passionate about getting fairness and justice for ordinary people – and my own experience shows what a positive difference that a Labour government makes.
That's true of Labour's great creation the NHS – I spent a lot of time in hospital in my early years as doctors and nurses tried to save my sight
It is also true of all the legislation on equality and diversity, including the Gender Recognition Act (2004). The gender transition journey is both a medical one and a legal one. Aligning physical characteristics to one's sense of identity enabled many of us to be affirmed in the right gender. The possibility of having those changes reflected in official documents such as birth certificates and social security records has made a real difference. For those who go through gender reassignment it ends our sense of incongruence, bringing inner contentment and happiness.
The last Labour government delivered for me and for people like me. Now Britain desperately needs Change and that can only happen with a Labour Government – to deal with the many injustices that still exist, especially the unfair Coalition cuts that have hit women, disabled people and other disadvantaged people hard.
Value our free and unique service?
LabourList has more readers than ever before - but we need your support. Our dedicated coverage of Labour's policies and personalities, internal debates, selections and elections relies on donations from our readers.
If you can support LabourList's unique and free service then please click here.