The race to be Scottish Labour leader is all over now bar the shouting. On Saturday either Jim Murphy or Neil Findlay will be announced as Johann Lamont's successor. Sarah Boyack is standing too, and has battled through to the end of the contest, but no-one seems to seriously believe that she can win. So Murphy or Findlay will have the responsibility for leading the party into (another) turbulent period. Both have markedly different visions in terms of policy and platform. Most pundits have called the race for Murphy (and considering his lead in the one section of the race we have the clearest idea about – the parliamentarians section  – that's unsurprising), but this has been a genuine contest, and we'll only know for sure when the announcement is made at 10am on Saturday.
But this weekend doesn't mark the end of Scottish Labour's struggles – far from it – whoever is elected leader will need to grapple with something far more difficult than the party's electoral college.
They'll need to wake the Scottish Labour Party up to the scale of the challenge that faces them, and work out how to tackle a Nationalist Party that is beating its collective chest as if it had won, not lost, on September 18th. The problem is that Scottish Labour is at least as deluded in victory as the SNP is in defeat.
A few weeks ago I went to watch the Scottish Labour leadership hustings in Glasgow. What took place was a spirited and thoughtful debate on a range of issues. All of the candidates engaged properly with the questions from the floor, and took part in a comradely fashion.
Yet it was a debate that appeared to be taking place on a different planet – or at least, a different city – to the troubling reality/existential crisis that the Scottish Labour Party faces.
Only 24 hours earlier, the SNP had managed to pack out The Hydro in Glasgow with 12,000 screaming supporters (many of them new members) all of whom had paid to be there. That's more SNP members paying to go to a single event at a single venue on a single day than Scottish Labour has in total. It's almost impossible to overstate the enthusiasm gap between Labour activists and their SNP opponents. The Nationalists seem full of zeal to achieve their goal of splitting the country, whilst Labour activists appear largely resigned, tired and fearful. Oh – and there are about eight times as many SNP members as Labour members now.
So how many Labour members turned up to see the three candidates vying to be their new leader in Scotland's biggest city? I was hopeful when I saw the venue announced. I presumed we'd be in a large auditotium. I was wrong. Instead, I was ushered towards a small side room with just over 100 seats. This was it. Yesterday the SNP had 12,000 people pay to attend a rally, and a day later in the same city, Labour could barely scrape triple figures, for free, for a leadership contest. That's 1/120th of the size of the SNP gathering, or 1/40th of the size of the Radical Independence Coalition event held the same weekend.
Taken aback by how small the gathering was, I at least assumed the questions from those who attended would reflect the huge organisational chasm that now exists between the two parties. On the contrary, there was even a low-level amount of backslapping over getting this paltry number to attend. Questions rained down on all matter of issues – universalism, unemployment, jobs and homes. All are important. In normal circumstances I'd be pleased to hear them being addressed. But these are not normal circumstances. It took real restraint not to shout "OH MY GOD, WHY AREN'T WE TALKING ABOUT THE HUGE EXISTENTIAL CRISIS ELEPHANT IN THE ROOM" – until, at last, someone finally alluded to the disparity about an hour into the hustings. Scottish Labour is staring into the abyss, but it seems that many have their eyes closed.
To be fair to the candidates, it's clear that they all understand the severity and precarity of the party's position – but the new leader will need to take swift and drastic action to halt the decline. As one senior Scottish Labour figure said to me recently "however bad you think it is, it's worse".
They're not wrong – and that's the scale of the challenge the next Scottish Labour leader will face.
More from LabourList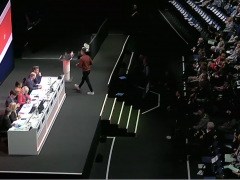 News
Labour conference has passed motions expressing support for an increase in funding for defence manufacturing to ensure that…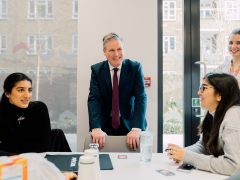 Comment
What a difference year makes. After delivering an optimistic vision for green, technology led growth in Brighton last…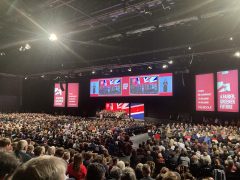 Comment
The mood in the conference hall this afternoon was markedly different to 2021, when Keir Starmer was heckled…