"Hunger stalks this country." That was the conclusion of the all-party parliamentary inquiry into hunger in the UK, published just before Christmas and launched in the House of Commons by the Archbishop of Canterbury. Thanks to the inquiry report, the truth, so long denied by Ministers, must now be faced: a lot of people in Britain are going hungry.
The Secretary of State for Work and Pensions, Iain Duncan Smith, has a different take on the effect of his polices. In a testy response over the Christmas break to Labour criticism, he said his welfare reforms had delivered great improvements. But by far the most dramatic impact of his management of the DWP so far has been to force a million people in the past year to resort to a foodbank – a twenty fold increase since the election. It's another example of Tory Welfare waste.
Ministers have repeatedly refused to face up to this consequence of their policies. In December 2013, the Observer reported that, responding to a request for a meeting from the Chairman of the Trussell Trust, the main foodbank organisation, "Duncan Smith has dismissed claims that the problems are linked to welfare reforms and attacked the charity for publicity-seeking".
What really gets under the skin of Mr Duncan Smith is that the Trussell Trust refuses to shut up about how many people are turning up to its food banks.  He regards the publication of essential, factual data as politically subversive.  Every one of the 400 plus foodbanks supported by the Trussell Trust is based at a local church.  The National Audit Office, in its first report on universal credit, told us in 2013 that he has established a "good news culture" in his Department: telling the truth about the bad effects of his policies is simply not allowed.
Having failed to get a meeting with the Secretary of State, the Trussell Trust wrote to the welfare reform Minister, Lord Freud. He wrote back on 30 August 2013 saying he was "unable to take up your offer of a meeting".  Ministers did not want to know what was going on.  In a recent bizarre move, responsibility for policy on food banks – which could reasonably be placed with DWP, or with the food department, DEFRA – has been shifted instead to the Cabinet Office.  That way, Ministers whose policies have caused the explosion in food bank demand don't have to answer questions about them.
Faced at last with the truth from the all-party inquiry—comprising two Conservative and two Labour MPs, a Conservative peer and a bishop—Mr Duncan Smith finally made a concession.  He said he would do "much more" to raise awareness of interim payments—the emergency support facility which very few of those facing destitution are told about.  It is at least a recognition that the system is not working as it should be.  But that was exactly what the Trussell Trust wanted to draw attention to well over a year ago, when Ministers refused to meet. 
The biggest single reason so many people are going to food banks is delays in benefit payments. Whenever that is raised, Ministers deny the problem, claiming that delays in benefit payments have fallen. The all-party inquiry has shed some welcome light on the matter. They revealed that "the Department for Work and Pensions does not currently collect information on the length of time taken for benefit payments to be made."  So the ministerial denials have had no basis!
Another big problem is with the unfair use of benefit sanctions – people losing their benefit for a period up to three years because of an alleged failure to comply with jobcentre rules. Benefit sanctions have soared since the election.  Dr David Webster of Glasgow University estimates that about £50 million was being withheld in benefit sanctions per year before the election, and that this has now rocketed to £300 million per year. 
An earlier major report, commissioned jointly by Child Poverty Action Group, the Church of England, the Trussell Trust and Oxfam, and published in November, reported that between 19% and 28% of food bank visits are the result of benefit sanctions. In a parliamentary debate before Christmas, it wasn't just Labour MPs reporting enormous pressure being placed on jobcentre advisers to sanction people, whether or not those sanctions are justified.
Jobcentres strike many jobseekers today as focused on trying to catch them out, so their benefits can be sanctioned, rather than helping them into work. Part of the problem is that Jobcentres are evaluated on the basis of how many people leave benefit each month. So – if elected in May – Labour will scrap the implicit current targets for advisers to hand out sanctions and, in a major overhaul of employment support around our introduction of a Compulsory Job Guarantee, we will evaluate jobcentres on the basis of how many people enter lasting jobs.
The all-party inquiry is right. We need a strategy to end hunger. A big part of that will involve putting right terrible problems in the DWP. But it will take a change of Government to do it.
More from LabourList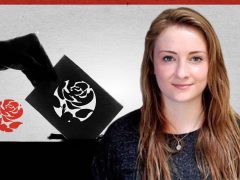 Comment
As a junior doctor working in the coronavirus wards, I have witnessed socialism in action. Health workers of…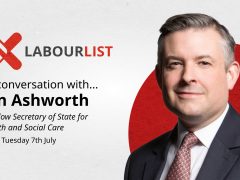 Video
Join us at 6pm on Tuesday, July 7th, for our latest "In conversation with…" online event featuring LabourList…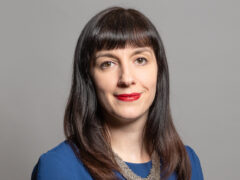 Comment
Rishi Sunak will deliver a statement in the Commons on Wednesday. Detail has been thin on the ground,…