Tory MPs, including members of the Cabinet, are up in arms over the negative focus of the party's election campaign. According to today's Independent, Conservatives are turning on Cameron's election strategist Lynton Crosby, who is considered an expert at effective fear tactics. Many appear to be concerned that Cameron's unwillingness to takes part in TV debates (at Crosby's advice) shows he is not willing to make a positive case for a Tory victory.
The paper has quotes from three anonymous Tory ministers – including two at Cabinet level – attacking the party's offer to voters. With the party so far unable to open up a poll lead, one predicted that "panic will set in if there isn't significant movement early in April" and that "people are worried we have got the whole tone wrong". Another opined that they do not have "a more positive campaign", while a third said:
"We need to appeal to people's hearts as well as their heads. That is the bit that is missing at the moment. There needs to be inspiration."
However, other front pages will make tough reading for those concerned, as The Times splash with news of the Tories' latest negative move: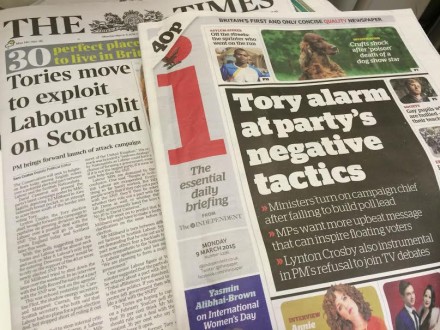 "The Conservatives will seek to heighten fears today among English voters over a potential electoral pact between Labour and the Scottish Nationalists.
David Cameron will present the party's latest campaign poster by M&C Saatchi, depicting Ed Miliband in Alex Salmond's breast pocket, in an attempt to scare those south of the border into voting Tory.
Lynton Crosby, the Tory election chief, brought forward the campaign to capitalise on growing divisions within Labour over a possible deal with the SNP."
Those already concerned that the campaign is too attack focussed are unlikely to be impressed with the new poster. When tweeting it out this morning, David Cameron made little attempt to hide the fact it was a scare tactic, describing the "frightening prospect we must avoid":
More from LabourList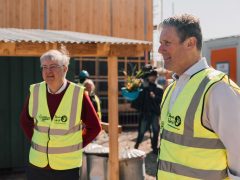 News
Mark Drakeford, the Labour leader in Wales and First Minister of Wales, has called for internal party reforms…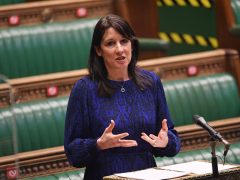 Comment
Rachel Reeves put some more flesh on the bones of Labour's economic policies today. While we await Boris…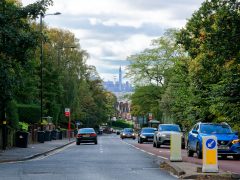 News
Labour has set out its selection timetable for choosing a new parliamentary candidate in Birmingham Erdington ahead of…