Now that Parliament has shut down for the election, we wanted to reflect on the past 5 years.
This government has been characterised by cuts to public services and ruthless attacks on the poorest in society (not least through unfair measures like the Bedroom Tax). But, that's not all this half decade will be remember for; while the Labour leadership team is so often in the spotlight, it's often forgotten how hard others MPs are working.
That's why we wanted to know which backbench Labour MPs our readers thought had stood out.
There was one clear winner: Dennis Skinner.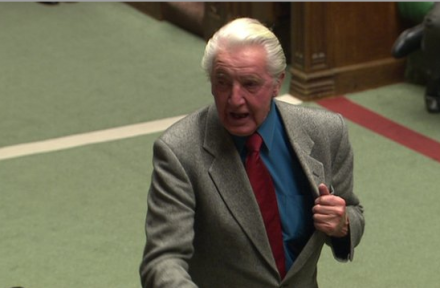 Otherwise known as the Beast of Bolsover, Skinner has been an MP for 45 years. Easily recognised by his signature tweed jacket and red tie, 'the Beast of Bolsover' has earned nickname he earned for refusing to uphold procedures in Parliament he sees as archaic.
He's also well known for his sense of humour – in 2013, he told Parliament, "Half the Tories opposite are crooks" and when he was told to retract the statement, he replied "Ok, half the Tories opposite aren't crooks".
One of his most memorable interventions of late came in the form of his yearly Queen's Speech heckle, which you can watch here.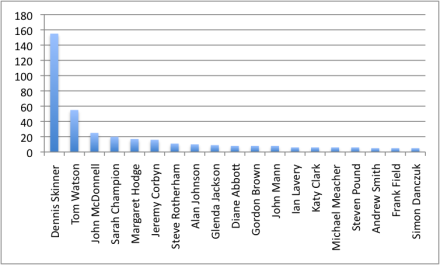 But Skinner isn't the only MP who received a sizeable number of votes. One hundred votes behind Skinner is Tom Watson. The MP for West Bromwich East played a significant role in exposing the phone hacking scandal, which has gained him much acclaim – and the popular backbencher is an energetic figure on both the campaigning and fundraiser circuits where he's a big draw for activists.
In third place is left-wing MP, John McDonnell. The MP for Hayes and Harlington, like Skinner, isn't afraid to speak out for what he believes in, even when it goes against the party line. He recently said thathe, along with other 30 or 40 other MPs, would force Labour to change course on austerity if the party win in May. McDonnell is also Chair of the Socialist Campaign Group, the Labour Representation Committee, and the "Public Services Not Private Profit Group."
In fourth place is Sarah Champion, who is only 5 votes behind McDonnell. Champion was only elected to the Commons in 2012 but has clearly already made an impression on our readers. The MP for Rotherham has led a cross-party inquiry into the Sexual Offences Act 2003, which is intended to deal with in  child sexual exploitation and trafficking within the UK. She also featured in in the documentary, Inside the Commons: Lifting the Lid earlier this year.
In fifth place is Margaret Hodge. Although she's been an MP since '94, Hodge is best known for being Chair of the Public Accounts Committee. In this role she's become known for her forthright and vigorous questioning.
These 5 MPs aren't the only ones who got a noteworthy number of votes. Below is a table which shows any MP who got 5 votes or more. Among them are relative newcomers like Ian Lavery; well-known MPs who previously held cabinet positions, like Alan Johnson, Margaret Hodge and former PM Gordon Brown; and veteran campaigners, such as Jeremy Corbyn and Diane Abbott.
Take a look at the table here:
| | |
| --- | --- |
| Dennis Skinner | 155 |
| Tom Watson | 55 |
| John McDonnell | 25 |
| Sarah Champion | 20 |
| Margaret Hodge | 17 |
| Jeremy Corbyn | 16 |
| Steve Rotherham | 11 |
| Alan Johnson | 10 |
| Glenda Jackson | 9 |
| Diane Abbott | 8 |
| Gordon Brown | 8 |
| John Mann | 8 |
| Ian Lavery | 6 |
| Katy Clark | 6 |
| Michael Meacher | 6 |
| Steven Pound | 6 |
| Andrew Smith | 5 |
| Frank Field | 5 |
| Simon Danczuk | 5 |
More from LabourList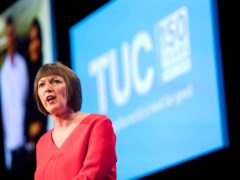 News
Frances O'Grady has a demanded a "pandemic-scale intervention" to combat spiralling energy bills after analysis revealed that annual…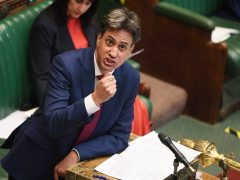 News
Ed Miliband has declared that the Conservatives are "missing in action" on the cost-of-living crisis after the government…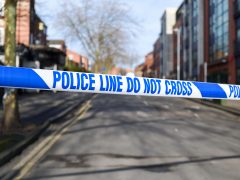 Comment
90 minutes into what felt like the millionth Tory leadership hustings, Rishi Sunak uttered the words of a…