Today's Telegraph front page runs with the story that Jeremy Corbyn has "snubbed" the Queen today by refusing to meet her. Corbyn could today have joined the Privy Council, which would mean him being given the title Right Honourable, but has had to miss the opportunity, citing "prior engagements".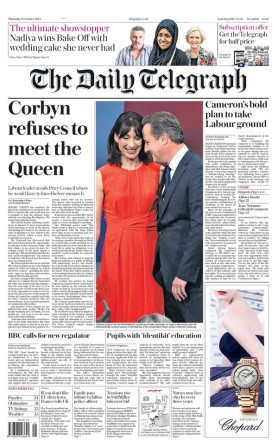 The story has been widely picked up by other media outlets, and used as further proof that the Labour leader is unpatriotic. This follows Corbyn standing in silence for the national anthem during a service for Battle of Britain veterans last month, and his hesitation when asked whether he was prepared to kneel before the Queen for his Privy Council induction. In a speech yesterday, David Cameron described Corbyn as "Britain-hating".
However, Corbyn has been leader for less than a month – and there was a three-month period when Cameron became leader of the Tories before he took the oath and joined the Privy Council, where he will have missed two meetings with the Queen. As Lord President of the Privy Council, Nick Clegg missed four consecutive meetings with the Queen while he was Deputy Prime Minister of the country. Both have largely escaped accusations of hating Britain.
While Corbyn's prior engagements have not been confirmed, it is believed he may have taken a short holiday. This would also explain why he did not personally respond to Cameron's speech yesterday – reactions came from Jon Ashworth and a Corbyn spokesperson.
Having campaigned in he General Election, and then for the leadership through the summer (in which he made over 100 public appearances), Corbyn's first weeks as leader were dominated by appointing a new frontbench and preparing for his first conference as leader. With the media focus finally on the Conservatives during their conference week, and with Parliament returning next week, this will have been his first and only chance to get away.
More from LabourList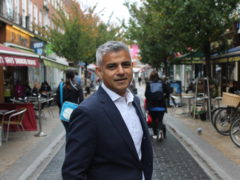 News
Labour incumbent Sadiq Khan has been re-elected in the London mayoral contest that turned out to be significantly…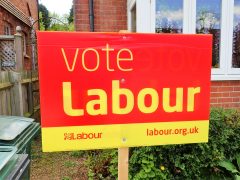 News
The Conservatives have made gains in the North of England in the May 6th elections but suffered defeats…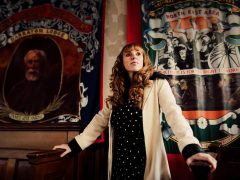 News
Deputy leader Angela Rayner has been sacked as Labour Party chair and national campaign coordinator in a bold move by…