As it is near Christmas you will forgive me if I don't contribute any carefully thought through prose but instead let some numbers do the talking, and let you draw your own conclusions.
A prominent Corbyn supporter challenged me on Twitter last week about why I wasn't doing the weekly update on council by-election results I used to post on my own blog until the General Election. The simple answer is that the excellent
@britainelects Twitter feed
now publishes them in real time as the results come out on each
Thursday 

night
.
By way of a round-up, here is the change in Labour vote share in all the council by-elections where there has been a Labour candidate (and there was a Labour candidate in the previous contest so a comparison can be made) since the leadership election in September, grouped by region so you can see the regional pattern.
Eastern (average Labour vote share -4.1%)
Bourn (S Cambridgeshire) +2.9%
Chedgrave & Thurton (S Norfolk) -0.8%
Dedham & Langham (Colchester) -4.3%
Hertford Heath (E Herts) -1.7%
Huntingdon East (Huntingdonshire) -2.9%
Loddon (Norfolk) -8.4%
Rochford (Rochford) -16.0%
Shenfield (Brentwood) -0.7%
S Smallborough (Norfolk) -5.3%
Watton (Norfolk) -5.4%
West (Peterborough) -2.1%
East Midlands (average -5.6%)
Belvoir (S Kesteven) -15.1%
Coal Ashton (NE Derbyshire) -6.7%
Derwent Valley (Derbyshire) -1.7%
Holmewood & Heath (NE Derbyshire) +7.4%
Market Logan (Harborough) -5.9%
Selston (Ashfield) -4.3%
Selston (Nottinghamshire) -13.2%
London (average +3.3%)
Boleyn (Newham) +7.9%
Bryanston & Dorset Square (Westminster) -5.7%
Kensal Green (Brent) -1.0%
Noel Park (Haringey) +7.5%
S Camberwell (Southwark) +9.0%
Woodside (Haringey) +1.9%
North
Howgate (Cumbria) -12.9%
North West (average -5.5%)
Carnforth & Millhead (Lancaster) -2.8%
Clifton (Fylde) -9.6%
Congleton E (E Cheshire) +1.4%
Euxton N (Chorley) +12.7%
Risedale (Barrow in Furness) -24.1%
Tottington (Bury) -10.5%
Scotland (average -8.8%)
Ayr E (S Ayrshire) -7.3%
Blantyre (S Lanarkshire) -7.0%
Dunfermline N (Fife) -18.7%
George Street/Harbour (Aberdeen) -5.4%
Glenrothes W & Kinglassie -9.3%
Irvine Valley (E Ayrshire) -6.3%
Linlithgow (W Lothian) +2.6%
Midstocket/Rosemount (Aberdeen) -11.2%
Rosyth (Fife) -13.2%
Stirling E (Stirling) -11.9%
South East (average -2.6%)
Ash South & Tongham (Guildford) -5.1%
Aylesford Green (Ashford) -32.4%
Chandler's Ford (Hampshire) +1.9%
Epsom W (Surrey) +2.1%
Goldsworth E (Woking) -1.0%
Goldsworth W (Woking) +1.3%
Grimsbury & Castle (Cherwell) +5.9%
Northfield Brook (Oxford) +2.1%
Sandford & the Wittenhams (S Oxfordshire) -3.7%
Shepperton Town (Spelthorne) -4.8%
Sonning Common (S Oxfordshire) +4.7%
South West (average no change in Labour vote)
Clifton with Maidenway (Torbay) -9.0%
Kinson South (Bournemouth) +7.0%
Rodwell (Dorset) -7.3%
Salisbury St Edmund & Milford (Wiltshire) +5.6%
Totnes (South Hams) +3.7%
Wales (average +0.1%)
Bettws (Newport) +6.8%
Dewi (Gwynedd) -0.2%
Gogarth (Conwy) +1.4%
Kidwelly (Carmarthenshire) -10.6%
Ogmore Vale (Bridgend) +3.7%
Riverside (Cardiff) -0.8%
West Midlands (average -10.6%)
Belle Vue (Shropshire) -28.7%
Blakebrook & S Habberley -1.7%
Meole (Shropshire) -11.0%
Stourport-on-Severn (Worcs) -0.8%
Yorkshire & Humberside
Pontefract N (Wakefield) +0.1%
More from LabourList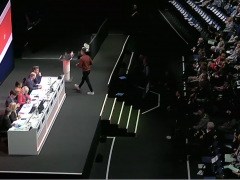 News
Labour conference has passed motions expressing support for an increase in funding for defence manufacturing to ensure that…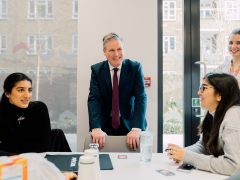 Comment
What a difference year makes. After delivering an optimistic vision for green, technology led growth in Brighton last…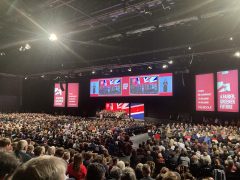 Comment
The mood in the conference hall this afternoon was markedly different to 2021, when Keir Starmer was heckled…