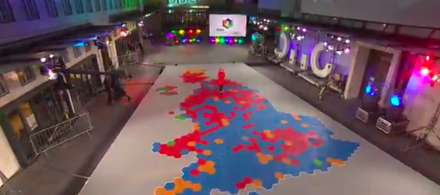 2016 may be a year of political surprises but one event is certain. In the autumn (and probably September just in time for the party conferences) the Boundary Commissions will be publishing their provisional recommendations for constituencies in the new style 600 seat House of Commons.
Much has been written since the newly elected Conservative Government carried out its 2010 election pledge to reduce the number of MPs from 650 to 600 ostensibly to reduce the cost of politics  (a desire that does not seen to extend to reducing the size of the House of Lords- 850 peers and rising). Sadly in terms of the actual operation of the Boundary Review much of what has been written so far has been ill informed.
Technically this is actually the deferred sixth periodic review of Parliamentary Boundary Reviews – the one that Labour and the Lib Dems stopped in 2013.  Also there are actually four Boundary Commissions – one each for England, Scotland, Wales and Northern Ireland.
Each Commission will draw up their provisional  recommendations on the basis of an agreed allocation of the 600 constituencies. Currently this distribution is as follows (although this may well be impacted by the level of voter registration):
England: 502 constituencies down from an existing 533
Northern Ireland: 16 constituencies down from an existing 18
Scotland: 52 constituencies down from an existing 59
Wales: 30 constituencies down from an existing 40
The Boundary Commissions previously confirmed that they would use the regions used for European Elections (ie. the nine English Regions) as the basis for the initial allocation of seats in England.
Looking at the previous schedule the likely timetable for the boundary review is as follows
March/April 2016 Announcement of new electoral quota  based on electoral register of December 2015 and distribution of 600 constituencies across UK.
September 2016 Publication of the provisional recommendations for the 600 new constituencies
October 2016 to January 2017 Consultation on provisional recommendations including local public inquiries likely between October-November 2016
November 2017 Revised proposals (8 week consultation period)
Summer 2018 Report submitted to Parliament for approval
Despite conspiracy theorists the four Commissions are all independent and have an admirable record for neutrality. But what is relevant is that the Government this time have considerably reduced their discretion in terms of responding to community concerns about the local relevance of the new constituencies.  They have insisted that no constituency can deviate by more than 5% from the electoral quota. There are a number of small exceptions mainly involving Islands – the Isle of Wight is guaranteed two constituencies regardless of the size of the electorate – but they are the exceptions. So to achieve the desired outcome the Electoral Commissions will have to ignore community ties ( and expect rather strangely shaped new constituencies crossing motorways and even rivers and mountains).  
In a political context the Commissions have generally used local government wards as the building blocks for the new constituencies. However they have acknowledged that in this review that may have to use polling districts to achieve the notional constituency quota size which will add to the sense of detachment from the normal political process. Whilst the focus so far is on the reduction of 50 seats it is likely that there will be significant ( and politically unpredictable)  changes to many more constituencies to ensure the electoral quota is met.
More controversially the government  have based the notional size of constituencies on the electoral registers from December 2015. As regular readers of LabourList will know, this register is based on the process of individual rather than household registration. Individual Registration has been introduced in the UK in the worst possible way with a reliance on cash strapped local council to oversee one of the biggest changes in voter registration in decades. Inevitably and especially in urban areas millions of eligible voters have not yet made the transition (via a cumbersome paper based process of verification) to individual registration. The Electoral Commission recommended that those on the register (upwards of one million) following the General Election in May 2015 should remain on the register until December 2016. The Government ignored that advice.
Whilst information on electoral registers nationally will not be published by the Electoral Commission until February early indications from major cities is not encouraging. The electoral register in Liverpool is down 14,000 from December 2014, Birmingham by 19,000 and Lewisham by 6,000 even when there is an actual increase in population in these areas.
The Commissions will hold between 2-5 Public Inquiries in each Nation/English Region. These inquiries are an opportunity for individuals (some well informed, some frankly bonkers),  local organisations including local councils and political parties to register their concerns about the Commissions' provisional recommendations. The range of concerns can be wide- ranging and tend to centre on the community identities of the new constituencies. Proposed names of a constituency can be surprisingly contentious (most notably when it was proposed to rename Salford 'Manchester Central'…)
The Boundary Commissions will publish their revised recommendations  in  November 2017 for a further period of consultation although in practice changes are more difficult at this stage. The final recommendations will be put before Parliament in the summer of 2018. This time the Conservatives have put a lot of effort in reassuring their own MPs that the outcome will be politically favourable to them both as party and individually. Even with a smallish majority they are reasonably confident of confirmation this time. It is only at this stage (autumn 2018) that re-organisation of constituencies and consequent selections of Parliamentary candidates can take place.
So if that's the process what about the politics of Parliamentary Boundary Reviews?
The main purpose of the Boundary Commissions is to create parliamentary constituencies that fit within 5% of the electoral quota – this will form the basis of the provisional recommendations. The main purpose of the political parties is to respond to these proposals with an alternative set of proposals that maximise their political opportunities at the 2020 general election. The battleground for this contest will be the local public inquiries that begin in Autumn 2016.
For the political parties to have any chance of success at the various local inquiries they have to present a coherent response which attracts a cross-section of community support and critically on this occasion keep to the 5% threshold in term of the proposed size of all the new constituencies..  Generally local inquires will cover a recognised area such as counties or sub regions such as South East London. They are a critical test of party discipline terms both in terms of the response of individual MPs and political parties at a national and local level. It comes as a surprise to some MPs but the amount of hard work and admiration they generate cuts no ice with the Inspectors at the Local Inquiry. David Alton produced thousands of letters from all over the country ( including a lot from convents) about his hard work and dedication – his constituency in Liverpool was still abolished.
Political parties will use previous voting patterns and socio-economic information on wards to build favourable constituencies. It's fair to say that predicting future electoral outcomes in new constituencies is not an exact science. One of the few success stories for Labour in the 1980's Boundary Review was the creation of Sherwood in Nottinghamshire – a constituency of predominately mining villages – it voted Conservative in the 1983 General Election. Conversely several of the new constituencies 'sacrificed'  by Labour in the 1994 Boundary Review to create more winnable seats elsewhere actually returned Labour MPs with large majorities in 1997.
In the run up to the 1983 General Election Labour adopted a completely antagonistic approach to the whole Boundary Review process ignoring any organised involvement in the local inquiries and launching an ill advised legal challenge to the recommendations of the Commissions. Needless to say it didn't work and the whole process of re-selection of Labour candidates descended into last minute chaos.
By the 1990's the lessons had been learnt and in the run up to the 1997 General Election there was a well organised national campaign ably led by David Gardner which ensured that Labour took full advantage of the opportunity to create as many marginal constituencies as possible. It was helped by iron discipline amongst party members, MPs and Labour Groups. There was an overwhelming desire to produce the best result for the party and local community which helped overcome the nervousness of some MPs who feared the loss of a notional majority. The only time it came under serious stress involved the destination of a Labour Club in South Yorkshire (which had more to do with the level of its financial reserves rather than its contribution to the Labour majority in either of the new constituencies!). Labour was also helped by the complete breakdown in party discipline amongst the Conservative Party with local associations openly arguing amongst themselves at public inquiries and MPs campaigning for the safest Conservative seat possible (the infamous 'Chicken Run')
This particular review is going to be a hard one for Labour. Firstly it is a redundancy process and fifty jobs are going to go.  Certainly for most Labour MPs it is the only job they have. And the employment prospects for those displaced are not great – just ask those who lost their seats in May. So it's emotional as well as political. As a party founded by Trades Unions hopefully some of those values will apply to how the wider party treats the PLP under threat of job losses.
Labour does have a organisational response to Boundary Reviews and one which currently aims to ensure as many existing MPs as possible have the opportunity to contest seats at the next election (although who knows how a new NEC may interpret this responsibility in the new kinder politics). Essentially where a new Constituency contains more than 40% of their existing constituency the MP is deemed to be the candidate for the new constituency. Even in this organised world problems do emerge when a MP's existing constituency is scattered across several proposed constituencies or more than one Labour MP can make a claim on a new constituency – almost certain in heartland areas such as Inner London and Greater Manchester. Where there is a contest the choice has generally being restricted to existing MPs.
This review combining a reduction of fifty seats, a rigid adherence to a 5% variation in constituency size and a flawed voter registration process make it a particular cruel form of musical chairs for many Labour MPs. Moreover it will be one that is played out in specific geographical areas. An example is the four London Boroughs of Camden, Islington, Hackney and Haringey which currently contains eight constituencies and eight Labour MPs. This area will almost certainly lose one constituency and possibly two due to low levels of registration. How eight will go down to six in that locality raises some interesting questions for Labour
Previous Boundary Reviews have been a success for Labour, despite the odds, because of a clear strategy and a sense of common endeavour for the interests of the party and future electoral success (and the occasional judicious offer of a peerage…). There is still time to create that same sense of shared endeavour across the party before the Autumn local inquiries but it requires a self discipline that is lacking at the moment.
Paul Wheeler writes on local politics and worked on the 1993-95 Parliamentary Boundary Review for the Labour Party.
Value our free and unique service?
LabourList has more readers than ever before - but we need your support. Our dedicated coverage of Labour's policies and personalities, internal debates, selections and elections relies on donations from our readers.
If you can support LabourList's unique and free service then please click here.