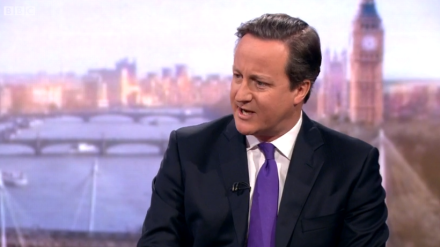 It seems quite an often occurrence to go to bed after seeing headlines about another family facing tragedy and casualty because of the bedroom tax. Suicide has, shamefully, become a normalised word in our welfare debates, and has become a regular companion alongside the words 'bedroom tax'. 'Bedroom tax' has literally been found in suicide notes. Story after story; eviction, homelessness, complete deprivation, death. This time, a grieving mum was found hanged after facing eviction due to the Bedroom Tax.
She had written a plea to David Cameron.
The facts are there. There is massive human cost for no marginal capital gain. Over 500,000 people have been hit, with deductions of £14 for one room and £22 for two. They have to meet the shortfall from their own wallets. And yet just 6% of people affected by bedroom tax have moved after being hit. And how could they? There are 180,000 tenants under-occupying two-bedroom houses, but only 85,000 smaller houses available. And the policy hasn't even performed its task: it had aimed to save £500m, it's estimated to have brought in just £360m. Pittance.
This is at a crucial time. And especially, this is a crucial time for disabled people. They are about to receive a huge reduction in their incomes due to Iain Duncan Smith's imminent and deep cuts to Employment and Support Allowance (cuts, of course, we must put all our willpower into opposing). Already devastating, you can only imagine the catastrophe facing those also inflicted with the bedroom tax. This is a vital crossroad for thousands of families
It is also, despite widespread support for other welfare cuts, divisive among the British public. Originally enjoying majority support, the most recent poll found half the population opposing the bedroom tax with 49% against and 41% for. This is, partially, a good example of Labour capitalising on a narrative and sticking to it. 'The bedroom tax' stuck in the national psyche, and it is now toxic. But it is simply toxic because the British people see it is unfair and cruel. It doesn't help the Conservative brand –still plagued with accusations of nastiness- in any way, shape or form, and they certainly don't need it for competence's sake.
So it is little surprise that it is starting to become toxic at the margins of the Conservative Party. A bit late, perhaps, but it is finally becoming an issue in the ranks of the party and on its benches. Supported emphatically only by a few, there is dissent among some backbenchers, and even Cameron's speech writer. There has been since June of last year, after MPs had heard it come up on the doorstep. If Cameron will not listen to the pleas of a mother, perhaps he will hear out his own MPs.
This is a key opportunity for opposition parties, with Labour's leadership, to reach across the aisle and extent a hand to those MPs who finally acknowledge the human suffering that comes with this most awful legislation, and demand a graceful U-turn. And a U-Turn, like the tax credits, that we can offer our support for without party politics being a consideration. It is a palatable issue, one of those rare issues that, as an opposition facing the begrudging fact of a Conservative majority, we may be able to shape.
These are rare windows wherein we can make huge differences from the opposition benches. Usually the Conservatives are unmovable, their benches filled to the brim with conformity. But not this time.
That is why we should call on Labour and other opposition parties to devote an Opposition Day to the repeal of the Bedroom Tax. Labour has tried this before, both in 2013 and again in 2014, but the tide may be turning, and we must continue to fight this front harder than we've ever fought before. The concern in Tory ranks raised immediately after the election, in June, has yet to be capitalised on. And if that doesn't work, we can and must maintain a sustained cross-party Campaign to End the Bedroom Tax.
Go out to the streets with it, leaflet, lobby individual MPs and rally activists. There are some issues that simply cannot wait till 2020, that cannot simply be a manifesto pledge. This is one of them.
Value our free and unique service?
LabourList has more readers than ever before - but we need your support. Our dedicated coverage of Labour's policies and personalities, internal debates, selections and elections relies on donations from our readers.
If you can support LabourList's unique and free service then please click here.