This is the full text of the speech Fabian General Secretary Andrew Harrop gave at the New year conference this morning.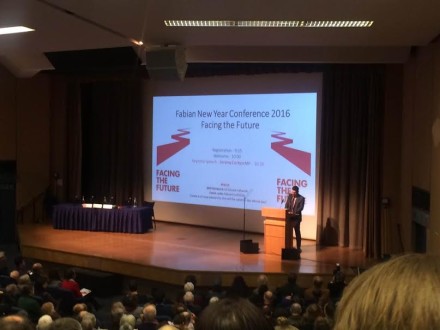 Welcome to the 2016 Fabian New Year conference – the largest Fabian event since we've been keeping records. I'm delighted to open our doors to so many of you here today – old friends, and new – and I really hope you enjoy the event.
A year is an eternity in politics. When I welcomed Ed Miliband to this stage 12 months ago, who could have predicted the line-up we'd bring you today – or what would have happened to the British left in the meantime.
A spirited election campaign. But a devastating loss.
Without pause, a leadership contest like none we've known.
Jeremy's extraordinary election.
And then a stunned 4 months where Labour's conversation has been about itself not the country.
I hope today marks a turning point, when the left starts to look to the future and forge a new vision of radical government for the 2020s. That's why we've called this conference 'Facing the Future'.
Labour can be radical, credible and electable if it sets out to understand the fast-changing Britain it will seek to govern from 2020.
And if all wings of the party set aside old certainties and develop new answers.
If we bring together the best of all the Labour traditions to challenge our analysis, assumptions and solutions.
Over the last year the Fabians have helped the left start on that journey. In our reports, we set the agenda on ending food poverty and reforming taxation. On democratic public services. On the horrifying prospects for poverty and inequality in the 2020s.
And in our latest project we're asking fundamental questions about the future of social security, because the choices we make about tax and spend are as important for reducing inequality as how we regulate markets – which I know Jeremy will speak on today.
The Fabian Society is in good health. As well as our research we have a thriving volunteer led programme. We're financially stable. And like the party we've seen our membership surge – now well over 7,000 members, the largest number in our 130 year history.
The Fabians are about radical possibilities for the future. But it's also our job to hold up a mirror to the left. And for the team at Petty France the most discomforting part of our programme, has been our recent electoral research.
We published the 2015 verdict, of candidates in the English key seats – and showed how Labour's defeat turned on a collapse in the support of older people.
Worse, we revealed the mountain Labour has to climb to win in 2020. Winning back over 100 marginal seats and 40 per cent of the vote.
I wrote on Labour List this week, that you can complete any journey by taking small steps in the right direction.
And while the end-point of outright victory feels distant today, in 2016 Labour can start on its journey – at the vital elections this May, in every corner of the country. By re-earning the confidence and trust of our current and recent supporters.
We can elect Sadiq Khan, London mayor – and Carwyn Jones, first minister. We can win new council seats. And we can start the slow process of rebuilding trust and connections in Scotland.
But to do that 2016 must be the year when we look outward to the 9 million people who placed their trust in Labour at the last election – not inward on ourselves.
We must be a listening party that takes as much account of what our voters say to us on the doorstep, as our own passionate beliefs.
It must be a year of fundamental policy debate and practical hard-headed campaigning – for Labour and for Stronger in Europe.
To help us make that happen today we have a fantastic line up of speakers – politicians, experts, commentators – and above all, Labour's new leader Jeremy Corbyn.
This is the third time I've welcomed Jeremy to a Fabian platform.
Last summer we hosted his first appearance at a leadership hustings. He went down a storm – and from that moment it was clear he could win
Before that, in 2011, Jeremy was the dissenting voice on a Fabian debate on the Libya bombing. He was proved more right than his opponents that day – and he may well be on Syria too.
But we must not forget that standing aside is not always cost-free – and that in the past Labour governments have done good through intervention, from Korea to Kosovo.
On this third outing, I'm delighted that Jeremy will turn to domestic policy – to hold this blinkered, polarising government to account.
Today he will speak about inequality – the defining obsession of Fabians for 100 years.
And I know from reading the press that Labour members in all their diversity will be able to get behind the challenge he will lay down.
Uniting as a party, behind its leader.
Value our free and unique service?
LabourList has more readers than ever before - but we need your support. Our dedicated coverage of Labour's policies and personalities, internal debates, selections and elections relies on donations from our readers.
If you can support LabourList's unique and free service then please click here.