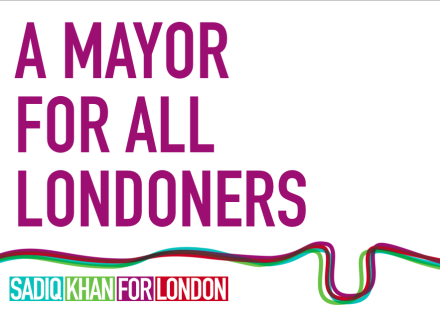 London is at a crossroads – and, in just 10 short weeks, Londoners will go to the polls to decide the future of our great city.
There is a huge amount at stake in this election – Londoners are being priced out of their own city by the Tory housing crisis and the rising cost of commuting, While the next generation are missing out on the opportunities and helping hand that London gave to me and my family. If we don't act now, it really could be too late.
Make no mistake – this election is on a knife-edge. New data released yesterday shows that 93,244 Londoners have been taken off the electoral register by the Tories – and denied their say over London's future.
Zac Goldsmith is throwing a fortune at this election and the Tories will vastly outspend our campaign. And they have hired Lynton Crosby's firm to run the Tory campaign – we've already seen the divisive, dog-whistling tactics that will only get worse over the next 10 weeks.
But with your help, we can win this election. Turnout will be crucial, the Tories are hoping Labour supporters will stay at home on May 5, but we need to let them know how important this election is. To do this we need to speak to over 400 000 voters in the next ten weeks on the phone or on the doorstep – it's a big challenge and we need activists from across London to help.
Today I am unveiling  – in Labour List- our Party's strapline for this election: A Mayor for all Londoners. It embodies my values and vision for the future of our city.
I want to build a city in which people from all backgrounds live side by side, regardless of their income, ethnicity, religion or job, where families can afford to stay in the communities they call home and where  grandparents can live near their children and grandchildren.
It will be a London in which everyone can afford to have a roof over their head and to get to work – and in which housing and transport are no longer the sources of stress and worry they are today.
It will be a London where every single Londoner has the opportunities to fulfil their potential. Where a kid growing up on a council estate has the chance to succeed – providing they put in the work. And it will be powered by an economy that continues to grow and create jobs and opportunities and which is more productive – where entrepreneurs have the support and the freedom to start a business and succeed.
But I want all Londoners to share in our city's success. We can do this by ending in-work poverty, which is a scar on our city, And by transforming the parts of London that still suffer from ingrained unemployment and poverty. I want all Londoners to be healthier – breathing air that doesn't kill them and with a health service that is better co-ordinated across the city, and which always puts patients first.
In short, I want London to be better for all Londoners – and I will be a Mayor for all Londoners.
I will be working my socks off for every minute of every day of the next 10 weeks. I'll be visiting every corner of our city – from Croydon to Hackney and from Havering to Hillingdon – persuading our friends and neighbours that we need a Mayor of London. And with your help, I am convinced that we can win for Londoners. I'll see you on the campaign trail.
Value our free and unique service?
LabourList has more readers than ever before - but we need your support. Our dedicated coverage of Labour's policies and personalities, internal debates, selections and elections relies on donations from our readers.
If you can support LabourList's unique and free service then please click here.