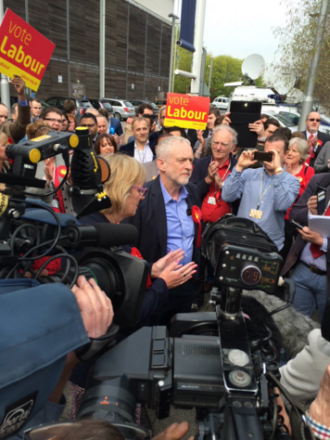 Do you have a spring in your step today or simply a sprain in your ankle?
After weeks of campaigning around Britain, Labour activists will this weekend slump into the bars or on to the sofa as MPs battle to put their seal on the identity of the real winners and losers from Super Thursday.
Jeremy Corbyn defied expectations in English council elections but Labour suffered another dire defeat in Scotland and found its grip on power in Wales slightly loosened.
Of course, Sadiq Khan will win in London, as many of us had hoped and suspected for months. Outside the capital, however, it is hard to avoid the conclusion it has been a bad night for Labour.
But first, the good news. Khan is well on his way to taking control of City Hall. He ran an upbeat and resilient campaign in the face of some appalling dog-whistle attacks on his race and religion. Political tweets are rarely memorable but he put it brilliantly when he wrote: "Hey @ZacGoldsmith. There's no need to keep pointing at me & shouting 'he's a Muslim'. I put it on my own leaflets."
Khan was fortunate he was up against a weak Tory candidate but he and his team put in a convincing mix of policy, practical politics and good humour as well as a seemingly endless stream of announcements to demonstrate he possessed the hunger for the mayoralty that Goldsmith evidently lacked.
Now comes the contest for who in Labour can claim validation from Sadiq's victory.
Supporters of Corbyn will claim the "new politics" is popular in London and that regaining control of an economic powerhouse shows voters are learning to like and trust the Labour leader. His critics, however, will say that Khan ran a campaign based on distancing himself from Corbyn and championing the business community in manner that sounded distinctly "moderate". Either way, London should be a Labour city.
Elsewhere, the picture is as clear as mud. Despite a difficult campaign, hindered by the anti-Semitism row and Ken Livingstone's strange and insatiable desire to discuss Hitler, Labour held on to a series of key southern seats such as Crawley, Southampton, Norwich and Hastings, as well Liverpool, Birmingham, Newcastle and Sunderland. The more eye-bulging forecasts of losing 150 or 170 council seats proved unfounded.
The sigh of relief comes tempered, however, by the loss of Dudley council and the six per cent fall in Labour's share of the vote compared to to its 2012 result. The slump into third place in Scotland was sad and unsurprising. It was symptomatic of a lengthy decline that pre-dates Corbyn but his team will be disappointed the party failed to capitalise on its anti-austerity message in a land where opposition to David Cameron's Conservatives is fierce.
In Wales, Carwyn Jones fought a good campaign despite something of a UKIP surge – which included Assembly seats for two ex-Tory MPs: the eccentric Mark Reckless and the corrupt Neil Hamilton. Labour will continue in office, which is no mean feat after having held power for some 17 years.
So where does this leave Corbyn? Hardly threatened, hardly bolstered, I would say.
Several Labour MPs were quick out of the blocks to question him this morning. These were not personal attacks, thankfully, and they are not likely to have much of an impact. The opposition to Corbyn from within the PLP has already been priced in.
Corbyn's supporters had argued that any advance on Labour's 2015 performance, when we finished seven percentage points behind the TOries, would represent progress. When Jon Trickett made this case on LabourList last month it prompted deep frustration among some backbenchers – but the campaign co-ordinator has got his wish. As he says in another piece today, "Labour has now closed that 7 point gap and achieved a one point lead across the country in yesterday's elections. That means that in the first national test of Jeremy Corbyn's Labour, we have beaten the Tories".
Whatever you think about Corbyn, he is not going anywhere (other than, perhaps, to see his new mayor in London's City Hall). And don't expect this to change suddenly in the aftermath of the EU referendum on June 23. If there wasn't the appetite to remove him among the membership before this week, then it will not be there after this week either.
Corbyn is staying put but Labour is not yet on the path to Downing Street. For that to change we need to learn how to make gains in southern England as well as devise an answer to how we tackle the threat of UKIP in the north of England and the SNP in Scotland.
We can leave those near-existential questions for another day. These days pollsters have lost their lustre so I'll leave the last word to the bookmakers. Ladbrokes say "Corbyn looks safer, for now".
Value our free and unique service?
LabourList has more readers than ever before - but we need your support. Our dedicated coverage of Labour's policies and personalities, internal debates, selections and elections relies on donations from our readers.
If you can support LabourList's unique and free service then please click here.