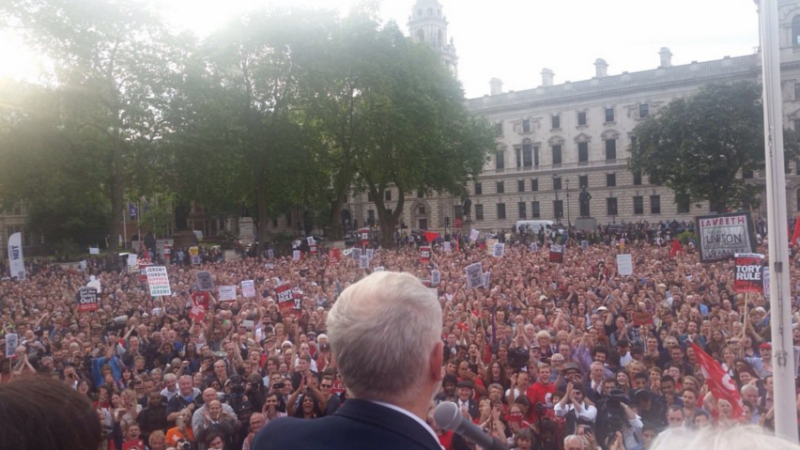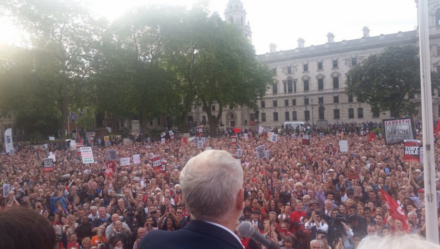 Jeremy Corbyn tonight called on thousands of demonstrators to "stay united for the world we want to live in" at Momentum's #KeepCorbyn rally.
The Labour leader appeared before an angry but crowd of supporters who had gathered at a snap demonstration. The rally was organised by Momentum and was designed to mobilise Corbyn's wide support from the membership after more than 30 shadow frontbenchers resigned in 48 hours.
In an impassioned speech to his supporters, Corbyn outlined his vision for Labour, saying economic inequality was the cornerstone of social problems. He ranged across housing, health, generational inequality, the environment and mental illness to demand a Labour party that brought about the "politics of justice".
Unlike other speakers at the event, the Labour leader did not discuss at length the internal conflicts of the party, instead focusing on the issues he has championed since becoming leader.
"When we contested the leadership election last year, it was on an economic question," Corbyn said.
"I want to see a Government that does house people, that does protect the environment, that does protect the most vulnerable and does reach out across society.
"Don't let the media divide us. Don't let those who wish us ill divide us. Stay united for the world we want to live in!"
The crowd chanted "Corbyn in – Tories out", and, later, "Corbyn in – Blairites out" before the Labour leader appeared before them. Many from the crowd shouted "bullies" and "deselect them" when MPs opposing Corbyn were mentioned.
Corbynite loyalists MPs John McDonnell, Diane Abbott, Angela Rayner, Dennis Skinner and Richard Burgon addressed the crowd, which the Momentum speaker said was 10,000 based on police estimates.
They were joined by trade unionists Jennie Formby and Matt Wrack as well as economic writer Paul Mason and Momentum activists Caroline Hill and Shelly Asquith.
McDonnell drew raucous applause when he said:"Let me say this to you: we are not going anywhere.
"We stand in solidarity together and will make sure Jeremy Corbyn stays leader of the Labour party. We will not allow the democracy of our movement to be subverted by a handful of MPs."
Labour MPs will vote on a motion of no confidence against the Labour leader tomorrow. The ballot is not binding. The only mechanism that can remove a Labour leader from office is an official challenge, which requires nominations from 20 per cent of MPs and MEPs, or his or her resignation.
More from LabourList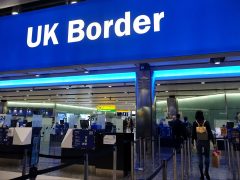 Columnist
Does Labour think that immigration to Britain should be lower? The party found the question hard to answer…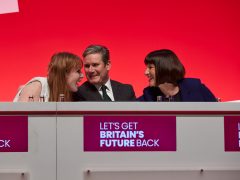 Columnist
The crisis in public services is visible to every British citizen. Waiting lists, crumbling buildings, exhausted staff. All…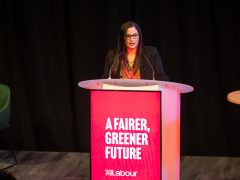 News
"If an election was called tomorrow, as a member of the national executive committee, I feel confident that…