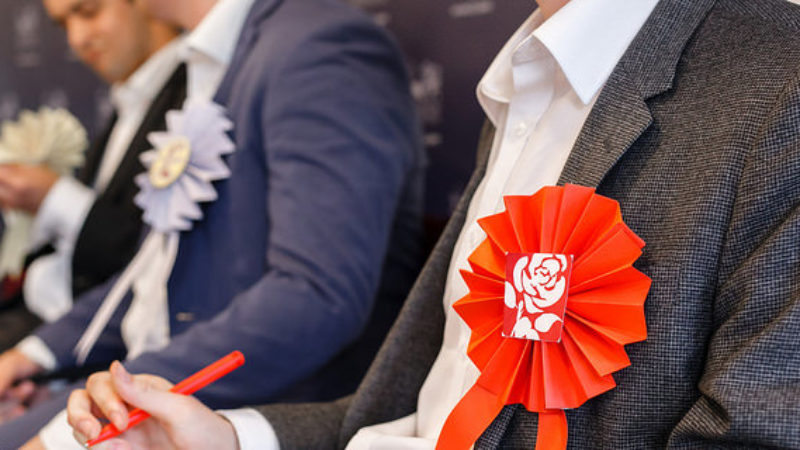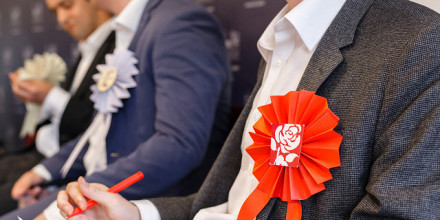 Over 240 Labour councillors have signed an open letter giving their continued backing to Jeremy Corbyn's leadership and slammed the moves against him as "indulgent" and "self-defeating".
This is the latest sign of a grassroots backlash against MPs' attempts to get rid of Corbyn as leader, following a large rally outside Parliament on Monday night, and a NewsNight survey of 50 Constituency Labour Party (CLP) chairs that found 90 per cent were still behind him.
The 246 councillors say they are "dismayed" with the MPs' vote on the leadership, and call on the party to unite behind Corbyn and "turn[…] fire on the real enemy, the Tory Party".
You can read the full letter below:
We are a group of Labour Party councillors who are dismayed by the attempt by some within the Parliamentary Labour Party to oust our democratically elected leader, Jeremy Corbyn. Many of us were elected in May, where in spite of predictions of an electoral meltdown, we won our seats. Voters who had previously felt abandoned by the Labour Party returned to vote for us, returned as members, and returned as campaigners.
It would be utterly self-defeating for the people we represent if now, less than a year after Jeremy was elected on the single biggest mandate of any previous leader, he was to be forced from office. It is our view that the behaviour of some members of the Parliamentary Labour Party is totally self-indulgent and at odds with what the communities we represent need. We will risk losing all those new members and enthusiastic campaigners who joined us because Jeremy offered a vision of hope for the future.
Our enemy is not Jeremy Corbyn – it is the Tory party and their plans to use the EU referendum as a fig leaf to inflict further cuts to the councils we represent.
We hope that those MPs who have embarked on this indulgent course of action will reflect on their behaviour and turn their fire on the real enemy, the Tory Party.
Signed by:
Councillor Peter Chowney, (Leader) Hastings

Councillor Dawn Poole, Hastings

Councillor Warren Davies, Hastings

Councillor Judy Rogers, Hastings

Councillor Nigel Sinden, Hastings

Councillor Alan Napier, (Deputy Leader) Durham

Councillor John Gardner, (Deputy Leader) Stevenage

Councillor Tony Randerson, (Deputy Leader) Scarborough

Councillor Gerald Dennett, Scarborough

Councillor Andy Kay, (Deputy Leader) Blackburn

Councillor Dave Harling, Blackburn

Councillor Sam Tarry, Barking and Dagenham

Councillor John White, Barking and Dagenham

Councillor Philip Waker, Barking and Dagenham

Councillor Cathie McEwing, Southampton

Councillor Laura Pidcock, Northumberland

Councillor Mike Rowley, Oxford

Councillor Dan Iley-Williamson, Oxford

Councillor Sajjad Malik, Oxford

Councillor Nigel Ball, Doncaster

Councillor Dave Shaw, Doncaster

Councillor Charlie Hogarth, Doncaster

Councillor Neil Gethin, Doncaster Central

Councillor James Broach, Hatfield West

Councillor Matthew Brown, Preston

Councillor Jonathan Saksena, Preston

Councillor Yakub Patel, Preston

Councillor John Browne, Preston

Councillor Robert Boswell, Preston

Councillor Lynne Wallace, Preston

Councillor Phil Crowe, Preston

Councillor Roy Leeming, Preston

Councillor Lauren Cassidy, Halton

Councillor Geoffrey Logan, Halton

Councillor Kath Loftus, Halton

Councillor Chris Loftus, Halton

Councillor Geoff Zygadllo, Halton

Councillor Dave Cargill,  Halton

Councillor Ellen Cargill, Halton

Councillor Harry Howard, Halton

Councillor Terry Doherty, Nuneaton and Bedworth

Councillor Danny Aldington, Nuneaton and Bedworth

Councillor Sam Margrave, Nuneaton and Bedworth

Councillor Geoffrey Ellis, Lincolnshire

Councillor Tim Mickleburgh, North East Lincolnshire

Councillor Waida Forman, Harlow

Councillor Gladys Hobson, South Tyneside

Councillor Michael Lilley, Colchester

Councillor David Stockdale, Newcastle-upon-Tyne

Councillor Sue Pearson, Newcastle-upon-Tyne

Councillor Nigel Todd, Newcastle-upon-Tyne

Councillor Habib Rahman, Newcastle-upon-Tyne

Councillor Mick Bowman, Newcastle-upon-Tyne

Councillor Ruth Wright, Newcastle-under-Lyme

Councillor Amanda King, Warrington

Councillor Diane Donaldson, Birmingham

Councillor Mohammed Aikhlaq, Birmingham

Councillor Shabrana Hussain, Birmingham

Councillor Habibur Rehman, Birmingham

Councillor Majid Mahmood, Birmingham

Councillor Steve Booton, Birmingham

Councillor Sharon Thompson, Birmingham

Councillor John Williams, Rotherham

Councillor David Sheppard, Rotherham

Councillor Richard Price, Rotherham

Councillor Wendy Cooksey, Rotherham

Councillor John Williams, Rotherham

Councillor Richard Price, Rotherham

Councillor Charlie Stewart, Stockport

Councillor Chris Murphy, Stockport

Councillor Lorraine Beavers, Lancaster

Councillor Margaret Pattison, Lancaster

Councillor Pat Healy, Kensington & Chelsea

Councillor Emma Dent Coad, Kensington & Chelsea

Councillor Nathan Morrison, Aberdeen

Councillor Bob Piper, West Brom

Councillor Susan Press, Calderdale

Councillor Dave Young, Calderdale

Councillor Ali Miles, Calderdale

Councillor Steve Sweeney, Calderdale

Councillor Jenny Lynn, Calderdale

Councillor Joanne Bennett, Trafford

Councillor Richard Alderson Bell, Sunderland

Councillor Paul Stewart, Sunderland

Councillor Iain Kay, Sunderland

Councillor Barbara McClennan, Sunderland

Councillor Joshua Brandwood, Morecambe

Councillor Tim Brown, Ashfield

Councillor Amanda Brown, Ashfield

Councillor Lachlan Morrison, Ashfield

Councillor Dean Collins, Derbyshire

Councillor Claire Darke, Wolverhampton

Councillor Wynn Davies, Greenwich

Councillor Lisa-Marie Derbyshire, Chesterfield

Councillor Christine Ludlow, Chesterfield

Councillor Julie Young, Chesterfield

Councillor Keith Brown, Chesterfield

Councillor Gareth Eales, Northampton

Councillor Terrie Eales, Northampton

Councillor John McGhee, Northamptonshire

Councillor Elise Elliston, Corby

Councillor Javaid Akhtar, Corby

Councillor Pamela Fitzpatrick, Harrow

Councillor Andy Hannan, Devon

Councillor Claudia Hector, Brent

Councillor Rita Conneely, Brent

Councillor Zafar Islam, Dudley

Councillor Rosalind Jackson, East Lindsey

Councillor Iris Johnston, Thanet

Councillor Joyce Korczak Fields, Hull

Councillor Peter Clark, Hull

Councillor Clive Lloyd, Swansea

Councillor Sybil Crouch, Swansea

Councillor Bob Clay, Swansea

Councillor Nick Davies, Swansea

Councillor Mary McGarry, Cardiff

Councillor Darren Williams, Cardiff

Councillor Dan De'Ath, Cardiff

Councillor Sue Lent, (Deputy Leader) Cardiff

Councillor Keith Jones, Cardiff

Councillor Ramesh Patel, Cardiff

Councillor Annie McMahon, Rossendale

Councillor Pat Merrick, Cheshire West and Chester

Councillor Peter Rooney, Cheshire West and Chester

Councillor Gillian Watson, Cheshire West and Chester

Councillor Angela Moohan, West Lothian

Councillor Frank Toner, West Lothian

Councillor David Dodds, West Lothian

Councillor Gordon Munro, Edinburgh

Councillor Brian Murphy, Highland

Councillor Ashley Pearce, Reading

Councillor Paul Woodward, Reading

Councillor Paul Penlington, Denbighshire

Councillor Jason McLellan, Denbighshire

Councillor Andy Platt, Stoke-on-Trent

Councillor Ruth Rosenau, Stoke-on-Trent

Councillor Shaun Pender, Stoke-on-Trent

Councillor Margot Russell, Midlothian

Councillor Cathy Scott, Kirklees

Councillor Brian Taylor, Darwen

Councillor Sylvia Tempest, Hartlepool

Councillor Lesley Hamilton, Hartlepool

Councillor Kieran Thorpe, Welwyn Hatfield

Councillor John Fitzpatrick, Welwyn Hatfield

Councillor Armand Watts, Monmouthshire

Councillor Claudia Webbe, Islington

Councillor Asima Shaikh, Islington

Councillor Mick O'Sullivan, Islington

Councillor Gary Heather, Islington

Councillor Osh Gantly, Islington

Councillor Ausegul Erdogan, Islington

Councillor Raphael Andrews, Islington

Councillor Jenny Kay, Islington

Councillor Jean-Roger Kaseki, Islington

Councillor Kate Osborne, North Tyneside

Councillor Cath Davis, North Tyneside

Councillor Lesley Spillard, North Tyneside

Councillor Pamela Brooks, North Tyneside

Councillor Gary Madden, North Tyneside

Councillor Sam Mullin, Renfrewshire

Councillor Tom Kirton, Chepstow

Councillor Dale Rooke, Chepstow

Councillor John Rennie, Chepstow

Councillor Bob Littlewood, Redbridge

Councillor Aziz Choudhury, Redbridge

Councillor Bert Jones, Redbridge

Councillor Paul Merry, Redbridge

Councillor Mohammad Ahmed, Redbridge

Councillor Shakil Ahmad, Redbridge

Councillor Mushtaq Ahmed, Redbridge

Councillor Barbara White, Redbridge

Councillor Muhammad Javed, Redbridge

Councillor Zulfiqar Hussain, Redbridge

Councillor Trevor Webb, East Sussex

Councillor Kim Forward, East Sussex

Councillor Phil Scott, East Sussex

Councillor Sue Whitaker, Norfolk

Councillor Gary Mcguiness, King's Lynn and West Norfolk

Councillor Sandra Buck, King's Lynn and West Norfolk

Councillor Isidoros Diakides, Haringey

Councillor Mark Blake, Haringey

Councillor Steve Trow, Sandwell

Councillor Richard Marshall, Sandwell

Councillor John Edwards, Sandwell

Councillor Thomas Gardiner, Camden

Councillor Maryam Eslamdoust, Camden

Councillor Douglas Beattie, Camden

Councillor Sue Vincent, Camden

Councillor Roger Robinson, Camden

Councillor Lorna Russell, Camden

Councillor Kate Hannan, Exeter

Councillor Graham Munn, Tunbridge Wells

Councillor Joe Cullinane, Kilwinning

Councillor Jane Avis, Croydon

 Councillor Joe Murphy, Salford

Councillor Hugo Malik, Norwich

Councillor Karen Davis, Norwich

Councillor Martin Peek, Norwich

Councillor Sally Button, Norwich

Councillor Keith Driver,  Norwich

Councillor Emma Corlett, Norwich

Councillor David Fullman, Norwich

Councillor Vaughan Thomas, Norwich

Councillor Julie Brociek-Coulton, Norwich

Councillor Mike Sands, Norwich City and Norfolk County

Councillor Vivian Thomas, Norwich City and Norfolk County

Councillor Rachel Mullen, Gateshead

Councillor Theresa Byrne, Ealing

Councillor Patrick Cogan, Ealing

Councillor Naomi Fearon, Fleetwood

Councillor Neil Baldwin, Redcar and Cleveland

Councillor Margaret Isherwood, Wakefield

Councillor John Garvani, Horsforth Town

Councillor Deirdre Foley, North Nottinghamshire

Councillor Mike Pringle, Nottinghamshire

Councillor Alice Grice, Nottinghamshire

Councillor John Wilkinson, Nottinghamshire

Councillor Steve Battlemuch, Nottingham

Councillor David Fagan, North Lanarkshire

Councillor Robert Frost, Barnsley

Councillor John McGhee, East Ayrshire

Councillor Neil McGhee, East Ayrshire

Councillor Tracy Grant, Ipswich

Councillor Katherine Chibah, Enfield

Councillor Damian Bailey, Cheshire East

Councillor Suzanne Brookfield, Cheshire East

Councillor Brian Roberts, Cheshire East

Councillor Gary Johnston, Caerphilly

Councillor Kevin Ritchie, Leeds

Councillor John Paschoud, Lewisham

Councillor Luke Sorba, Lewisham

Councillor Barry Buitekant, Hackney

Councillor Alan McGuckin, Cumbria

Councillor Raymond Riley, Hemsworth

Councillor Gerry Lyons, Waltham Forest

Councillor Gareth Philips, Bridgend

Councillor Lesley Brennan, Dundee

Councillor Brian Gordon, Dundee

Councillor Georgia Cruickshank, Dundee

Councillor Mark Rivers, Luton

Councillor Dreda Gordon, St Albans

Councillor Roma Mills, St Albans

Councillor Paul Gleeson, Boston

Councillor Maureen Bowen, Stafford

Councillor Mike Roberts, Rushmoor

Councillor Graham Thomas, Rhondda Cynon Taf
More from LabourList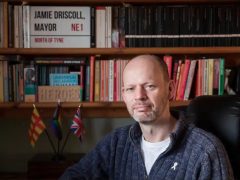 News
The Labour mayor for the North of Tyne region Jamie Driscoll has been blocked by the party from…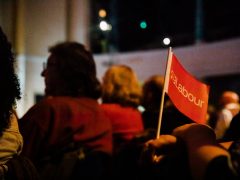 News
Labour Party membership has fallen by almost 170,000 since 2018 and by approximately 19,000 since last summer, despite…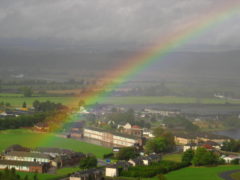 Daily email
Good morning. Parliamentary recess continues, so we thought we'd turn our attention to an under-reported story following the…