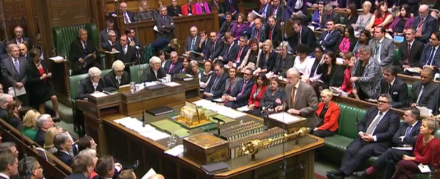 The outcome of the EU referendum will not be decided by a group of men and women making public affirmations that they agree with each other. But what else could they talk about than the risk of Brexit just eight days before the crunch poll? So Prime Minister's Questions floated along on an almost universal wave of consensus that an Out vote would prompt a new danger to the economy, hit staffing in the NHS and quite possibly lead to the end of the world. There was rather more choppy water outside, as a Vote Leave flotilla sailed past parliament, and urged voters to "take back control".
Back in the Chamber there was a Corbyn-led charge on how Brexit could harm the NHS, fuelled by the recent defection of Tory former GP Sarah Wollaston to the Remain campaign. The Labour leader repeated his decent line from yesterday that Tory Leave campaigners who vowed to free up cash for the health service were "wolves in sheep's clothing" – and, of course, David Cameron agreed, more or less.
The challenge for both Corbyn and Cameron, however, is to persuade undecided voters – and particularly those in Labour communities – that staying in the EU won't exacerbate their concerns over immigration. The loss of working class Labour voters to UKIP in general elections is well-known and, with some left-wing voters now flirting with Brexit, the main parties must quickly show they get this if they are to carry the day for the Remain camp.
Easier said than done, however. Corbyn rightly raised the problem of British-based employment agencies which only advertise abroad for domestic jobs but Cameron – either tired, disinterested or distracted by his own party's civil war – answered twice with underwhelming generalites about "a fair day's pay for a fair day's work" and some routine material about crackdowns on migrant benefits.
Asking about immigration represents a double-edged approach for Corbyn to take but he had little choice. Public concern about immigration, never low in recent years, was given a full airing yesterday when Tom Watson called on the EU to reconsider its rules on the free movement of labour and said the issue of uncontrolled migration was "coming up on the doorstep".
So Corbyn asked about the Migration Impact Fund set up under Gordon Brown in 2010 and demanded Cameron now admit its abolition was a mistake, as well as restoring it "as a matter of urgency". Corbyn was right to raise it – but he didn't get an answer and one wonders if highlighting this relatively unknown policy is enough to demonstrate to voters that Labour is listening to concerns on immigration.
He will, surely, return to the question of free movement in the coming days because it will not go away, not least because Andy Burnham, Corbyn's own home affairs spokesman, as well as former shadow Cabinet ministers Tristram Hunt and Ed Balls have issued similar calls to that of Watson in the last week.
As to where this leaves the Remain campaign with the public, and with the television stations who carry the message, it is hard to tell. Neither Corbyn nor Cameron had a zinger of a line for the afternoon news bulletins and it is easy to suspect that it is the surreal images of Nigel Farage's Fishing for Leave flotilla that will dominate today's coverage of the referendum debate.
Of course, the presence of the Brexit boat, and a rival In vessel, is not a problem for Corbyn. It simply underlines the extent to which Cameron is struggling to carry the Tory vote and his own MPs with him. But it does show that it is semi-comic stunts, and Tory splits, that can capture the public's attention.
Labour didn't have a stunt but it did have Mary Creagh on the backbenches in a bright red In campaign t-shirt. In a sign, perhaps that MPs have learnt from Caroline Lucas' previous sartorial clash with the Commons Speaker, Creagh's logo was part-concealed beneath a dark jacket.
Labour's EU campaign has also been half-concealed, critics will no doubt say. Ha-ha. But Corbyn, Watson and the gang have given numerous speeches for the Remain campaign in recent weeks. It is these interventions, outside the Commons, on core issues such as jobs, pay and immigration, that will persuade swing voters in the final days. And it won't be the sight of MPs from across all the main parties agreeing with each other – however unprecedented it is – that will secure a win for In.
More from LabourList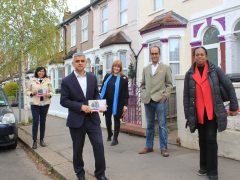 Comment
As Londoners head to the polls tomorrow, Labour sources are warning that they are "expecting a considerably worse…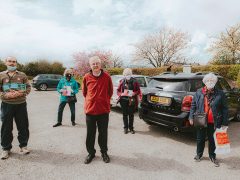 Comment
"People have realised that Wales can use its powers independently," Jane Hutt explains to me. "But Welsh Labour…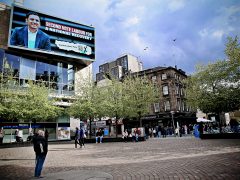 Comment
Labour started off in 1999 with every constituency seat in Glasgow, and it stayed that way until 2007,…