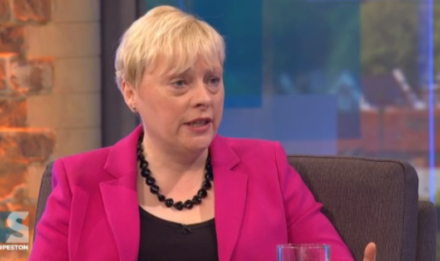 Angela Eagle tonight hit out at "bullying" in the Labour Party and criticised Jeremy Corbyn for failing to stamp out aggressive behaviour which she claimed was coming from his supporters.
The former shadow Cabinet minister, who was speaking fewer than 24 hours after a brick was hurled through her constituency office window, quelled fears of a party split by saying she would stay in Labour forever but attacked Corbyn for "failing" to provide leadership.
Eagle, who declared as a challenger to Corbyn yesterday, accused his supporters of "orchestrating" a culture of aggression.
"There is a lot of hate. There were death threats, I have been told tonight. There is a lot of vitriol. And I have to say that my office workers have to work in that environment… It is happening up and down the country. It is bullying and it should stop. Jeremy should tell his supporters who are orchestrating this on social media to stop."
Corbyn has consistently spoken out against personal insults, threats and violence and earlier today said he "utterly" condemned the yobs who smashed the window of Eagle's office in Wallasey, Merseyside. It has not yet been proven whether the attack was politically motivated.
Eagle, who has been threatened with a deselection attempt in her constituency, was speaking on the evening Labour's ruling body confirmed Corbyn would automatically be granted a place on the ballot paper in the leadership election.
She told the BBC's Newsnight that she faced local hostility from people who had previously been expelled from Labour.
"There are people who have come back into it recently… they were thrown out in the 1990s… I have to stand up in that kind of bullying and will continue to stand up to it.
"I have been a Labour Party member for 40 years. I have dedicated my life to the Labour Party and I will stay in the Labour Party whatever happens.
"What my leadership challenge all about is saving the Labour Party and uniting the country.
"There is no question of me being deselected at the moment. What I am doing is trying to say that the Labour Party was created to be the voice of working people in parliament."
Eagle also renewed her attack on Corbyn in the aftermath of his heavy defeat in a confidence vote among MPs last month and urged Labour voters to join as registered supporters in the two day window next week.
"I have tried to work with Jeremy for nine months. He has lost the confidence of his colleagues in parliament and cannot lead in parliament. He is also failing to lead on the doorstep because he is not communicating with the nine million people who voted Labour in the last election."
Corbyn was elected on the back of demands for a "gentler, kinder politics". He has repeatedly said that anyone who issues insults or threats is not acting on his behalf.
Today Corbyn said he was "extremely concerned" that Eagle had suffered threats and disclosed that he too had been targeted,
"As someone who has also received death threats this week and previously, I am calling on all Labour Party members and supporters to act with calm and treat each other with respect and dignity, even where there is disagreement," Corbyn said.
"I utterly condemn any violence or threats, which undermine the democracy within our party and have no place in our politics."
More from LabourList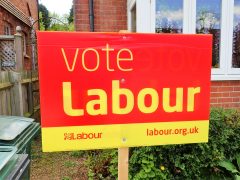 Comment
Rishi Sunak announcing a windfall tax on oil and gas firms this week is a clear vindication for…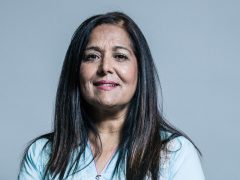 Comment
Boris Johnson's Conservative Party won a mandate to 'level up' the UK at the 2019 general election. The…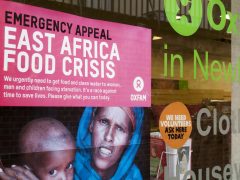 Comment
Someone in East Africa dies of hunger every 48 seconds. This is the result of the imperfect storm…