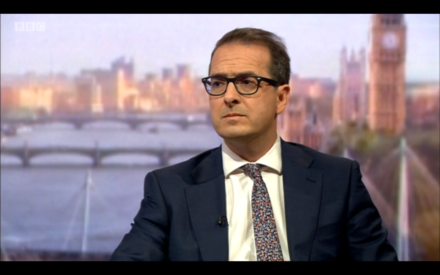 Owen Smith has called for Jeremy Hunt to be immediately sacked, calling him the "worst Health Secretary in the NHS's history", as he unveils his "rescue" plan for the NHS.
The leadership challenger said the latest wave of walkouts planned by junior doctors demonstrates the "utter chaos" the NHS is experiencing under the Tories.
Smith blamed Jeremy Corbyn for failing to effectively oppose the Conservatives' agenda, saying the Labour Party had an imperative to win power in order to save the NHS.
He used the opportunity to reveal his ten-point plan to "rescue" the country's health service. In it, he reaffirms his commitment to increase NHS funding by four per cent a year, and repealing the Health and Social Care Act which opens up NHS services to further privatisation and outsourcing.
The Pontypridd MP pledged to reverse the Conservatives' decision to scrap bursaries for student nurses and midwives as well as spend an extra billion pounds on mental health services.
Health Secretary Jeremy Hunt has been widely criticised for his handling of the junior doctors' contracts roll-out, which medics say will compromise patients' safety and put undue burdens on doctors.
The BMA confirmed yesterday another five days' worth of strikes this month, between September 12 and September 16 after Hunt confirmed he would continue to impose the contracts.
"This planned walkout of junior doctors is a symptom of the utter chaos of the NHS under the Tories," Smith said,
"Given the scale of this crisis it is little wonder dedicated NHS staff feel like they have been left with no other option but to call for further industrial action.   
"This situation has been brought about by a combination of chronic underfunding, a botched reorganisation and the worst Health Secretary in the NHS's history.
"It highlights the weakness of Labour Party under Jeremy Corbyn that Mrs May felt she could keep him on in the job, despite him having lost the faith and trust of patients and staff. This loss of trust has been brought about in no small part by his shameful misuse of statistics for political ends.
"We need to find a way to put the NHS back on the road to recovery and avert this strike, it is clear the Health Secretary is unable to do so.  That is why I am calling on Jeremy Hunt to be sacked immediately.
"It always falls to the Labour Party to save the NHS, but to do so we have to secure power."
You can read Smith's ten-point plan below:
Increase spending on the NHS by four per cent every year, funded through new taxes on the wealthiest and by reversing the Tories' planned reductions in Corporation Tax

End Tory privatisation of the NHS by repealing the Health and Social Care Act 2012, and ripping up the Tories new plan to open up the health service to more private sector involvement

Scrap Jeremy Hunt's junior doctors' contract and restart negotiations with the BMA, with a clear commitment to improve working conditions and ensure junior doctors are fairly paid

Commission a review of the funding and staffing needed to provide seven-day services, and commit to only rolling out a 'seven-day NHS' when those resources have been met

Reverse the Tories' shameful decision to scrap bursaries for student nurses, midwives and allied health professionals, and open up nursing courses to 10,000 more students, to ensure hospitals are safely staffed

Use the additional funding for the NHS to invest an extra billion pounds a year in mental health services, so that no-one is left to struggle without the help and support they need

Close the funding gap in social care to ensure older and disabled people get the dignity they deserve, and care workers get paid a decent wage

Increase the proportion of the NHS budget being spent on primary care, to improve patients' access to GP appointments, and ensure no doctor's surgery has to close as result of underfunding

Commit to a proper strategy to tackle childhood obesity and health inequalities, and reverse the Tory cuts to public health and preventative services

Double spending on cancer research and dementia research to get us closer to the day we beat these cruel diseases
Value our free and unique service?
LabourList has more readers than ever before - but we need your support. Our dedicated coverage of Labour's policies and personalities, internal debates, selections and elections relies on donations from our readers.
If you can support LabourList's unique and free service then please click here.