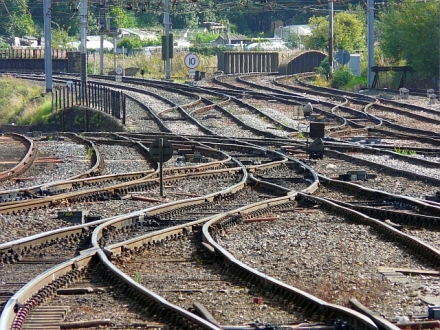 Chris Grayling, the Transport Secretary, has been summoned to the Commons to answer for his department's role in the Southern Rail fiasco but, Sam Tarry, political officer at TSSA and head of communication and strategy during Jeremy Corbyn's last leadership election, explains only Labour has the plan to deal with the Tories' rail fail.
Today Chris Grayling, the Transport Secretary, will appear before a Commons select committee to explain his rail priorities. He has been summoned following the committee's scathing report last week into the ongoing chaos and disruption at Southern Rail and the total failure of parent company GTR to resolve commuter misery. With the full support of many Conservative MPs, the report calls for GTR to be stripped of the franchise and chimes with the calls of commuters, campaigners, rail experts and transport unions who believe Brexiting Britain deserves a world class rail service.
Whilst Grayling faces the select committee, the Tory government staggers onward with a chaotic Brexit, in which it is clear any strategic red lines to help put British companies and British businesses don't exist. There is no Tory exit strategy in the pipeline to reassemble Britain post-Brexit so it aligns better with the interests of our people. And nowhere is this more evident than in the the running of Britain's railways. Tory rail policy has reduced Britain to little more than a rail colony and unbelievably no British company, or British publicly-owned enterprise, is allowed to run anything of rail significance outside of London and Northern Ireland.
Indeed whilst Mrs May spouts "Brexit means Brexit", Transport for Wales just confirmed Abeilio Rail Cymru, Arriva Rail Wales, KeolisAmey and MTR Corporation (Cymru) as its preferred bidders to build South Wales Metro and run the next Wales and Borders rail franchise. Yet Abellio is the front organisation of the Dutch state-owned rail company, Arriva is owned by the German state-owned rail company Deutsche Bahn, Keolis belongs to the French state owned rail service SNCF whilst MTR is Hong Kong-based rail company. There is no public option for the people of Wales to take back control of their rail service; no option for every penny of profit to be fed back in reinvestment or into fares cuts in Wales. Plus the likelihood that new rolling stock will neither be be designed or built in Britain – but instead outsourced broad – is a national shame.
Despite huge support by the British public to take back control of our railways, and despite the huge investment by British taxpayers into our railways every year through Network Rail, the Tory Brexiteers remain supporters of foreign governments running our railways and repatriating profits made here to Europe and beyond. It's a Tory xenophobe "yes" to controlling our borders but Tory xenophile laissez-faire when it comes to the ownership and control of our major strategic transport assets. Grayling and his co-Brexiteers want to restrict foreign nationals working in Britain's railway but will trigger article 50 in March still committed to foreign nations owning our railways. Their hypocrisy is an antithesis to Labour transport policy.
And the "nationalist" SNP administration in Scotland is as guilty as the Tories when it comes to farming out key parts of our economy and transport assets to other countries. ScotRail, which has been riven with difficulties, could quite easily have been turned into a rail system which put the needs of the Scottish people before the demands of foreign ownership, and been transformed into a flagship, integrated, transport service for the social and economic needs of Scotland. But, no, the SNP cut their transport policy from the Tories' cloth and awarded the rail contract to Abellio, the company controlled by the Dutch government. Such is the nationalists' folly that a new pressure group in the SNP has formed and is calling for an adoption of publicly-owned railways in the face of SNP ministers' refusal to break with the failed 20 year rail privatisation experiment.
The one part of our rail system that is truly international is Eurostar. Sadly a company facing real problems with jobs and the number of services under threat. Yet our passenger rail connection with mainland Europe is a vital strategic asset which should, as part of Brexit restructuring, be brought into public ownership in Britain – as it is in France and Belgium. Brexit must be turned into an opportunity to enhance a vital part of our nation's future green and sustainable infrastructure. If invested in as part of an integrated rail network – as Labour Party policy now advocates – it could be part of an environmental transport programme that negates airport expansion, reduces carbon emissions and continues to form a vital highway link with a post-Brexit Europe.
The determination of the Labour-chaired transport select committee to hold the Department for Transport to account today for presiding over the the chaos at Southern is a promising sign that pragmatism and common sense might yet prevail over over the Tories' naked market ideology.
The crisis on Southern Rail has indeed reached the tipping point where a failing privately-run franchise should be stripped of the contract, replaced by a government company and run with passengers' interests put first. There is recent precedent when the east coast mainline failed in private hands and was placed with the publicly owned Directly Operated Rail. Within a short period of time DOR turned the company round while passenger satisfaction hit record high levels and hundreds of millions of profit were paid into British public coffers rather than those of shareholders or the governments of other European nations.
It is clear now to anyone reading the transport committee report that GTR management have deliberately maligned rail unions and attacked staff for problems of the company's own making – in fact the report completely vindicates Southern's hardworking staff. MPs found that Southern breached their contractual obligations and are rightly sceptical about GTR's ability to meet their rail delivery targets. GTR, of course, had no problem hitting their profit target, racking up £100m just last year alone but giving no reprieve to passengers whose year-on-year fare rises – despite long term wage stagnation – mean British passengers now pay the highest fares in Europe.
The Southern rail crisis is an opportunity for Labour to argue the case for how to take back real control for the British state – not in an unplanned, chaotic Tory Brexit gamble – but a strategic process of putting passengers, transport workers, and our country first, by designing a rail system in which the will of the British people is respected; a rail system in which money made is ploughed back in as investment, where fares are kept to affordable levels, where rolling stock is designed and built in this country, and where we don't pay other countries to run our railways for us.
We are perfectly capable of doing it ourselves and only Labour has the plan, the will and, the unity of purpose, to deal with the Tory rail-fail by making the case for taking back control. Taking back Labour control of Southern Rail from GTR and the Tories, and entrusting its running to our London mayor Sadiq Khan, would be a good place for us to start.
Samuel Tarry is national political officer at the Transport Salaried Staffs Association (TSSA).
Value our free and unique service?
LabourList has more readers than ever before - but we need your support. Our dedicated coverage of Labour's policies and personalities, internal debates, selections and elections relies on donations from our readers.
If you can support LabourList's unique and free service then please click here.