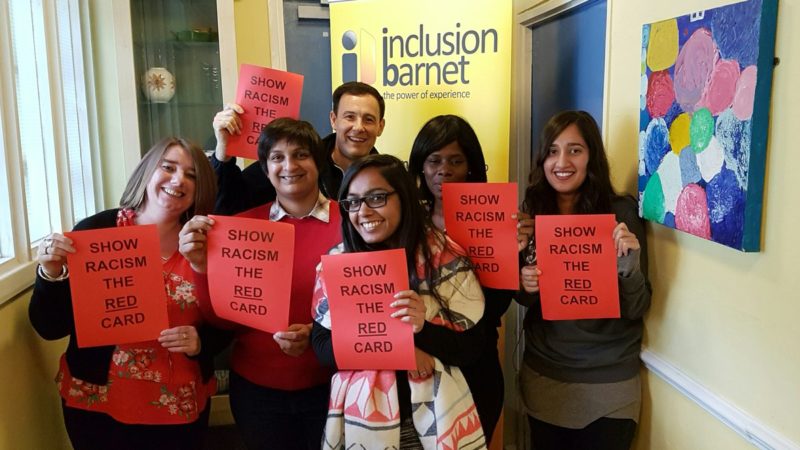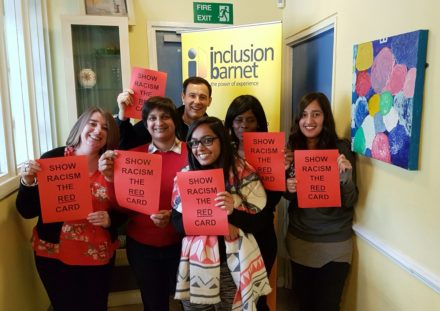 Today is the day when we unite our favourite sport with the fight against racism. Ironically, Wear Red Day, a fundraising event in support of Show Racism the Red Card (SRtRC), falls fewer than 24 hours after Gary Lineker was hounded on social media for supporting child refugees, and on the day when The Sun calls for him to lose his role as presenter of Match of the Day. It is also only days since the Home Office reported a startling leap in hate crimes.
Brexit toxins are being blamed, and small wonder given the referendum vote was taken after year upon year of daily, irresponsible denigration of migrants, and people from foreign lands generally, in parts of our media and public discourse, unsupported by actual facts or evidence.
As a former advisor of ex-PM Cameron recalled yesterday, Migration Watch, when asked to provide evidence of migrants having an adverse effect on UK communities to support the Tory leader's negotiations with EU leaders in February this year, Migration Watch, could supply only one desultory article from the Daily Telegraph. This despite its self-appointed role as the nation's immigration scrutineer and hand-wringer.
This week, right-wing tabloids, David Davies MP and even Jack Straw encouraged us all to distrust the motives and measure the teeth of a dozen or so teenagers rescued from the living hell of the Calais camp. Last night, Labour's newest MP, Tracy Brabin, as she readied herself to pay tribute to the slain Jo Cox, was heckled by far rights thugs.
Thanks then for Wear Red Day 2016 and its sane and rational appeal to our better angels in challenging the poison of racism.
Today is a day when we celebrate what can be achieved when we stand together in the face of hate.
The Millennium Bridge between Gateshead and Newcastle is being illuminated bright red as part of an all-day nationwide programme to promote and fund SRtRC activities. Films, talks and public appearances are also scheduled.
Social media is being filled with messages of support from current and former professional footballers such as Thierry Henry, Yoan Gouffran and Callum Chambers, as well as SRtRC patrons John Barnes, Chris Kamara, Bryan Robson and Chris Hughton. Manchester United, Newcastle United, Sunderland AFC and Everton FC are among the many clubs involved.
Labour MPs are showing their support too although sadly one very important political face will be missing, that of PM Theresa May. When approached by SRtRC for a supportive picture, her office declined owing to the "pressures of her diary". Really Prime Minister, think about the signal this sort of message sends.
Held for the second year running, Wear Red Day 2016 also marks the 30th anniversary of SRtRC. Since 1986, this educational charity has been working with current and former footballers to engage young people in combatting the problem of racism.
Each season, SRtRC visits clubs across the four league divisions in England to host educational events with local school pupils and professional footballers, ex-professionals, managers, coaches and high-profile members of the community.
Ged Grebby who runs the charity believes that the worrying rise in racism following the EU referendum has provoked a reaction from people who are against racism and want to show their support, particularly for the charity's education work with young people.
And while footballers of today carry the torch, it is right to remember those of yesteryear too, such as pioneering footballer Arthur Wharton. Ghana-born Arthur Wharton was the first black professional to compete in the Football League, around the time of its inauguration in 1888. After a career at Preston North End and Sheffield United, Wharton died in poverty in 1930. Memorials have since been raised in his honour at the FIFA headquarters in Zürich and St George's Park National Football Centre at Burton-upon-Trent.
Walter Tull was another early black player and a WW1 hero. Killed in action during the Spring Offensive of 1918, Folkestone-born Tull was arguably the most prominent of the black and mixed-race players to have competed at the highest level of the early domestic game.
A midfielder for Tottenham Hotspur and Northampton Town in the run-up to 1914, Tull suffered significant racial abuse at football grounds around the country in a 100-game career cut short by war. He then served in the famous Footballers' Battalion of the Middlesex Regiment that saw action at the Battle of the Somme.
At Sixfields Stadium in Northampton, a memorial has been erected in Tull's honour and an adjoining road named after him. In Tottenham, a blue plaque was unveiled on the house where Tull lived, close to White Hart Lane.
Tull's struggles in his playing days came at a time when black or mixed-raced footballers were few and far between. The first black professional player is thought to be full-back Andrew Watson, who earned three international caps for Scotland in the early 1880s.
Engraved on Walter Tull's memorial in Northampton are the following words: "Through his actions, Tull ridiculed the barriers of ignorance that tried to deny people of colour equality with their contemporaries".
Let's live out these words today. Support Gary Lineker, John Barnes, Chris Kamara and all those who speak out against hatred. And wear your red with pride.
Howard Beckett is Legal Director at Unite
More from LabourList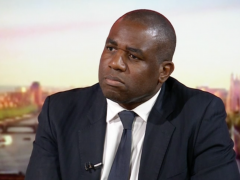 News
Sunday Morning Shadow Foreign Secretary David Lammy rejected the suggestion that Labour would enter into an electoral pact…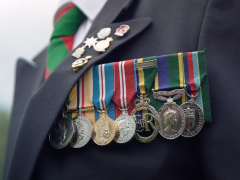 Comment
The first duty of any government in the UK is to protect our nation and its citizens. Whether…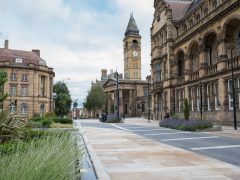 Comment
Labour won a historic by-election in Wakefield, our first such victory since winning Corby in 2012. This success…