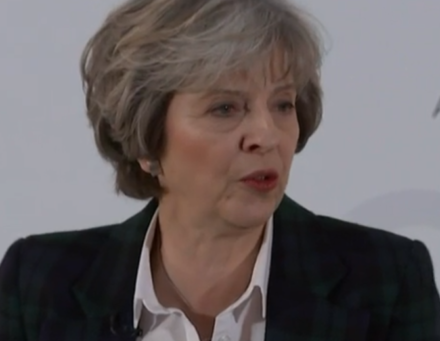 You're the prime minister, you are making a 700-mile round trip to a by-election in a seat which you could win for the first time since 1924 – any thoughts on the biggest issue of the campaign?
Oh dear, that's a shame.
Ok any thoughts on the second biggest issue of the campaign?
Hmm perhaps we caught you on a bad day. Let's try an easier one – do you like this award-winning Lego robot made by a local primary school girl?
And then she gave the grimace that was seen all around the classroom and flashed across the world's media.
This was more than an off-day for Theresa May. Despite so many of the indicators going in her favour – private polling that apparently pleases the Tories, Jeremy Corbyn's previous and very public criticism of nuclear power, and Labour's incredibly difficult time over article 50 – it all seemed to go wrong.
All the PM had to do was turn up, grin, agree with people and presumably agree to spend a bit of money and the seat would be hers: the first time a government had won a seat from the official Opposition in a by-election since 1982.
And yet it still went wrong. Of all the delicious descriptions of May's failure yesterday, Jon Craig's cringe-inducing character study for Sky News is one of the best.
Craig, a seasoned lobby correspondent, captures how May ducked key questions about the threat to maternity services at the local West Cumberland hospital while several other stories describe her refusal to answer enquiries over the development of a civil nuclear power station at nearby Moorside, which could create up to 21,000 jobs, but which has been rocked by huge losses posted by Toshiba, one of the firms behind the scheme.
There was an awkwardness to May's visit which was entertaining but unsurprising. She seems to lack the smooth charm of David Cameron, which is in itself seen as a good thing, and is meticulous in her preparation and attention to detail – or control freakery, depending on what you read. Yet the contradiction between wanting to make such a long trip to Cumbria – a region neglected by most political parties in recent years – to gain some reflected glory from a contest she expects her party to win and her unwillingness to say anything of any substance is beyond bizarre. And it is weak.
Asked a straightforward question yesterday, on whether she opposed the closure of maternity services at the local hospital, she simply squirmed. And headline writers had the key fact – May refused to answer four times.
When asked another one, which could have been even easier, she failed again. The issue of Moorside could have been an easy one for May, fuelled by their criticism of Corbyn's past statements on nuclear power – he has struck more positive noises in recent weeks – but she couldn't answer that one either.
"The consortium involved in Moorside has been absolutely clear," she told reporters.
"They have reconfirmed they commitment to Moorside".
Er, I don't think they have. Undeterred, she went on.
"Jeremy Corbyn was asked five times in one interview whether he would back Moorside and he would not back Moorside."
But you're the prime minister and you are in West Cumbria?
OK, you get the point. Gillian Troughton, Labour's candidate, has been rock solid on these issues – fighting the hospital cuts and pledging Labour's backing for Moorside.
By contrast it was a remarkably poor performance yesterday from May, someone who leads the country, has a legion of loyal advisors boasts two chiefs of staff whose six figure pay packages almost match those of May herself.
The PM is weak. The newspapers – or mainstream media, as some prefer to call them – have known this for a long time. She is indecisive and the fact that one of her first acts upon entering Downing Street was to brutally sack so many of her rivals is not a sign of strength, but of fear. Her Copeland trip was a disaster. May's premiership will be a disaster.
Value our free and unique service?
LabourList has more readers than ever before - but we need your support. Our dedicated coverage of Labour's policies and personalities, internal debates, selections and elections relies on donations from our readers.
If you can support LabourList's unique and free service then please click here.