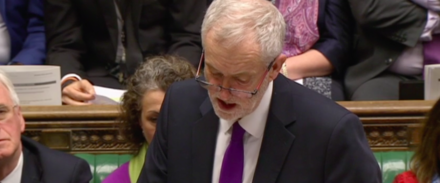 With the chancellor Philip Hammond today giving his first, and last spring Budget, in which he has unveiled hikes in National Insurance contributions for the self employed and minimal funding for social care, we bring you the latest reaction from across the Labour movement.
Tom Watson, Labour's deputy leader, tweeted:
Clever of the Tories to write the words "Class 1" in invisible ink in their manifesto. #Budget2017

— Tom Watson (@tom_watson) March 8, 2017
Jonathan Ashworth, the shadow health secretary, tweets:
Given we are told mental health is a supposed priority for Theresa May yet absolutely nothing to secure parity of esteem today #Budget2017

— Jonathan Ashworth MP (@JonAshworth) March 8, 2017
Chris Leslie, the former shadow chancellor, also points out that the Tories have broken a manifesto pledge not to raise NIC, tweeting:
Real blow for 5 million self-employed with NICs rise – breaking Tory manifesto promise of "no increase in National Insurance contributions"

— Chris Leslie (@ChrisLeslieMP) March 8, 2017
He also focuses on drops to local council funding:
Massive drop in government funding for local council services: down from £8.2bn in 2016-17 to £6.5bn in 2017-18 = more than 20% in one year

— Chris Leslie (@ChrisLeslieMP) March 8, 2017
Angela Rayner, the shadow education secretary, tweets:
Sort out existing schools give them the money, cut class sizes not funding, they need some stability not more grammar schools #Budget2017

— Angela Rayner MP (@AngelaRayner) March 8, 2017
Alison McGovern, MP for Wirral South, tweets about the limited extra funds for social care:
£2bn over 3 years for care. Welcome, but in the end, too little too late. #Budget2017

— Alison McGovern (@Alison_McGovern) March 8, 2017
But the deficit in care funding still growing. @IPPR said it will be £13bn by 2030 https://t.co/izJLQCpEHZ

— Alison McGovern (@Alison_McGovern) March 8, 2017
Steve Rotheram, Labour's candidate for Liverpool city region mayor, tweets about the inheritance tax cuts:
Last year 8 homes in my Walton constituency sold for >£650k, 754 in Esther & Walton in Surrey! #InheritanceTax #NthSthDivide #Budget2017

— Steve Rotheram MP (@Steve4LCRmayor) March 8, 2017
I have a feeling that our councils in the Liverpool City Region willl be hit harder than 20% in one year. Enough is enough. #Budget2017 https://t.co/rJGa9E9Tt1

— Steve Rotheram MP (@Steve4LCRmayor) March 8, 2017
Ian Murray, Labour's only MP in Scotland, tweets:
50 minutes into budget and still no mention of Brexit. You'd think it doesn't matter????

— Ian Murray (@IanMurrayMP) March 8, 2017
Owen Smith, former Labour leadership campaigner and impassioned remainer, tweets:
For all the smirks and quips, the truth of this #Budget is that the Tories are set to borrow £100Bn more than they said before #Brexit vote.

— Owen Smith (@OwenSmith_MP) March 8, 2017
I thought Tories were all about supporting entrepreneurs and cutting taxes? Try telling that to self-employed being asked to pay for #Brexit

— Owen Smith (@OwenSmith_MP) March 8, 2017
Rachel Reeves, the former shadow work and pensions secretary, tweets:
Corporation tax cut will cost £3.8bn – this money should be spent on helping small businesses and the self-employed #Budget2017

— Rachel Reeves (@RachelReevesMP) March 8, 2017
Andrew Harrop, general secretary of the Fabians, said in a statement: "Of the policy announcements the chancellor did make, his move to equalise National Insurance Contributions for employed and self-employed workers was sensible and progressive. Labour and the Liberal Democrats should have thought harder before opposing it."
"But the social care announcement was a pitiful sticking-plaster. The chancellor promised the princely sum of £400 million extra for care services in 2019, when costs in the sector and demand are rising far faster. Once again on social care, a government said nice things but kicked the can down the road."
Kezia Dugdale, leader of the Scottish Labour party, said: "This was billed as a Budget that would be upbeat, but what we got instead was an insight into the devastating impact a chaotic Tory Brexit will have on families across the UK. Under the Tories living standards are being squeezed, debt is on the rise and public services are being cut."
"It is disappointing that the Chancellor failed to exempt Scotland's fire and police services from the £35million-a-year VAT bill imposed on them by the SNP. This was a mess of the Nationalists' making, but the Chancellor should have stepped in to protect our valued public services."
"The new powers of the Scottish Parliament mean we can do things differently. We don't have to pass on Tory austerity. The SNP should stop using the Scottish Parliament as a conveyor belt for Tory austerity and back Labour's plan to stop the cuts and invest in valued local services like schools and social care."
Sadiq Khan, mayor of London, said: "Today's London Devolution Agreement shows that we get the best deal for Londoners when we put party politics aside and work closely with the Government. I am pleased that the Chancellor has recognised that giving London more control is vital if we are to protect jobs and investment in the aftermath of Brexit."
"London has a bigger population than Wales and Scotland combined, but we have far less control over how taxes are spent and public services are run. Giving London the ability to invest more in building crucial new infrastructure and devolving control of business rates will help increase economic growth and improve productivity."
"And granting London greater control over health, criminal justice, skills and back to work programmes will allow us to better improve the life chances of thousands of Londoners."
"However, London did not get everything we needed today. I am disappointed that the Government did not use the opportunity to fully fund our police force or pledge their support for Crossrail 2."
"And businesses across the capital still face a clear and present danger to their future as a result of business rates increases despite the proposals outlined by the Chancellor today."
Dr Faiza Shaheen, director of CLASS, said: "The Conservatives may be bragging about balancing the books, but they are doing so on the backs of struggling families across the country. In effect, pennies have been thrown at a chronically underfunded social care system and at NHS hospitals on black alert, while educational policy is being driven by ideology rather than need."
"With the unprecedented challenges of Brexit, this budget should have made bold investments in our social and physical infrastructure to ensure we emerge a stronger and fairer Britain. Instead we got a budget set on misguided policies, utterly blind to reality."
Value our free and unique service?
LabourList has more readers than ever before - but we need your support. Our dedicated coverage of Labour's policies and personalities, internal debates, selections and elections relies on donations from our readers.
If you can support LabourList's unique and free service then please click here.