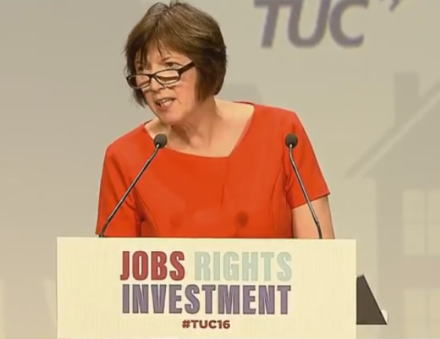 In today's budget chancellor Philip Hammond unveiled a hike in national insurance contributions for the self-employed, but neglected Brexit – with it being barely touched upon in his speech.
Frances O'Grady, general secretary of the TUC, said: "Today the Chancellor missed the opportunity to get Britain match-fit for Brexit by investing in jobs and infrastructure. The government promised an economy that works for everyone. But millions of low-income workers face cuts to in-work support, while big business is handed a huge tax cut."
"Workers will be no better off at the end of the Parliament than they were set to be at the time of the last Autumn Statement."
"The acid test for the Chancellor's self-employment tax changes is whether they crack down on employers who force low-paid workers into bogus self-employment."
"Today's extra funding for social care is desperately needed. But at a time when waiting times are soaring, it's astonishing that the government has left a huge hole in NHS funding.
"And there's still no real pay rise for Britain's dedicated nurses, teachers and public service workers."
Tim Roache, GMB general secretary said: "The squeeze on living standards continues to put an unbearable strain on workers around the country. With wage growth predicted to fall, even more people face being dragged onto the bread line. The trouble with the government's knock-off version of the living wage is that it's set at a level that people can't live on."
"This should have been a Budget to provide a plan for fair pay and support for all workers, including for those in the public sector who've had an average of £9,000 pinched from their pay packets since 2010 and face losing £4,000 more in the three years ahead. Instead, the Tories showed how out of touch they are by failing to help these dedicated public servants – all the while giving tax breaks to big business."
"Public services we all rely on are in crisis due to the cuts and underfunding over the last seven years. Nearly two thirds of adults think the cuts have gone too far, yet there is no plan coming from the Chancellor to rebuild the public services or to support those who are working in them. Instead they are ignoring what people want – and are prioritising £8.5 billion tax cuts for corporations."
"Despite finally realising that their cuts to social care have plunged the sector into crisis, the government isn't even offering half measures. The Kings Fund say £1.9 billion is needed next year yet the Government are making a total £2 billion available to cover three years – after over £4 billion of cuts this gives us the grand total of minus £2.5 billion since 2010. They want to be seen to care – without funding it."
Len McCluskey, general secretary of Unite, said: "This budget was extraordinary. The biggest challenge facing the UK economy for generations, Brexit, and the government's preparedness for dealing with it only received a passing mention.
"It was absent of any sense that the chancellor or the government grasped the enormity of the shock that Brexit will bring to core manufacturing industries.
"There were none of the basic initiatives needed to demonstrate that the government is serious about making its industrial strategy work. There was not one word of reassurance for the car industry or the tens of thousands of workers reliant on it for their job. The carmakers who are daily voicing their fears about a future in the UK will not have heard anything to soothe their fraying nerves.
"Workers and employers have been left none the wiser as to how this government will prepare the economy for the seismic changes that Brexit will bring.
"The only thing we remain sure of is this government remains wedded to the senseless austerity that hurts working class communities hardest. The only promise we have is that of yet more cuts to our public services which are already at the point of crisis because of years of Tory austerity.
"We called upon the chancellor to show that he has listened to the concerns of working people, to prove that he is determined to create an economy based on decent, secure, well paid work. He failed."
Gerard Coyne, the challenger for the Unite general secretary position, said: "Philip Hammond's attack on the self employed is a rip off by a rotten government. Working people forced out of secure, permanent jobs into self-employment have now been landed with tax increases for which they get nothing in return."
Value our free and unique service?
LabourList has more readers than ever before - but we need your support. Our dedicated coverage of Labour's policies and personalities, internal debates, selections and elections relies on donations from our readers.
If you can support LabourList's unique and free service then please click here.