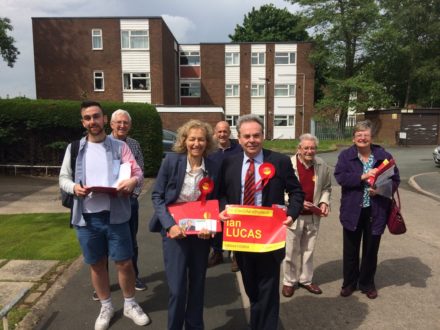 Labour has held Wrexham since before the second world war but the threat of a regressive alliance could see Ian Lucas, MP since 2001, under threat from the right. LabourList sat down with him on a rainy day in north Wales to discuss what has come up on the doorstep, what he does away from the campaign trail and the impact of Tory spending cuts.
Why are you standing and what have you got to offer the people of Wrexham in the next parliament?
"A very strong voice for the town. We've got – two years after a general election – a big agenda for this part of Wales. We are in parts of the town doing pretty well economically – we have aerospace jobs here, we've got a lot of smaller businesses which are beginning to develop in the area. I've been pushing very hard, especially on infrastructure, as a political issue, and this is work in progress. Because the Tories have called this election very quickly, then part of that is still to be done, and that's something that I'm arguing very strongly on.
"We have also seen the impact of Tory cuts to our public services. For example, policing in Wrexham town centre is doing much less well than the town as a whole. There's a lot of upset amongst the people that I speak to on the doorstep – I'm [also] pointing out that we've had big police cuts since the Tories came in. Community policing, that we did so well on in government, is being undermined.
"I think that's something that hasn't really registered until the election."
How would you describe your politics?
"Labour, because I'm tribally Labour. I come from a very strong Labour background."
"I do believe that the state has an important role to play but I think it's working with the private sector, and I'm a great believer in co-operation. For example, when I was a business minister, a manufacturing minister, and I see businesses like Airbus – which is very close to here – the unions and management working hand in hand and producing a world-beating company. I think that model is one we need to be much more proud of and vocal about."
"The other thing I'm very passionate about is regionalisation. The focus on London, the investment that is pouring into London compared to the rest of the country is really a disgrace. It's a big part of why the country is as fractured as it is at the present time."
How has Brexit affected the seat?
"As yet, I think that for the average person, I don't think it's affected them very much. I think they have a view that the decision has been made and therefore should be carried out. I think there are real challenges in the future, because of that manufacturing base, that exporting base, which is very important in Wrexham. It is very important that we get a good deal to support those industries. It could affect this area very badly if we get the wrong deal."
Why does Britain need a Labour government?
"Because of all the things I've mentioned already – infrastructure and regionalisation – we're the party of devolution. We should have done a lot more development in the regions, particularly in transport networks to build up our capacity for a competitive economy in the modern world. I think the fact that we didn't invest sufficiently, in our railways, in our public transport system and not in things like broadband. All of that means that we're behind the curve and we need to have a co-operative, not confrontational, approach as far as the country is concerned. And the Tories will always seek confrontation."
What has been the biggest local issue?
"Wrexham town centre – the fact that we've had real problems with empty shops, but also coupled with drug users – a huge local issue and it is a consequence partly of reductions in policing, partly of a dysfunctional local authority not working properly with the police in a co-operative way, that's a big issue.
"Particularly elderly people keep saying that Wrexham town centre has declined, and I point out to them – and again this hasn't registered sufficiently – that we've had a Tory government for seven years now, and you didn't see this when we had a Labour government. Wrexham prospered under a Labour government. We had a tough time with the global economic crisis, but it wasn't just Wrexham, it was everywhere that suffered under that. But we got through it and we did a much better job in government than people give us credit for."
Do you think Labour receives a fair hearing from the media?
"I'm not sure that we do, the weird thing about being a candidate – and any candidate will tell you this – you don't see as much of the media as everyone else does in a general election campaign. You spend so much time talking to people on the doorstep.
"The advent of social media has given us an opportunity to actually create our own media. I'm really doing that in this election in ways that in 2015 I didn't. And I'm determined to that, part of the reason for that is that we've got very poor local media coverage in Wrexham. We don't have a local radio station, BBC covers the whole of Wales and we are in the north east corner that is very different to the rest of Wales.
"I think [with] the national media it's a challenging time as far as it's concerned. The world has changed – we've got all these different avenues now. People look to Twitter when they want to see what's happening fast, they don't switch on the television in the way that they did when I was in my teens or twenties.
"So, I think the national media is under a lot of pressure, and I'm not sure they've got it right just at the moment. And I think if they were honest with themselves, I think they think that too."
When was the last moment you had to relax and how did you spend it?
"This morning, I had a bath and I listened to some fantastic music, and I sang along.
What music was it?
"Like a Rolling Stone, by Bob Dylan."
Value our free and unique service?
LabourList has more readers than ever before - but we need your support. Our dedicated coverage of Labour's policies and personalities, internal debates, selections and elections relies on donations from our readers.
If you can support LabourList's unique and free service then please click here.