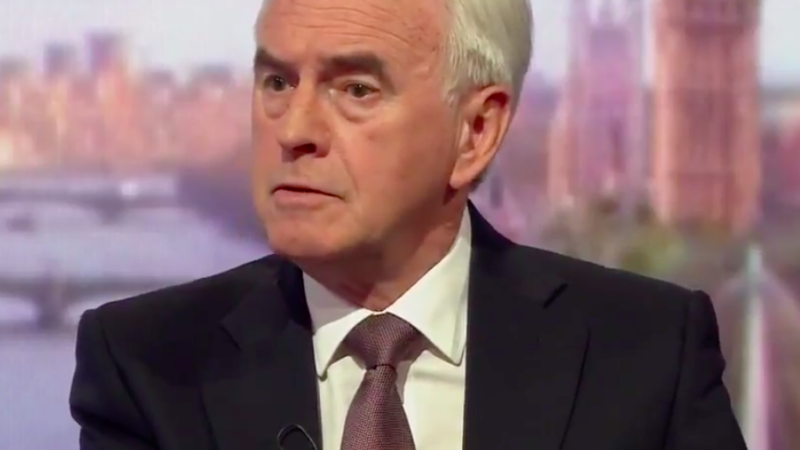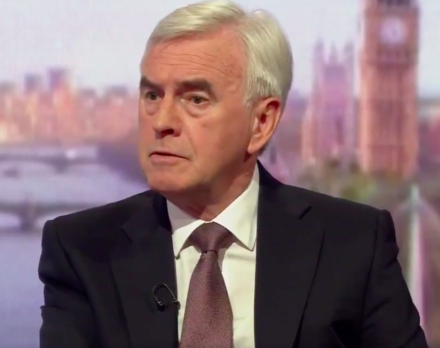 This is the full text of the speech delivered by John McDonnell at the Museum of London yesterday.
Thank you so much for coming.
There's no question Thursday's election results were disappointing for Labour.
We had some important victories and the results show the gap with the Tories is narrower than the pundits believed.
But we also lost too many great councillors – and I pay tribute to the hard work of Labour councilors, members and supporters … the people who trod the streets in that campaign.
The results of course underline the scale of the challenge we face in next month's general election.
But the decision on 8 June is not about your local council: it's about what kind of country you want to live in. And we, the Labour Party, will make that choice crystal clear.
Unlike Theresa May.
She wanted to Remain, then Leave; she wanted negotiations with Europe and now she's stoked up a war of words with Brussels.
And she may have wiped out UKIP – but she's done so by becoming UKIP.
Have you ever met anyone who keeps telling you every day how strong and stable they are?
Every day, every hour?
Why does she need to keep telling us?
As Jeremy Corbyn has said: insecure leaders want to feel stronger by asking you to give them more power.
Strong leadership is about equipping YOU with more power.
So I want to turn now to how Labour will provide that leadership.
And we to start with our economy.
It's easy to get the impression the economy is some remote machine purring away in the background as we get on with our lives.
But following the global financial crisis, millions of Britons know only too well what the economy is capable of.
It can strip you of your livelihood. Trap you in debt. And rob you of your hopes and dreams that define who you are.
Lest we forget when the global financial crash hit, money literally dried up.
It meant businesses folding or stopped investing.
Jobs were lost and families across the country saw real pay fall more than at any time since the Industrial Revolution.
But that's old news, right? What am I moaning about? We're told the economy has recovered. We're told unemployment is at an all-time low.
And we're told all those difficult decisions – like cutting public services and corporate taxes – are finally bearing fruit.
We're told it's made our economy strong.
Doesn't feel that way though, does it?
As Jeremy said last weekend, across our country – in the high street and on the doorstep – something troubling hangs in the air.
If you have a job – but you're struggling to keep on top of credit cards and loans.
The economy isn't strong, it's holding you back
If your career has stalled and your manager is under pressure to get more out of you for less…
The economy isn't strong, it's holding you back
If you can barely cover the cost of childcare, rent, travel to work, your student loan – let alone save for the future…
The economy isn't strong, it's holding you back
This has no place in a Richer Britain
A Richer Britain – for the many not the few – is a vision of life where we, our families and our communities aren't being held back.
It's a Britain that's wealthier in all aspects: financial, environmental, social and cultural.
And where we use our financial resources to care properly for our elderly and young.
It's a Britain where families have enough money at the end of the week to enjoy the weekend together.
Where we live in a safe and enjoyable community with more time for learning, sport, culture and play.
All these things are possible when you're not being held back.
And people rightly look to government to help make it happen.
Government would have invested in housing, transport and childcare…
So a home of your own and a local job aren't bygone luxuries of the 20th Century.
Government would have delivered a rapid reduction in carbon emissions, and connected our industries together so we waste far less resources than today.
Above all, government would have defined itself by upgrading the economy to ensure the long-term survival of universally available public services.
Make no mistake: this is what your vote on June 8 is all about
Because I fear we're losing something.
Something that in hindsight I took for granted.
When I was a young man, I didn't feel particularly held back.
Like many of my generation, I left school without completing my qualifications.
I ended up doing a series of manual jobs.
One night, when I was working the nightshift on a TV assembly line, I remember thinking, was this going to be it?
I got on fine with my workmates but I knew I was missing out on family life.
I came home that morning and talked with my wife, and I realised I needed to give education another go.
So I took an evening course, got my A-levels and a year later I was at university.
Yes, I studied hard. And I earned it. But back then it didn't cost me a penny.
And I'd like to think that I've given something back as a result.
But I'm not sure that the 20-something me would be making the same choices today.
I'd be faced with tuition fees, a burden of debt and a far higher cost of living, especially when it comes to housing.
Maybe I wouldn't see it as a choice at all.
People sometimes say, "but times have changed". As if it's the natural order of things, the economy is some force of nature to which we have to submit.
That's what the Conservatives would like you to believe. It's what they've always wanted you to believe.
But it's the greatest sleight of hand of our political times.
In reality, the economy should be what we want it to be. We can be its masters, not its servants.
If the economy isn't working, then it's the government's job to fix it.
But fix it for whom? Well, it's pretty clear if you're the Conservatives.
They've carved out a niche for themselves serving the whims of overseas corporations and billionaire oligarchs.
Sweetheart deals with big businesses that treat taxation as an optional extra.
Homeownership at a 30-year low but almost 90,000 UK properties owned by secretive offshore trusts.
And a reckless and rigid Tory Brexit will invite more of the same.
A Brexit for the Few by any other name.
Britain voted to leave the EU, not to destroy our trading relations with Europe.
Sadly, the electioneering stunts of the Conservatives risk making that more likely – hitting jobs and living standards in the process.
Labour is committed to a jobs-first Brexit. We're committed to keeping the tariff free access to the European market we have today.
There is nothing about Conservative plans that point Britain in the direction of an upgraded economy.
So for a moment I want to speak directly to our entrepreneurs and business owners and managers.
To the self-employed, we respect your drive to strike out on your own.
But if you're wasting hours chasing down late payments for work you delivered on time and budget.
You're being held back
If you've got a great idea and a robust business plan but can't afford the cost of childcare in the set-up phase…
You're being held back
To the small business owner, you are the economic backbone of our country.
But if you're failing to grow your company or cooperative by being denied credit from a banking sector more interested in profits from home loans…
You're being held back
If you can't invest because of the sudden hike in punitive and unfair business rates.
You're being held back
And to the CEO of a large enterprise, I recognise the immense responsibilities you carry each day:
If you're unable to fully focus on leading your workforce because of the never-ending threat of hostile takeover.
You're being held back
If you cannot meet the full upfront green investment to play your part in emissions reduction.
You're being held back
It calls for a serious response. From serious government.
It calls on government to understand that:
Education
Childcare
Housing
Infrastructure and
Industrial strategy
are the essential pillars of the Big Deal to Upgrade the Economy.
What's the point of upgrading our roads, railways and communications if businesses – large and small – continue to be denied credit and investment?
What's the point of upgrading education, skills and learning, if the cost of childcare means women continue to be held back from their career?
In the coming days, Labour will be making major announcements in all these areas.
Because Labour understands how the economy shapes our lives.
Whereas the Conservatives offer only fine words.
So when the Conservatives say they would create a "Northern Powerhouse" and a "Midlands Engine"…
Why then is transport investment in London over £1900 per person, but just £220 per person in the North-East?
Labour will commit instead to investing £250bn across the whole country.
When it comes to industrial strategy:
The Conservatives say they want one, but British manufacturing today is smaller than it was a decade ago.
Labour will be unveiling instead an industrial strategy that delivers real government support to businesses, large and small.
And when it comes to pay…
The Conservatives have introduced a Living Wage too low for people to live on, and average pay is still less than a decade ago.
Labour will introduce a £10 an hour Living Wage so that work always pays.
So far so good.
But I know. I know how is Labour going to pay for it?
A Big Deal to Upgrade the Economy will cost billions.
My job will be to find those billions.
And in the next two weeks, I'll be spelling out to the British public where those billions are going to come from.
As well as telling future ministers in a Labour government what spending we will prioritise – and equally important – what we cannot.
I managed billions of pounds of public money while serving in local government before becoming a MP.
It might be sad to admit but I've been balancing budgets since my late 20s.
And what I learned back then – sometimes the hard way – is that tax and spending needs to be based on public understanding and a clear settlement.
Everyone needs to clearly see what's in it for them.
So let me be clear: a Labour government will not increase personal taxes for 95 per cent of taxpayers.
If Labour is elected next month we will guarantee for the next five years there will be no income tax rises for all those earning less than £80,000 a year.
And there will be no hikes in VAT, and no changes in your National Insurance either.
Labour is now the party of low taxes for middle and lower earners.
And we have a grown-up message for those that have done well enough in Britain to be one of our highest earners.
Labour pays tribute to your achievements and ongoing contribution.
Which is why I want to say that The Big Deal is your opportunity to invest in us all.
It's your opportunity to help us realise the potential of our country.
But it is government that must lead when it comes to the new settlement.
Which is why a Labour government will borrow for what's required to upgrade our country's physical and digital infrastructure.
It means investment in new railways. Universal high-speed broadband. High-tech and green industries.
But we will only borrow to invest – not for current spending – where investment will boost the flagging productivity that has been holding Britain back for decades.
Which is why a Labour government will provide kick starter funds to the national investment bank.
This will draw in enough private finance to generate £250 billion of investment over ten years.
So when it comes to oft-cited Tory charges of fiscal irresponsibility, let me say this:
It is a government that shirks the demands of a Richer Britain that threatens to do down this country.
And not one prepared to lead and invest in the future of its people.
A Labour government will be prepared to take that lead.
But we cannot go down that path alone. Upgrading our nation's infrastructure and catalysing investment are long overdue dividends for the business.
So as part of the new settlement, a Labour government will be asking business to contribute its fair share, with the largest companies paying a bit more in tax.
That is Labour's Big Deal to Upgrade the Economy. And it's inclusive, fair and costed.
Today I've done my best to set out Labour's vision for a Richer Britain.
Where everyone can enrich their lives and contribute more to our country.
I've set out how a Big Deal to Upgrade the Economy can get us there.
And how the country can come together to finance it.
It reminds me that the legacy of people of my age is still to be set.
I don't want my generation to go down in history as the lucky ones who benefited from the sacrifice of our parents and the support systems that they built after the war.
I want to ensure the things that changed my life so much for the better, are available to everyone in the future.
That is your choice come June 8.
Don't let the Conservatives hold you back.
Don't let the Conservatives hold Britain back.
It's time to start building a Richer Britain – for the many not the few.
It's time for a Labour government.
More from LabourList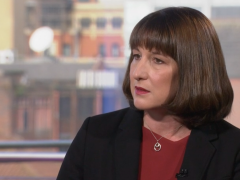 News
Rachel Reeves has argued that banning emergency service workers from going on strike is the "wrong solution to…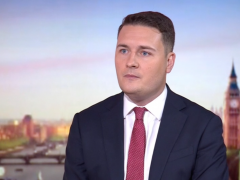 News
Wes Streeting has pledged to maintain key standards for patients and argued that targets are "vital" to ensure…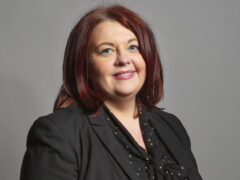 Comment
"We've had 12 years of a Conservative government who, quite frankly, are failing the people of this country…