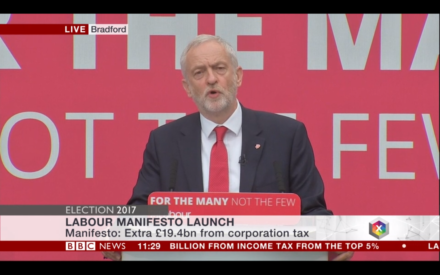 Candidates don't have to remember numbers.
The Diane Abbott interview on LBC was problematic – but it shouldn't have been. Diane was applying for a job that entails forming policy to keep us safe. If the job entailed spewing out numbers we would put Carol Vorderman in the Home Office. Next time this happens the candidate should just cool off and ask the journalist to read the press release that they have right in front of them.
Don't imitate the Tories, provide a contrast.
Corbyn is celebrated for offering an alternative to Tory austerity, but on the other two major issues – Brexit and Scottish independence – he was in a similar position to the governing party.
On Scotland, Labour was hit when Corbyn briefly appeared to agree to another independence referendum, before a spokesman clarified his stance. While the rest of the country had a high turnout, some SNP seats had an eight per cent drop. The electorate had a lack of choice because Labour was not fully in the debate. This is disastrous strategy – although Kezia Dugdale made it clear she was vehemently opposed to a second vote on breaking away. Meanwhile the Tories stepped into the vacuum, made themselves the party of the union, and achieved their greatest success since pre-Thatcher days.
On Brexit it's too foggy to fully understand the effect of not offering a proper alternative, but never again should we have half baked policies that contradict Labour's core principles.  
Think of a good slogan.
Corbyn campaigned under an "old" Labour slogan of "For the many not the few" but the message people understood of Corbyn's campaign was "Time for a change". A Newsnight focus group delivered probably the best line for future use. It's not poetry but it sums up the concept in plain English" "A new way, not the old way." It may be worth remembering that for next time.
Understand Sir Lynton Crosby's tactics.
Let's be clear, the Tories are never going to nationalise any industry. It was a campaign tactic to announce Labour ideas as Tory, and nothing more. In the 2015 election David Cameron announced every one of Ed Miliband's ideas but we never heard more of them after the election.
This is a tactic from Sir Lynton Crosby. When the other side have an idea that focus groups respond well to, Crosby has his candidate promise the same idea in order to take the wind out of their sails. If an idea such as privatising the water board becomes central to the campaign, the Tories can claim that they've previously announced their own policy on exactly the same thing. So it's a spoiler tactic. Nothing more.
The best response to this kind of tactic is to simply ignore it, not least because there isn't much else you can do.
Don't feed a Tory smokescreen media story.
The shift of public attention to police cuts was an important moment in this campaign. Once we had austerity equated with defence we were going gangbusters. However May partially recovered her position when she attacked the Human Rights Act and Labour couldn't resist taking to the airwaves and feeding her story. Suddenly she was in control of the agenda. Sometimes it helps to bite the lip and let the story fade away, rather than feed it with oxygen.
Labour's campaign ran on chaos rather than professionalism. Maybe that's because Corbyn is difficult to contain, and I appreciate that we need to follow the magic rather than suffocate it, but just because Corbyn is spontaneous doesn't mean the rest of the party should run amok. Maybe there needs to be one approach for the leader and another one or everyone else? Whatever the solution, next time we need better control over our media and messaging.
Value our free and unique service?
LabourList has more readers than ever before - but we need your support. Our dedicated coverage of Labour's policies and personalities, internal debates, selections and elections relies on donations from our readers.
If you can support LabourList's unique and free service then please click here.