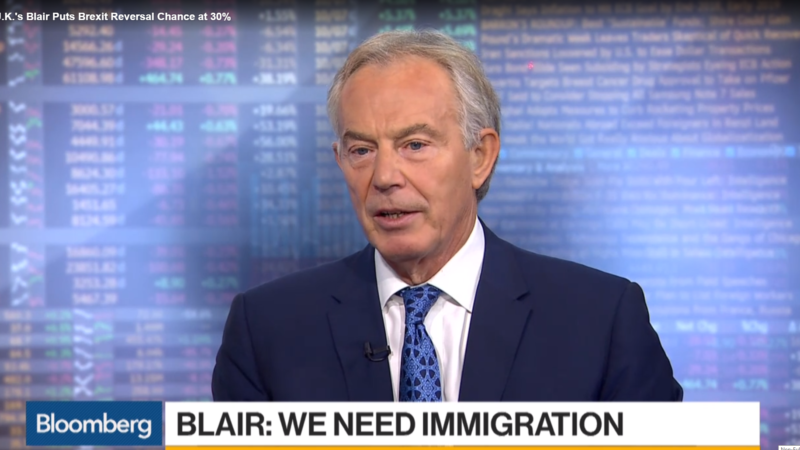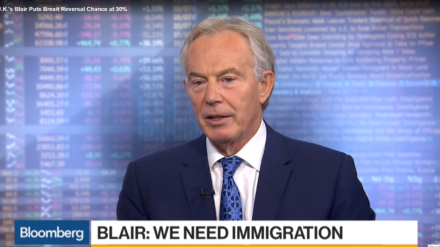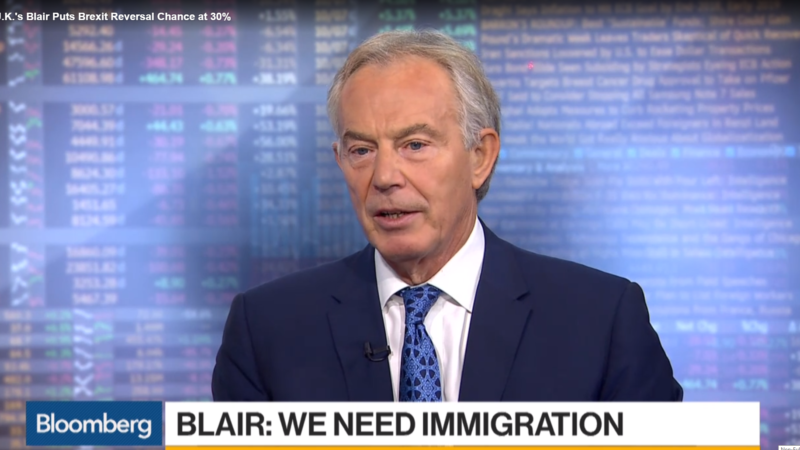 Tony Blair has issued a warning over what he sees as the risk of a "an unreconstructed far-left" leader in Downing Street and said there is a 30 per cent chance that Brexit could be reversed.
The former prime minister took part in another plain-speaking interview in which he continued his criticisms of Jeremy Corbyn on the day the opposition leader tightened his grip on the party with a series of changes to the national executive.
Blair, who was speaking in New York, also continued his campaign against a hard Brexit but dodged questions over whether Boris Johnson should be sacked as foreign secretary following his 4,000 word Daily Telegraph article in which he tried to bounce Theresa May into a series of policy positions backed by Tory "leavers".
Blair appeared to link a hard Brexit with the prospects of Corbyn entering Downing Street when he spoke to Bloomberg yesterday.
"The risk that we face is if we do this hard Brexit, actually the economy will suffer, our public services will be under threat and you actually might end up in the UK with a Labour government frankly further to the left than any Labour government's ever been," Blair told Bloomberg TV.
 "You combine a right-wing populist punch in the form of Brexit with a left-wing populist punch in the form of a Labour government with an unreconstructed far-left programme, we're going to do our country some damage."
Blair campaigned for Remain in last year's referendum and has since taken on the mantle of making the case for the EU which he believes MPs are currently reluctant to make for fear of a backlash.
He repeated his call for a second public vote once the terms of Britain's departure from the EU become known and held out the prospect of overturning the summer 2016 referendum.
"I still have some difficulty seeing how, after the general election which produced a hung parliament in the UK, this government is going to get its form of Brexit through," Blair said.
"I think there's around about a 30 percent chance it's changed [stopped], but a lot will depend on how the debate develops over this year."
More from LabourList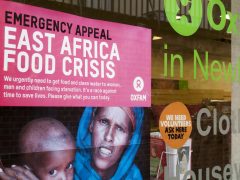 Comment
Someone in East Africa dies of hunger every 48 seconds. This is the result of the imperfect storm…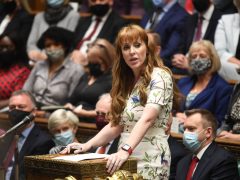 News
Angela Rayner has accused Boris Johnson of "watering down the rules to save his own skin" after the…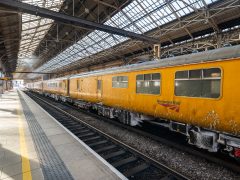 Comment
Network Rail, the company that owns and maintains Britain's railway infrastructure, has recently announced plans to cut over…