Tuesday's NEC meeting has helped contribute to a sense of gloom and defeatism among my fellow Labour moderates. It's all over, say the miserablists, Labour will be totally dominated by the hard left for ever. We won't even be allowed to be branch minutes secretary. Let's all leave Labour and focus on golf or gardening or whatever people do when they stop going to meetings.
This is ironic as, put beyond the Westminster bubble, Labour's moderate wing is alive and kicking, with a string of council selection wins for both new candidates and incumbent councillors in recent weeks, culminating in a heavy defeat for the Momentum candidate in the OMOV ballot for Labour candidate for mayor of Lewisham yesterday.
A survey I have conducted has only managed to uncover two sitting councillors in the entire country who have been deselected by Momentum. To win with the current membership, candidates must be getting votes from post-2015 joiners, and anecdotally we are hearing that whilst a minority are signed up for Momentum emails and vote with their line, most support Jeremy Corbyn but are not part of Momentum and make up their own mind at a local level, and are open to backing candidates from across the party who have compelling ideas, good campaigning records and make the effort to reach out to them.
That's not to say there haven't been impressive victories for Momentum, such as their takeover of Hornsey & Wood Green CLP, ousting Len McCluskey's veteran former political director Steve Hart as chair for being insufficiently ideologically sound, but this pattern is not universal and in Haringey echoes an earlier era when Tariq Ali of the International Marxist Group and a certain backbench councillor J Corbyn were leading players in local politics.
This intensely competitive pattern looked for most of the year as though it would be reflected on the NEC and at annual conference.
In an alternative universe, Kezia Dugdale resigned as Scottish Labour Leader yesterday rather than in August. At her final NEC meeting on Tuesday she provided the one vote majority that meant that the NEC voted not to recommend support for reducing the nomination threshold in party leadership elections. Knowing they didn't have a majority, the leader's office did not bother drafting any other rule changes. Heading into conference week both sides had calculated that the "McDonnell amendment" would be narrowly defeated thanks to a coalition consisting of three of the four largest unions and moderate CLP delegates, whose strong performance in those CLPs that had elected delegates before the general election gave them a solid block of votes.
 In reality, Kezia sadly did resign a few weeks too early so there would have been a one vote majority in favour of the leadership's positions. To its credit, the leadership held back from pushing through rule changes that would have deepened divisions in the party, such as mandatory re-selection, and instead put up a relatively restrained package that the whole NEC felt able to vote for in the interests of unity. As major trade unions usually vote with the NEC recommendations, and hold half the votes at conference, these positions are likely to pass by hefty majorities.
On the "McDonnell amendment" the compromise around a 10 per cent nomination threshold is welcome and a slap in the face for Momentum ultras who wanted five per cent but were constrained by wiser voices from the unions, including left-wingers like Manuel Cortes of TSSA. The outcome of the conference vote is not in doubt, but on principle Labour First will not be supporting the reduction in the threshold.
As Hugh Gaitskell said in 1960 when facing another conference decision that was pre-ordained, "Most of the votes, I know, are predetermined and we have been told what is likely to happen… We may lose the vote today, and the result may deal this party a grave blow. It may not be possible to prevent it, but there are some of us, I think many of us, who will not accept that this blow need be mortal: who will not believe that such an end is inevitable. There are some of us who will fight, and fight, and fight again, to save the party we love. We will fight, and fight, and fight again, to bring back sanity and honesty and dignity, so that our party – with its great past – may retain its glory and its greatness."
We think it is essential that any Labour leader should be able to demonstrate the support of at least 15 per cent of their closest colleagues in the PLP prior to election, and the confidence of the PLP once elected, to avoid the conflict between Leader and PLP seen in 2016, and in recognition that the primary job of the party leader is to lead the opposition (and hopefully soon the government) in the Commons chamber.
In fact we would like to see a return to the electoral college system where the three main stakeholders in the party – members, unions and MPs – each had an equal say. The 15 per cent threshold was only introduced by Ed Miliband as the quid pro quo for abolition of the electoral college. If this was returned to then there would be no need for a threshold as the PLP would have another way of having their input.
Only in 2007 when there was an overwhelming consensus that Gordon Brown should be leader, and very little support for John McDonnell's divisive persona, has the left not been able to get on the ballot, so this is solving a problem that does not exist, for a vacancy that does not exist as presumably Jeremy will lead us into the next general election.
The idea that we might have up to nine obscure candidates husting against each other for leader, with the backing of tiny slivers of the PLP, fewer than 30 MPs each, and elected on members' seventh or eighth place transfers is ridiculous, will make our election process a laughing stock and reduce any future leader's claim to a mandate. We intend to stick to our guns and prove that a substantial minority of CLP delegates agree with us when this comes to the vote.
The addition of one more union rep on the NEC and three more CLP reps is clearly motivated by short term political advantage on a finely balanced NEC, but as we are approaching these votes on principle, not factional advantage, and we have long argued for greater representation of members – including back when the hard left resolutely opposed One Member One Vote – Labour First will support this change. We would go a lot further if we were in the driving seat.
Our 2013 submission to the Collins Review proposed 12 CLP reps, double the increase now being voted on, to bring parity between the CLP and union sections on the NEC. We argued for these 12 seats to be elected by region, to end the scandal that there is not a single CLP voice for any of the members in the north, north west, Yorkshire, west midlands, east midlands, east or south west, and the ballot is swamped by the large middle class membership in London and the south east.
What excuse is there for not having addressed this? And why have councillors, the backbone of the party's campaigning, in power and delivering social justice in many areas, and a major source of funding for the party through the levy on their allowances, been left marginalised with just two seats on the NEC?
Finally we welcome the consensus reached on tough new rules to tackle antisemitism and other forms of prejudice, discrimination and abuse within the party. There can be no place for racism in Labour and the way in which the leadership has engaged with the Jewish Labour Movement to tackle what has been one of the most disturbing aspects of the internal life of the party since 2015 is to be commended.
Labour First welcomes the greater unity in the party during and since the general election.
We will engage constructively with the review of party structures that has just been announced, and feed in ideas from our grassroots supporters to increase internal democracy and further build up the campaigning capacity of the party. Having said that, we are a little bemused that such an extensive review is necessary given that we are told the party is already vibrant and re-energised. Perhaps we can use it to drive all that energy towards fighting the Tories rather than internal politicking and undermining MPs and councillors. We also question the timing of a focus on internal structures given the warnings of the possibility of another general election.
We intend to build a network of local Labour First groups that will provide a positive counterbalance to Momentum's presence at local level.
We will continue to argue within the democratic structures of the party for the policies that we think are morally right, will work in practice and will win a general election. We will argue against policies we think are wrong for Labour and Britain.
We will continue to back the candidates in internal elections and selections who most share our values and who we think are the most talented and electable Labour representatives.
Sometimes we will win, sometimes we will lose. That's the nature of being members of a pluralistic, democratic party. But we are not going away, we are determined to play our part in returning our party to government, and our top priority will always be campaigning for Labour and against the Tories, Lib Dems, Greens and SNP.
More from LabourList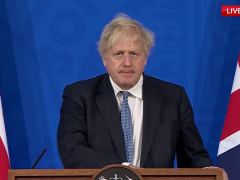 News
Three in five people feel that Boris Johnson should resign following the publication of findings relating to the…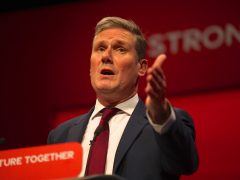 Comment
Below is the full text of the speech delivered by Keir Starmer in response to a statement from…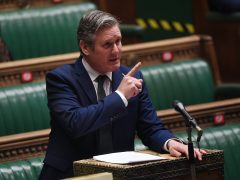 News
Keir Starmer has told Boris Johnson that "the game is up" and urged Conservative backbenchers to remove the…