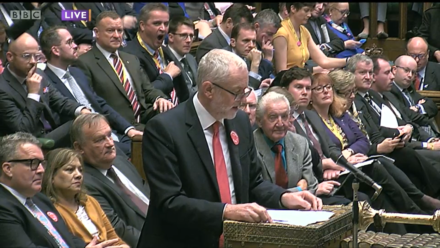 Ahem. This was a punchy PMQs in which Jeremy Corbyn sought to press home his advantage in the polls while Theresa May tried to bounce back from the cough that was heard around the world.
It made for a contest that was sparkier than some of the snooze-a-thons of recent months with the Labour leader – and the benches behind him – fired up in anger over the grim reality of the universal credit roll-out while the embattled PM came out fighting.
This felt like a score draw but it was an energetic battle in which MPs on both sides of the Commons had reason to feel satisfied. It was a rocky resumption of business, however, for the SNP's new leader in Westminster. Ian Blackford struggled to be heard the day after his boss Nicola Sturgeon pulled off another gag at the expense of the Tories by brandishing packet of strepsils at the nationalists' conference in Glasgow.
May's infamous cough was not heard today but the legacy of another spluttering Tory leader could be felt as Corbyn went to war over universal credit.
Corbyn was armed with a strong fact that will have appalled many MPs – the 55 pence a minute cost of calling the UC hotline from a mobile phone.
The botched benefit is, of course, the brainchild of Iain Duncan Smith, the original frog-in-the-throat leader who reinvented himself as a "crusading" work and pensions secretary. His universal credit project, however, is now limping into its third parliament and has barely got off the ground even as the architect has come and gone again from the Tory cabinet.
"The roll-out of universal credit is already causing debt, poverty and homelessness," Corbyn said this afternoon. "Does the prime minister accept it would be irresponsible to press on regardless?"
Well of course she didn't – but perhaps the lengthy and painful introduction of the welfare reform has become a prime example of the "burning injustices" that the PM once pledged to tackle.
Those days feel like a long time ago. The waves of Brexit have since closed over the head of May, whose government seems capable of considering little else.
The sheer scale of leading Britain's withdrawal from the EU has left the Tories seemingly incapable of doing much in many other vital areas of government policy. It means ministers are either blind to – or choose to ignore – the individual horror stories associated with universal credit, which merges six working age benefits into one.
"I wonder which planet the prime minister is on," said Corbyn, who ran with a steady attack on UC.
"The Citizens' Bureau describes universal credit as a 'disaster waiting to happen' – based on assisting tens of thousands of claimants with debt they have made that conclusion. Housing associations report an increase of up to 50 per cent in eviction of tenants with rent arrears due to universal credit. Can't the prime minister and DWP wake up to reality and halt this process?"
Corbyn built up to a decent finale in which he said "everywhere you look, it is a government in chaos", picking out the Tories' failures over Brexit, the Bombardier trade row and social care, before asking: "Isn't it the case that if the prime minister can't lead, she should leave?"
May hit back with a reasonable line about the number of jobs created under the Tories but she cannot hide from the consequences of universal credit – and what it reveals about Tory cruelty and incompetence.
This should be Corbyn's line of attacks in the weeks ahead. As David Davis goes ever deeper into Brexit talks with the EU, then the Tories' reputation for competence should be shredded daily in the sheets of national newspapers.
Labour MPs piled in behind Corbyn with strong questions and Heidi Alexander put down a zinger about the PM "ramping up the 'no-deal' on Brexit… all because she is afraid of the most right-wing rabid elements in her own party… and simply running scared".
It hurt because it was true. Today's debate showed that while May has got her voice back, any authority still eludes her. Corbyn will go home pleased tonight.
Value our free and unique service?
LabourList has more readers than ever before - but we need your support. Our dedicated coverage of Labour's policies and personalities, internal debates, selections and elections relies on donations from our readers.
If you can support LabourList's unique and free service then please click here.