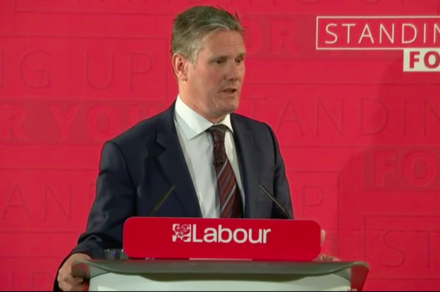 Over the past few weeks, MPs have finally had the opportunity to debate and scrutinise the government's EU withdrawal bill line by line.
Labour has been clear from the outset that, while we accept legislation is needed to transfer EU law into British law before March 2019, the government's bill is fundamentally flawed.
It would turn MPs into mere spectators, while handing huge and unaccountable power into the hands of ministers. It would put environmental protections and workers' rights at risk, by removing their enhanced protection. It would weaken the devolution settlement, by hoarding powers in Westminster rather than devolving them to Cardiff, Edinburgh and Belfast. And it would increase the risk of Britain crashing out of Europe without an agreement.
That is why last month I set out Labour's six reasonable demands for where the bill needs to change.
These were not just Labour's demands. They were also the demands shared by many businesses, trade unions, campaigners and indeed some in Theresa May's own party.
But instead of listening and seeking to improve the bill, all the government has done is to table deeply political and deeply flawed amendments of its own, such as fixing "exit date" on the face of the bill, which would not only tie the prime minister's hands in any negotiations but also prevent Britain from agreeing appropriate transitional arrangements.
And in the first three days of debate Conservative MPs voted down Labour's amendments to protect workers' rights, safeguard environmental and animal welfare standards, legislate for strong transitional arrangements to prevent a cliff-edge for our economy, and to bring the Charter of Fundamental Rights into British law.
Time and time again the Tories have put party interest above the national interest. Ideological red lines above jobs and the economy. Politics above prosperity.
A Labour government would bring a different approach – one that puts jobs and the economy first and is based on our values of co-operation and internationalism.
An approach that protects rights and seeks to retain the benefits of the single market and the customs union.
That's why over the summer I set out Labour's clear and agreed position to negotiate an early agreement for strong transitional arrangements on the same basic terms as we currently have – by which we mean a time-limited period where Britain would remain within the single market and a customs union with the EU, accepting the common rules of both and retaining the jurisdiction of the European Court of Justice.
I also set out that for the long term, unlike Theresa May who has ruled out any future relationship with the single market and the customs union, Labour would not sweep options off the table. On the contrary, subject of course to negotiations, remaining in a customs union with the EU is a viable long-term option for Labour.
Equally, we are flexible as to whether the benefits of the single market are best retained in the long term by negotiating a new single market relationship or by working up from a bespoke trade deal.
Crucially, Labour has made it clear that we have no interest in deregulating our economy, lowering standards or stepping of the level playing field.
A pragmatic approach in the national interest.
The government now has a week before the withdrawal bill returns to parliament for a further five days of debate, and just over two weeks until the crucial December EU Council meeting.
If ministers had the national interest at heart they would rewrite this bill and put an end to the ideological red-lines that are holding back talks with the European Union.
If they are unwilling to do so, then Labour stand ready to take charge of the Brexit process.
Keir Starmer is shadow Brexit secretary and MP for Holborn and St Pancras.
Value our free and unique service?
LabourList has more readers than ever before - but we need your support. Our dedicated coverage of Labour's policies and personalities, internal debates, selections and elections relies on donations from our readers.
If you can support LabourList's unique and free service then please click here.