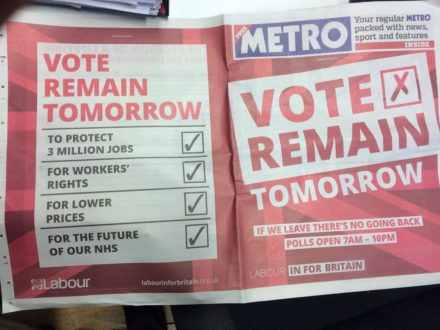 Lately two Labour frontbenchers, Diane Abbott and Barry Gardiner, have hinted at moving towards the Lib Dems' position of demanding a "second" referendum.
Let me start by being picky; another referendum on our relationship with Europe would not be the second, but the third. The first was Harold Wilson's 1975 referendum to stay in the (then) common market.
What is to be achieved by such a hint – keeping a line open to some of those remainers who show growing disquiet with Labour's commitment to Brexit?
There are huge problems for Labour here. When would that referendum take place and under what circumstances? And, what would the question be on the ballot paper?
Firstly, when? Labour has already made a major tactical error by agreeing to invoke article 50 without demanding the Tory government set out its negotiating position. It was a legal rather than a political challenge that forced a vote in parliament on the final deal.
So should there be a referendum before that final vote? It is hardly likely that the Tories would risk that or that parliament would agree to cede its newly-won power to ratify the deal.
Would the Tories risk a referendum after the final deal? Again, it's unlikely.
Perhaps Labour still doesn't rule out a government collapse before the final deal? Although Theresa May's botched agreement this week – allowing in effect North Ireland to stay in the single market – prompted accusations of betrayal on the Tory right, I cannot see enough malcontents to bring down the government and risk a general election.
A very likely scenario sees May stumbling on, getting a final deal through parliament and calling an election on the basis of having achieved the best we can get from EU, promising free trade deals with EU and the entire world. And, to top it all, the Tories would accuse Labour of not backing Britain. It would be a very nasty electoral tactic but one which could work.
Labour is duty bound to oppose any final deal the Tories can come up with.
After the final deal, would it make any sense for Labour to pursue the referendum option? The only plausible line would be to re-run Harold Wilson's 1974 election promise that if Labour won the next election we would "renegotiate our terms of entry" – in this case we would have to promise to renegotiate the terms of exit.
What would it say on the ballot paper in such scenario "Do you wish to rejoin the EU?" Or "join a customs union, or an EEA"? How many more years of tangled negotiations are the advocates of another referendum prepared to offer the electorate?
On the one hand, Jeremy Corbyn puts his faith in the Tories getting deeper into the mire and seems to think the less said on Brexit the better. Whereas others in the parliamentary Labour Party are wary of moving beyond fuzzy and unrealistic notions of our future relations with the EU in what is becoming an ever-narrowing range of possibilities.
I am certainly not advocating "a" policy at this stage but Labour's leaders need to discuss all the options openly and democratically – including staying in. The public and the party deserve better than we are getting.
Michael Hindley was a Labour MEP between 1984 and 1999 and acts as a trade policy advisor to the European Economic and Social Committee (EESC).
Value our free and unique service?
LabourList has more readers than ever before - but we need your support. Our dedicated coverage of Labour's policies and personalities, internal debates, selections and elections relies on donations from our readers.
If you can support LabourList's unique and free service then please click here.