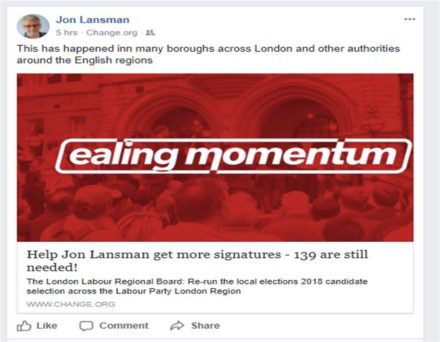 The head of Momentum has swung behind a controversial plan by one of the Corbynista group's local branches to re-open selections for all Labour council candidates in London.
Jon Lansman, founding chair of Momentum who is currently standing for election to Labour's ruling body, backed the plea by Ealing Momentum for a re-run of the entire selection process of local government candidates in the capital.
The choice of candidates has prompted intense rows in some London boroughs. In Haringey, Momentum was accused of engineering the de-selection or forcing the resignation of centre-left councillors, which prompted Roy Hattersley, Labour's former deputy leader, to describe the faction as a "party within a party" and claim Labour faced "the greatest crisis in its history" in an Observer article. Momentum dismissed claims of a "purge" and said members should always be given a voice.
Now Lansman, a veteran Bennite activist who aims to win one of three new places on Labour's national executive committee, has backed Ealing Momentum's plea for new council selections across London, which would amount to a huge and expensive exercise for the party.
The Momentum activists behind the petition have attempt to turn the tables on their rivals within the party by describing the selection process as unfair.
"We believe that the 2018 local government candidate selections have been conducted in a manner that has resulted in potential candidates being excluded from selection on spurious grounds and has disenfranchised newer party members in a way that is unjustified and avoidable."
Lansman wrote on social media: "This has happened inn [sic] many boroughs across London and other authorities around the English regions."
He later said he was acting in a personal capacity and claimed: "It is well known in Labour circles that many London selection boards have taken part in anti-democratic stitch ups against the will of their local members. I signed the change.org petition because I felt it was important to draw attention to this. This, I must emphasise, is my personal opinion and not Momentum's position on the matter."
Lansman did not offer evidence for his allegation.
The Labour Party has been approached for a comment.
Richard Angell, director of Blairite pressure group Progress, said: "Jon Lansman only seems to support party democracy when it goes his way. Rather than throwing London Labour's 2018 campaign into chaos he should be focussed on making gains and winning for Labour."
This article was edited on December 5 to add a quote from Jon Lansman.
More from LabourList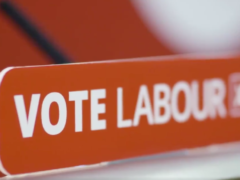 News
Labour's national executive committee (NEC) has drawn up longlists for parliamentary selections taking place across the country –…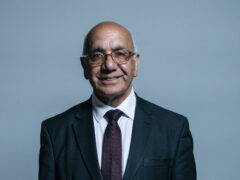 News
Virendra Sharma has become the latest Labour MP to be 'triggered' by party members, after three branches in…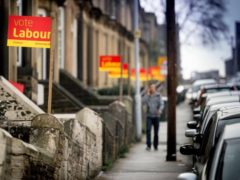 News
The selection longlist for Luton South, drawn up by Labour's ruling national executive committee, has been sent to…