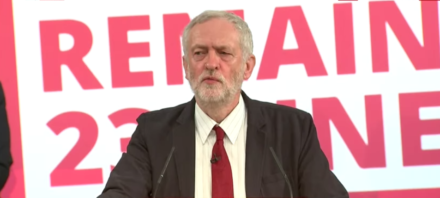 The Brexiteers are not waving, they are drowning. The contradictions and wishful thinking of their dream has become a quicksand slowly consuming them.
Now is the time for Labour to start hoovering up votes. Never has May's government looked so vulnerable. A recent Survation poll shows 50 per cent to 34 per cent now want a second referendum on the final Brexit deal. The Tories are being destroyed by their own stupid policy.
But wait, something's gone wrong. Another study shows the Tories have moved ahead of us if a general election was called tomorrow. What has gone wrong?
During the 2016 campaign, the Labour leadership were sharp, responsive and determined. They appeared to have been put on this earth to take on the Tories and expose their hypocrisy, while laying out a new direction for this country. Yet that killer instinct now appears to be absent.
The Brexiteer promise of a huge financial windfall has manifested in a divorce bill of £50bn, and the fee trade access fees that Norway and Switzerland happily pay, are yet to be discussed. The issue of immigration has gone from an ever lengthening list of exceptions to being quietly swept under the carpet. The Northern Ireland question, so far ignored as inconvenient, has now become intractable.
The greatest promise of all, "take back control", has manifested in a tiny neighbour, Ireland, demonstrating considerably more power than once-mighty Great Britain, simply due to their ongoing membership of the EU. It seems that leaving the club delivers a massive loss of sovereignty, and leaves Britain as the tiny nation, buffeted about by events, and receiving orders from Brussels bureaucrats, while the leaders of neighbouring states concern themselves with more pressing matters.
Meanwhile the Labour Party look increasingly desperate as they claim to be waving not drowning. The Lib Dems are resurgent. The polls are disastrous. The country wants answers. The answer for the Labour Party is right there under their noses and they know exactly what it is. It's time for the Labour Party to change its Brexit policy.
It's time to demonstrate that we are the government in waiting, not a performance artist on the deck of the Titanic making a speech about injustice while the rich jump onto the lifeboats, but a party that promises leadership and stability. A party that promises a new direction away from the disaster that is about to unfold.
Every Labour member knows that this is the truth. If you were stood outside a burning building, would you make a speech about injustice, or would you call the fire brigade? The answer to the question is obvious and the obvious is what people want – action, or at least the promise of action, in return for their delivering power to us by their vote.
The referendum result produced a weighty moral duty to deliver on the decision made by the British people. But this weighty moral argument has since been filled with holes. A hole for every lie. A hole for every wishful promise from Boris Johnson and Michael Gove since shown to be impossible. A hole for every piece of emotional rhetoric that played on prejudice, hate and mistrust of our neighbours. Without the moral standing of the referendum result. the Brexiteers no longer have a single argument to make in favour.
Ed Miliband lost an election because he was hesitant. He feared being as bold as his instincts suggested. Is it the case that the current leadership are also hesitant? Do they continue to be fearful even as it becomes clear that this hesitancy is destroying us?
The time has come to change direction, to tell the truth to the British people about Brexit policy, that they were lied to by the Tories, and they were suckered. That the Leave campaign sold them a false future.
It's time for Labour to come out against Brexit.
Value our free and unique service?
LabourList has more readers than ever before - but we need your support. Our dedicated coverage of Labour's policies and personalities, internal debates, selections and elections relies on donations from our readers.
If you can support LabourList's unique and free service then please click here.