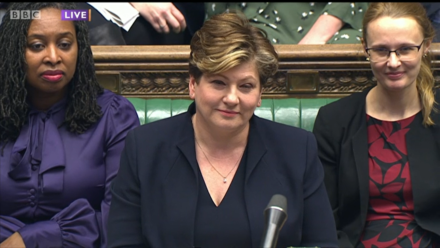 If Theresa May is the Geoffrey Boycott of prime minister's questions, batting away deliveries in a relentlessly dour manner, than stand-in David Liddington likes to swing his arms around and play a few shots.
Emily Thornberry is, however, the all-rounder who doesn't bother to play herself in. She whacks the first ball for six – and then tries to accelerate the pace from there.
And no, I haven't forgotten about Jeremy Corbyn – but he defies categorisation. And the Labour leader is more of a football fan. With May in China then Corbyn – a staunch Arsenal fan – subbed himself and was either in internal meetings or watching his team's transfer deadline day spending splurge unfold.
Thornberry was – as always – a more than capable reserve. Her freewheeling approach is well-suited to the adversarial style of PMQs and, judging by the confident grin that kept flashing across her face, she enjoys every minute of it.
Today she aimed to take apart May's deputy on female representation and the voting age. Liddington – a genial Tory known as "Lidders" by his chums – is, of course, not the first white middle-aged man sent to deputise for the prime minister and follows in the footsteps, but presumably not the viewing habits, of the departed Damian Green.
Thornberry pointed out that she was the "only Emily" elected since 1918 while there have been "155 Davids" over the same period.
It was a spiky start delivered what so many politicians aim to do at PMQs – score a quick win with some shaming statistics.
Lidders is there, however, because he is a safe pair of hands so he had his own number tucked up his sleeve – some 97 members of the Labour frontbench have been sacked or resigned since Corbyn become leader.
Well that was a pretty good stat – but I am not sure what it has got to do with anything under debate today. It didn't sound like a reference to the sacking of Jon Mendelsohn from the Lords frontbench over the Presidents Club charity fundraiser. Lidders would be unlikely to go down that route since children and families minister Nadhim Zahawi also attended the notorious all-male gala.
Lidders was not going to let the jibes about gender go unmet, however, and was quick to point out the Tories have elected two female leaders who have become prime minister. This fact is rolled out so frequently at PMQs, however, that it was close to a free hit for Thornberry, who responded: "If the party opposite are so proud of having a female leader then why are so many of them trying to get rid of her?"
The truth can be very difficult to answer.
Thornberry, who has been repeatedly touted for a rumoured role of second deputy Labour leader, pushed hard on votes at 16. She was armed with facts, as you would expect from a former barrister, and made a decent point when she highlighted the fact that 16- and 17-year-olds can leave home, join the Armed Forces, pay taxes and are "free of parental control" but are not allowed to vote.
Fair enough, you might think, but Lidders was able to roll out one of his soundbites with a bit more flair than stern May.
"If she wants a lesson in inconsistency then she might like to look in the mirror", he responded, quoting Labour's decision to raise to 18 the age restrictions on buying cigarettes and using a sunbed.
It was a far livelier debate than that we have become used to from Corbyn and May, who are steady accumulators rather than showmen and women.
Thornberry was also ready to defend the record of the last Labour government, pointing out those changes in age limits were down to "public health, public safety and the prevention of crime".
And that was nearly it. John Bercow, the Commons speaker, always acts as an eye-catching umpire and he lambasted the "quite stupid individual" on the Tory benches who, although unnamed, was presumably the same idiot who shouted "she's a toff" at Thornberry, who is married to a High Court judge.
Thornbery won the battle of the deputies but Liddington is no slouch either. For everyone watching it was simply a relief that, with the two circumspect team captains away, then two big-hitters were able to hit the ball all around the ground and deliver some entertainment,
More from LabourList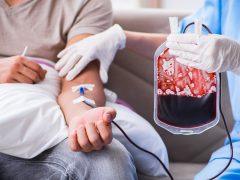 News
Taiwo Owatemi and Sarah Owen have written to Sajid Javid demanding that the Secretary of State for Health…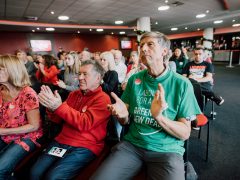 News
The conference motion on the climate crisis promoted by Labour for a Green New Deal has been ruled…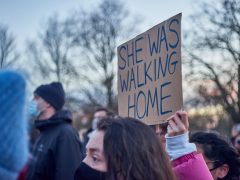 Comment
Nicole Smallman. Bibaa Henry. Sarah Everard. Julia James. We have all learned the names of these women over…