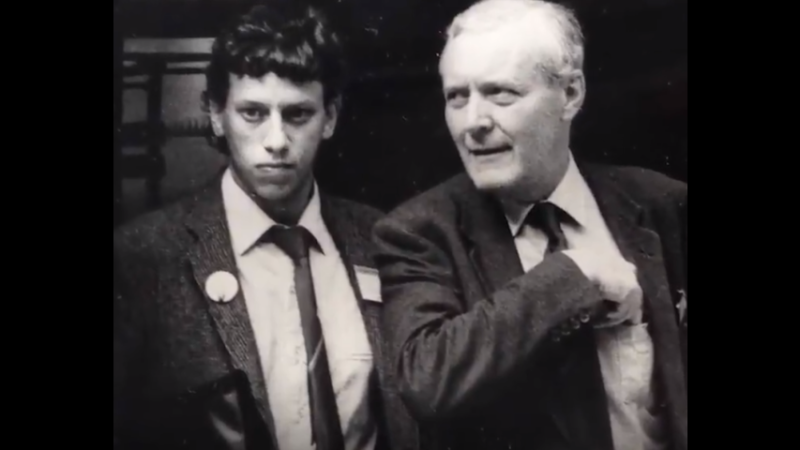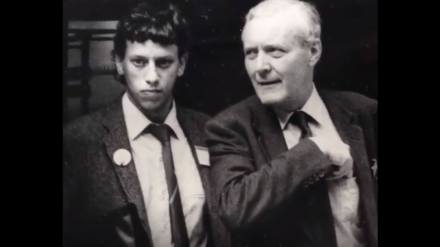 Pic: Tony Benn with Jon Lansman, later founder of Momentum, in the 1980s.
The last few weeks have seen an unprecedented intervention by the national executive in a local authority planning case and Labour council leaders step down in Haringey and Harlow – one leaving the party altogether.
The election of harder-left NEC members and their unnecessary changes to the disputes panel have also led to another bitter round of deselection calls and division of the kind the leader does not support.
With claims of almost 600,000 Labour members, barely 10 per cent backed the harder-left slate in the NEC elections. The newly elected representatives may wish to reflect on how they ensure they stand for all members and not the minority. It is important that the NEC stands for the many, not the few – to coin a phrase reiterated now but prominent in the 1997 election under New Labour.
That year was my first vote. It followed 18 years of Tory governments damaging my family and my community. My mum has schizophrenia and Tory cuts meant insufficient mental health treatment, no decent social care and a lack of support for the wider family, resulting in one of my brothers becoming mum's primary carer. I joined Labour at 15 to help ensure other families avoid our experiences and was proud to walk to the polling booth with my dad and support Blair in 1997.
That election's seismic change is sadly too easily written off by drab populists now. The battle was colossal to ensure the Labour Party was firmly ahead on the key issues people vote on: the economy, policing, the NHS and education. There was a sense this was a political party keenly focused on ensuring every child would have a better future.
Some people now dismiss Labour's success. In dismissing Blair and New Labour between 1997 and 2010, however, is to disown the very voters who came with us to make it happen and then to disenfranchise them today.
These are the voters whose families benefited from Sure Start, the national minimum wage (after a century of labour campaigns), year-on-year investment in the NHS and guaranteed treatment times, protection by the Human Rights Act and the chance to use the freedom of information act, as well as one million children and pensioners lifted out of poverty, tax credits, the peace in Northern Ireland which benefited us all. If we disown those achievements, the people who backed them and benefited from them will question whether to back us again.
We desperately need all those voters back in the next election for two reasons: we can only win an outright majority by beating Tories and in their own seats. The smaller parties were decimated last June. Greens all but disappeared, UKIP got two per cent of all votes, and two-thirds of Lib Dem candidates lost their deposits. In the next fight, we can take some seats off the SNP in Scotland with smallish swings, but the real prizes are to be had in England in Tory-held seats. Without winning seats and votes directly from the Tories we cannot enter Downing Street.
And we must win the next election to end this appalling, deceitful, shambolic Tory mess of an administration.
The Tories have always claimed to be the party of the economy, small businesses, individual liberty and law and order; and voters backed them over us for the vast majority of the last century. But Brexit can only harm the economy, the Tories have straddled small businesses with very tough rates rises and left many unclear on trade. They have also poisoned the well of support by failing to protect SMEs from big business maladministration, including the Carillion farce where government contracts led to false confidence in the firm and the Tories failed to ensure that prompt payments were built into contracts, which left smaller companies in the supply chain at risk of closure.
On law and order, we have the lowest police numbers for more than 20 years and police forces have openly admitted they cannot investigate all crimes – with shoplifting now almost ignored and rocketing violent and moped-related crime rates at the same time as flat-lining prosecutions.
On individual liberty, this government – and the Lib Dems who were complicit between 2010 and 2015 – are directly responsible for soaring poverty, an explosion of rough sleeping and the escalation of foodbank use from 40,000 in 2010 to 1.4 million last year.
Many of the people reliant on charity help in Southwark are in work. Working people have been shoved into poverty and are unable to see how they or their children can be better off in future. Home ownership has plummeted and many know their jobs are on the line if the hardest ideological wing of the Tory Party forces May to take the most extreme of Brexits. In that event, even truckers like my uncle and cousin may not be able to export goods from Britain. It could be a brutal end of work for thousands of people.
Despite the carnage of their government, we are level-pegging with the Tories in the polls. We cannot and must not let the Tories carry on but to prevent them will take our concerted effort. Those focusing on internal rule changes, de-selections and division are betraying the people who need us in government.
The vast majority of Momentum members who I have campaigned with bear no resemblance to their characterisation by pundits. Some work very hard in my constituency and we actively work together on a number of local and national issues.
Those higher in the party bear a greater responsibility to do the same on the issues that matter most to our chances of winning the next election. Fighting over candidates and focussing on internal rule changes will not win over a single voter – but it could put many off.
If former Labour council leaders are leaving the party and open hostility, abuse, harassment, discrimination, anti-Semitism go unchecked, then some pretending to act in the leader's name will be damaging his prospects. Some Labour MPs have apparently alluded to staying on as independents if de-selected – an "SDP by default". Forcing members of parliament, members of the party, and members of the electorate into any new SDP should be avoided at all cost. We cannot afford to lose another election.
It was Tony Benn who stated that the Labour Party cannot fly on one wing alone. He should be heeded by those who force out Labour members and councillors with their vitriol and bullying. We need two wings to fly. Time will tell if Jeremy Corbyn's leadership remains dogged by people who claim to act and speak for him, causing a torrent of complaints and harming our electoral chances.
Neil Coyle is MP for Bermondsey and Old Southwark.
More from LabourList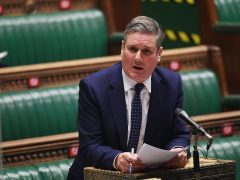 News
Keir Starmer has been urged in an online meeting of the parliamentary party tonight not to ditch the…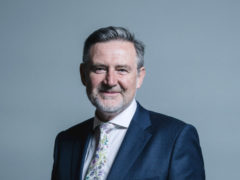 Comment
Tonight will be like old times. The lobby correspondents gathering outside Committee Room 13. Ears pressed to the…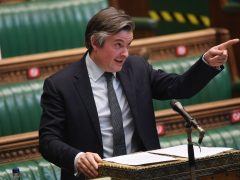 News
Jonathan Ashworth has said the spread of the Indian variant in the UK could have been avoided while…