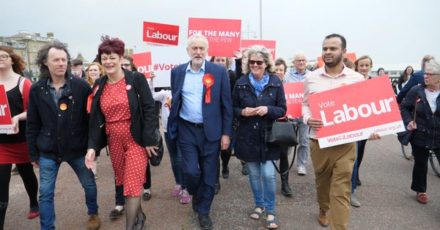 This the full text of Jeremy Corbyn's speech at Labour's local elections launch in Trafford today.
We're here today in Trafford to launch Labour's local election campaign. But before I do so, I want to talk about the terrorist attack in Westminster a year ago today when PC Keith Palmer was killed along with four others and more than 50 people were injured.
Later today I will attend a service in Westminster to remember the bravery of the police and to pay our respects to all those who died Aysha Frade, Kurt Cochran, Leslie Rhodes, Andreea Cristea and PC Keith Palmer.
On 3rd May there are elections in many towns and cities in England.
This year more than ever it is vital people vote Labour for a Labour council to protect and support your community.
On May 3rd people have the chance to send an unmistakable message to this government that enough is enough.
Enough of cuts to vital services that hurt local communities; enough of cuts to schools, hospitals and local policing; enough of library and youth centres closures; enough of leaving elderly and disabled people without essential care; and enough of failed privatisations that suck funds out of public services so a few can make a profit.
Over the last eight years, this Conservative government has cuts councils' budgets in half one Conservative council has already gone bust.
In that same time, this government has slashed corporation tax, cut the bank levy, abolished the top tax rate on high earners and cut capital gains tax for the very richest.
Austerity is a political choice.
So when your children's school is losing teachers and sending begging letters to parents or their youth centre is closed, that's because the Conservative priority is tax breaks for big business.
And when your elderly relatives are neglected for lack of social care, that's because the Conservatives want another tax giveaway for a few people at the top.
Decent people who have contributed all their lives have been turned into an item on a spreadsheet, sliced and diced into 15-minute units of care because of Conservative cuts and privatisation dogma.
It doesn't have to be like this Labour in government would do things very differently.
And Labour councils across the country are doing things very differently right now.
Look at the number of Labour councils that are accredited as paying the living wage to all council staff and contractors.  My own borough of Islington was one of the first in the country to do so.
And look across London, Conservative Wandsworth is not a living wage borough, but next door Labour Lambeth is. Tory Westminster is not but neighbouring Labour Camden pays the living wage.
And here in Greater Manchester just down the road, Salford Labour council is a living wage council but Conservative-led Trafford is not.
And with pay lower today than it was in 2010, we need local councils to be doing what they can to boost their local economies.
More and more people are finding it hard to make ends meet, bills are going up, and many young people can't afford to move out of home or put enough by each month to save for a deposit.
Philip Hammond may have proclaimed "the light at the end of the tunnel", but the stark reality was revealed by the government's own official forecasts predicting "weak growth in real earnings and even weaker growth in real disposable incomes".
Meanwhile the country's housing crisis is deepening, it's a crisis that has left 120,000 children in temporary accommodation without a home to call their own. That's up two-thirds since 2010.
Homelessness has more than doubled and fewer people are able to afford to buy their own home.
It's in response to this crisis that Birmingham Labour council has set up Birmingham Municipal Housing Trust to build more council houses. They have built around 2,500 new homes in the last three years, more than 20% of all new homes built in Birmingham since 2011.
But under this government, the number of new social rented homes being started has fallen from 40,000 with Labour to fewer than 1,000 last year.
Labour will build the homes people need and ensure developers build genuinely affordable housing.
Too often under the Conservatives, the essential things in life have been left to the market.
The collapse of private outsourcing companies like Carillion should have been a wake-up call for the government, but it's Labour councils that are dealing with a crisis made in Downing Street.
Take Croydon, the Conservative council privatised the libraries and outsourced the workforce to Carillion. When Carillion collapsed it was the Labour council that saved the libraries and people's jobs by bringing them back in-house.
Labour councils are clearing up the Tories' mess time and time again, and acting as a human shield against damaging Conservative cuts.
It's a different story when it comes to Conservative councils.
Northamptonshire bragged that it was pioneering an "easy-council" model. The Conservative council outsourced over 95% of its 4,000 staff. They were transferred to four new service providers, run like private companies with the payment of dividends.
Last month we learned the council had run out of money and its leader had resigned blaming the Conservative government. That's not efficient management, it's reckless gambling with people's lives and the public services they rely on.
But this same slash-and-burn model is still being used by Barnet council also run by the Conservatives where Capita holds contracts with an estimated value of £500m.
Privatisation has failed to deliver on the railways, in the water companies and with energy too; people are paying more for less.
That's what you get with the Tories you pay more for less so that their super-rich backers can take a cut for themselves.
It's common sense that natural monopolies like water, energy and rail and public services should be there to serve us all not the profit margins of a few.
That is why Robin Hood Energy, an energy company set up by Nottingham Labour council is so important.
If we are serious about meeting our climate change goals, we need to allow councils to invest to tackle poor air quality and defend green spaces.
The energy companies have failed to invest in renewables and they've failed to keep energy bills affordable.
And again, it is Labour councils with their spirit of public enterprise and practical municipal socialism that are finding solutions even in the toughest of times.
And times are certainly tough for the councils trying to provide local services with half of their budget cut since 2010, and the ten most deprived council areas in England subjected to cuts higher than the national average.
What that means on the ground in local communities is that over 400 libraries have closed; more than 600 youth centres shut down; it means 1.2 million elderly people not getting the care they need and deserve; and many disabled people suffering the same indignity.
Last year 400 women were turned away from refuges because they simply didn't have space many of those women fleeing with their children from violent homes.
In England alone, two women are killed every single week by a partner or an ex-partner.  Finding safety in a women's refuge can quite literally be a matter of life and death. Yet a fifth of all women's refuges have been forced to close since 2010.
So when Theresa May talks about "burning injustices", remember the reality her government is presiding over: more children growing up in poverty; life expectancy falling for the first time in living memory; our NHS in crisis with the number of GPs and nurses falling; crime up and 20,000 fewer police on our streets; more people forced to rely on food banks; and more than twice as many people sleeping rough on our streets.
Yet all the while the government has found billions of pounds in tax giveaways for the very richest and big business.
That's Conservative Britain. And who is footing the bill?
Christine knows just one of the thousands of people who write to me every week. The police precept in Hampshire is going up by 7.3%, despite police cuts in her area.  It's the same message again pay more for less.
Police funding has fallen by one fifth since 2010; the thin blue line is getting thinner.
And the police inspectorate is today warning that 999 calls are sometimes not responded to for days and that some forces are so stretched that the lives of vulnerable people are being put at risk.
Empty shops suck the life out of high streets and local communities, and yet local businesses and shops that are the lifeblood of our communities and high streets will see their rates increase by over £3,000 even as basic services are cut.
The message from Theresa May's government could not be clearer: pay more to get less under the Conservatives.
And 'pay more for less' is precisely the message from Conservative-run Leicestershire County Council where residents face £50 million of cuts this year and council tax increases of nearly 6%.
Their Conservative deputy leader of the council blamed "chronically low Government funding".
Every day people see what the dilemmas facing local councils mean in practice.
As Edna, who wrote to me this week put it, "councils having to sell off artwork, close museums, sell off parks, close libraries to survive. The poor and middle classes are losing out on their quality of life."
And it's not just in Leicestershire, the Conservative leader of Surrey County Council said recently, "We are facing the most difficult financial crisis in our history. The government cannot stand idly by while Rome burns."
But it is standing by and passing the buck to local councils.
On May 3rd there's no need to stand by, no need to accept you have to pay more and get less, use your vote to send the message that 'enough is enough'.
It doesn't have to be like this.
After eight years of Conservative cuts, failed privatisations and falling living standards, it's time for real change.
Labour will give dignity and support to those in need, rebuild our communities and transform our country for the many, not the few.
Thank you.
More from LabourList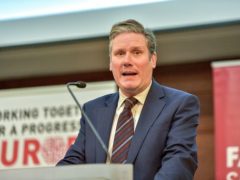 News
Keir Starmer has set out a vision for what he describes as a "contribution society" based on people…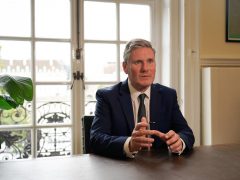 News
Keir Starmer has declared that he intends to "take suggestions" and continue discussions about his preferred rule changes…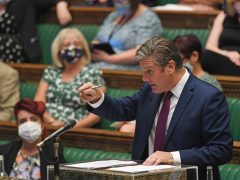 Comment
Keir Starmer would be forgiven for heading down to Brighton for Labour conference this weekend feeling slightly more…