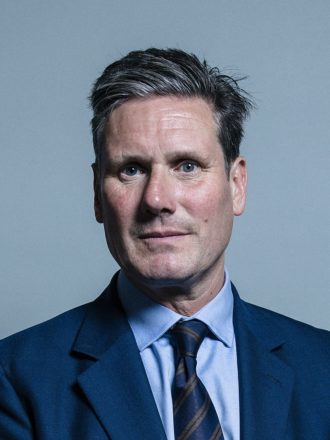 This is the full text of Keir Starmer's speech at the EEF Technology Hub, marking one year to go until Brexit.
One year on; one year to go. This week is half-time in the Article 50 process.
A timely opportunity to look back at what was promised and to look forward to what now needs to be delivered.
Three main conclusions:
First: the negotiations are not going to the Prime Minister's plan. The hard red-lines the Prime Minister set out a year ago have bedevilled negotiations. Deadlines have been missed. Promises have not been delivered.
Second: the year to come will be more difficult than the first. Eventual agreement on a transitional deal on the same basic terms, and the conclusion of Phase 1 of the negotiations are – of course – steps forward. But this should have been the easy part.
On all the major issues: Trade and customs, fishing and farming, freedom of movement, the Irish border; there is no resolution in sight. In many cases, these issues haven't even been discussed.
Third, the country is even more divided now than it was a year ago. The referendum campaign left the country more fractured than at any time I can remember. In such circumstances, it would have been wrong for any Prime Minister to have swept options off the table and to push opposition aside.
But instead of bringing the country together, the Prime Minister's approach has isolated the devolved administrations and entrenched divisions.
For many Leave voters, the Prime Minister is guilty of over-promising and under-delivering. For many Remain voters, her extreme interpretation of the referendum result risks cutting them out of their future.
So it's important that today we're here in Birmingham: A 50:50 city where 450,000 voters at the referendum were divided by just 4,000 votes. It's a reminder that in the second year of these talks we need to ensure that the final Brexit deal speaks to people across this City and across the UK.
A year ago on Thursday, the Prime Minister sent formal notification of the UK's intention to withdraw from the EU. We were told the Government would deliver: "free, frictionless, tariff-free access to the single market."
A few weeks ago at Mansion House, that was watered down to, "as frictionless as possible" and an explicit acknowledgement that,"In certain ways, our access to each other's markets will be less than it is now."
That is a significant downgrading of expectations in just 12 months.
The Prime Minister's Article 50 letter stated that the Government would give: "citizens and businesses… as much certainty as possible, as early as possible".
Yet in reality, citizens' rights were used as bargaining chips, causing huge uncertainty for millions of UK and EU nationals.
Early agreement on transitional arrangements was delayed because of the Prime Minister's ideological red-lines.
And sensible options such as a Customs Union and a strong new relationship with the Single Market were talked down while the prospect of no deal was talked up.
We were also told the government would: "strengthen the Union of the four nations that comprise our United Kingdom." Yet a year on, the devolution settlement is being threatened, not strengthened.
In Edinburgh and Cardiff, emergency Continuity Bills have been introduced because no agreement has been possible at Westminster.
There remains a danger that the Scottish Parliament and the Welsh Assembly will not give consent to the Government's flagship Brexit Bill.
That would constitute an extraordinary failure for any Prime Minister.
A year ago the Prime Minister promised there would be: "several pieces of legislation that address specific issues relating to our departure from the EU."
In reality there is legislative paralysis.
The trade and customs Bills are parked because the Government fears defeat on crucial amendments. The Immigration Bill is nowhere in sight. Bills on agriculture and fisheries are yet to be published, let alone voted on.
Perhaps most striking was the Prime Minister's commitment that the UK will be: "Stronger, fairer, more united and more outward-looking than ever before."
Instead, we have seen an unwillingness to listen to opposing views; a policy agenda driven by the extremes of the Conservative Party and millions of Britons dismissed as "citizens of nowhere".
As we enter the second half of these negotiations – and the really difficult issues arise – there needs to be a more sensible, and credible approach.
An approach that is inclusive, that works for all parts of the country, and puts jobs and the economy first. That has been the approach Labour has sought to take throughout.
We could have offered simple solutions and made false promises. We could have pretended, that this would be, "the easiest negotiation in human history." We could have claimed that the Irish border is no more complex than the London congestion charge. Or we could have told our fishing industry that we would "take back control" of UK waters from March 2019.
Labour's approach has been more nuanced and more honest. Brexit is complicated. Legally, politically, economically. It demands careful analysis and credible solutions.
Brexit can't be answered by glib soundbites or PR gimmicks. A "red-white-and-blue Brexit" is as meaningless as "Brexit means Brexit".
Equally, the referendum demands a political response rooted in the national interest. The referendum answered one question – Leave or Remain? There was a close but clear result. And Labour has always been clear that we respect that.
But it failed to answer many others:
How will we leave the EU?
What should our future relationship with the EU look like?
Who should we trade with – and on what terms?
Who should we welcome to this country?
How should our economy and our society change?
And how can we ensure peace and prosperity in Northern Ireland?
These are questions that affect every region and nation of the UK. And every sector of our economy. Everybody – whether they voted Leave or Remain – has a stake in the answer to each of these questions.
Labour has often been criticised for failing to simply 'pick a side'. To speak just for the 48 per cent or the 52 per cent and give up the hope that Labour can speak to and for the 100 per cent.
Believe me, this job would have been much easier if we had. But it would have been fundamentally the wrong approach for Labour…and fundamentally the wrong approach for the country.
Instead, Labour's approach has been grounded in our values. Of internationalism, solidarity and equality. A belief that we achieve more together than we do alone.
That's why the first of the six tests I set out a year ago was that the final deal must, "Ensure a strong and collaborative future relationship with the EU."
Not just in trade and security, but in so much more – in research, technology, arts, culture, science and medicine.
Labour completely reject the notion that Brexit should make Britain a more insular country or cut ourselves off from our allies.
The approach that Jeremy Corbyn set out last month in Coventry had those core values at its heart and a strong emphasis on jobs and the economy.
There is no clearer demonstration of that than our commitment to negotiate a new comprehensive UK-EU Customs Union.
That commitment is crucial to ensure continued frictionless trade with the EU; protect our manufacturing industries; avoid delays at ports and; help prevent a hard border in Northern Ireland.
What has been telling about Labour's position on the customs union is that it has been widely welcomed not only by the labour movement and trade unions but also by the business community.
The Government – on the other hand – has ruled out a new Customs Union. They do so even though they can point to no business organisation or trade union that believes the UK will be better off outside a Customs Union.
Even though their own analysis shows that a Customs Union would benefit the economy. And even though they have offered no viable solution to the Irish border.
Those are risks Labour will not take. That's what we mean by putting jobs and the economy first.
It's also why, as Jeremy made clear in his Coventry speech, a new Customs Union must come alongside a strong new relationship with the Single Market.
That relationship must include, full access to European markets; no new impediments to trade; no drop in existing rights, standards and protections.
That's a strong and clear commitment from Labour to retain the benefits of the Single Market and the Customs Union.
It's a strong economic package, and it's a very different approach to the Government.
Putting jobs and the economy first means advancing a serious and credible economic partnership with the EU as a key element of the final deal.
Labour has done that. The government has not, and that matters.
It matters not for narrow political gain, nor for the trivial points, we often obsess about in Westminster. It matter because it will affect people's jobs, living standards and much more for decades to come.
A year ago, I set out Labour's six tests for the final Brexit deal. Those tests set a high bar. I make no apologies for that.
Unlike so many of the Prime Minister's promises, those six tests endure. They remain the yardstick by which we will judge the final deal.
Don't get me wrong, I want the Brexit talks to succeed. I know that sounds unlikely coming from a Shadow Secretary of State. I genuinely want the Government to negotiate a deal that works for Britain.
But after the mistakes and mis-steps of the last 12 months, we have to be prepared for the possibility that the Prime Minister will fail.
That's why Labour fought tooth and nail for Parliament to have a final say on terms of the Brexit deal. On an issue of this importance, Parliament must be in control.
Labour first coined the phrase 'a meaningful vote' – and I am clear that it must be just that: meaningful.
The amendment passed by the Commons in December was a real step forward. But it is extraordinary that the Prime Minister and members of her Government continue to assert that this should be a simple take-it-leave-it vote.
Lord Callanan said just last week that if the deal is voted down it would be 'an instruction to move ahead without a deal'. No it won't. That is totally unacceptable.
If Parliament rejects the terms of the Prime Minister's deal that would not give her licence to crash out without an agreement. Far from it: that would be the worst of all possible worlds.
A disaster for businesses and working people. A disaster for citizens in the UK and the EU. A disaster for Northern Ireland. Unthinkable. And not meaningful.
So – working with others – Labour will ensure that an amendment is introduced to the EU Withdrawal Bill to strengthen the terms of the meaningful vote. The amendment will make clear that – should the Prime Minister's proposed Article 50 deal be defeated – it would then be for Parliament to say what happens next, not the Executive.
A statutory provision requiring the government to proceed on terms agreed by Parliament, not on terms dictated by the Prime Minister.
Precisely what action the government should take in the event that the Prime Minister's proposed deal is voted down will have to be decided at the time. That should be for Parliament to decide if and when necessary.
But Labour's preference in that scenario is clear: The Government should listen to Parliament's concerns, go back to the negotiating table and secure a better deal that works for Britain.
This amendment would provide a safety valve in the Brexit process. It would help safeguard jobs and the economy, and remove the possibility of a no vote leading to no deal. It would bring back control to Parliament.
That is not the only area where Labour will seek to influence the Brexit process in Parliament in the coming weeks. As I have said many times before, the question of the Irish border is one of the most complex and important issues in the Brexit process.
Having worked in Northern Ireland for five years as a human rights advisor to the Policing Board, I know first-hand how precious and precarious the peace process is. That's why the commitments in the phase one agreement that there will be no hard border and that North-South co-operation shall continue as now are so important.
They are solemn commitments to the people of Northern Ireland. Yet – having made these commitments, the UK Government has singularly failed to advance a credible means of keeping them.
On the contrary, the Government has ruled out a the serious and workable proposal of negotiating a comprehensive Customs Union with the EU.
While a Customs Union on its own will not solve the border question, it is a necessary pre-condition for no hard border.
This lack of clarity and realism from the Government has held back the negotiations at every stage and increased uncertainty for all communities in Northern Ireland.
In recent weeks, a number of Cabinet Ministers have begun to question the phase one commitments on Northern Ireland and have failed to recognise the seriousness and complexity of this challenge.
All we have had are glib promises about technological solutions not yet invented and lazy comparisons. Legal certainty is now needed.
That is why – working with others – Labour will ensure an amendment is introduced to the EU Withdrawal that would prevent checks, controls or physical infrastructure of any kind at the border.
This would put in place a legal commitment preventing a hard border between Northern Ireland and the Republic.
It will also specify there can be no drop in North-South co-operation across the full range of political, economic, security or agricultural areas.
We do not do this lightly. I know from my time in Northern Ireland that this not an issue to play party politics on, or to divide the House unnecessarily.
This amendment is born of necessity. Because of the government's failure to advance a credible solution in Northern Ireland.
We will work with MPs and Lords on all sides to put this commitment into law at the earliest opportunity.
These two amendments are further evidence of Labour shaping the Brexit process.
After all, it was Labour who, first called for a transitional period on the same basic terms – including within the Single Market and the Customs Union; made the case back in July 2016 for a clear guarantee of citizens' rights; put forward proposals for a new Customs Union and a strong new relationship with the Single Market; and it was Labour who has led the way on a meaningful vote.
The next 12 months will be pivotal for the Brexit process, but also for the future of our economy and our country.
In the last year it has become clear that the Prime Minister cannot deliver a Brexit deal that works for the UK. Or the wider change that the country is crying out for.
Another twelve months of ducked decisions, broken promises and hard red-lines simply won't do.
We need a new and credible approach to Brexit. If the Prime Minister cannot provide it, Labour will.
More from LabourList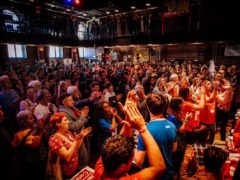 Comment
Labour's parliamentary selection process is under major scrutiny – and for good reason. Across the country, local left-wing…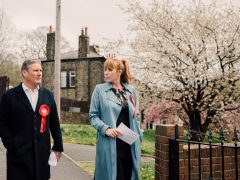 Comment
The last time Labour went from opposition to power in 1997, we were able to harness a wave…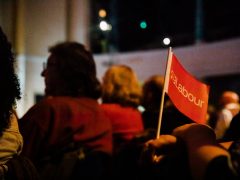 News
The local selection committee in Uxbridge and South Ruislip has been disbanded with "immediate effect" and the results…