Deprived of a vote in parliament, Labour MPs have taken to Twitter to express their thoughts on the Prime Minister's decision to launch air strikes in Syria without first consulting the Commons.
In the early hours of the morning, the UK with the US and France fired 105 naval and air cruise missiles against Syria chemical weapons targets.
Writing to Theresa May today, Jeremy Corbyn described the raids as "legally questionable".
Diane Abbott, Shadow Home Secretary
UK was not under imminent threat. No UN Resolution. No parliamentary vote or debate. Can these airstrikes on Syria possibly be legal?

— Diane Abbott (@HackneyAbbott) April 14, 2018
BBC saying Theresa May pressed for military strikes on Syria before parliament returned, to avoid scrutiny. This would be an affront to democracy.

— Diane Abbott (@HackneyAbbott) April 14, 2018
Emily Thornberry, Shadow Foreign Secretary
The OPCW must be allowed to do their job. If Theresa May claims to be defending international law, then she has an obligation to work through international law to do so. We should be acting multilaterally – through the UN. https://t.co/CamEypHqjA

— Emily Thornberry (@EmilyThornberry) April 14, 2018
Nia Griffith, Shadow Defence Secretary
Pleased that all those involved in operation are back safe, appreciate their immense bravery and professionalism, but Parliament should have been consulted and we MUST now get a wider strategy on Syria from Govt and Allies

— Nia Griffith MP (@NiaGriffithMP) April 14, 2018
Angela Rayner, Shadow Education Secretary
The OPCW was to begin its investigation today. As an elected representative of the people of Ashton Under Lyne I was frozen out of the decision our PM has made to bomb Syria. I am still concerned as to how our action will stop the use of chemical weapons&bring peace #SyriaStrikes

— Angela Rayner (@AngelaRayner) April 14, 2018
Richard Burgon, Shadow Justice Secretary
Bombs will not save lives or bring about peace. Britain should not be engaging in a legally questionable military action. It should be playing a leadership role in creating a ceasefire and diplomatic solution in Syria, and Parliament should have voted on military action. pic.twitter.com/eJauUTjIaQ

— Richard Burgon MP (@RichardBurgon) April 14, 2018
Jon Trickett, Shadow Cabinet Office Minister
The bbc are reporting that there was British pressure to take action in Syria this weekend to avoid Parliamentary vote.
Where is the democracy?
But action this weekend therefore took place before the OPCW had carried out their investigation on the ground.
Wrong, Mrs May

— Jon Trickett (@jon_trickett) April 14, 2018
Rebecca Long-Bailey, Shadow Business, Energy and Industrial Strategy Secretary
Theresa May should have recalled Parliament this week. Uk must now promote dialogue preventing the danger of escalation, secure peace and urgent independent UN investigation into horrific chemical weapon attack ensuring those responsible for this heinous war crime are punished. https://t.co/xHzgneHYN0

— Rebecca Long-Bailey (@RLong_Bailey) April 14, 2018
Andrew Gwynne, Shadow Communities and Local Government Secretary
2/2 I remain to be convinced there's any kind of strategy here; nor that any action won't exacerbate the problems on the ground for Syrian civilians caught up in the Civil War. Need a better humanitarian response. OPCW should have had opportunity to investigate chemical weapons.

— Andrew Gwynne MP (@GwynneMP) April 14, 2018
Kate Osamor, Shadow International Development Secretary
Reports say UN Inspectors were in Damascus last night to carry out inspection of Douma today. The UK should of enabled the inspection & not joined the US & France launch strikes in Syria. Jeremy Corbyn responds to the air strikes. https://t.co/dnBFMMIBrf

— Kate Osamor (@KateOsamor) April 14, 2018
Laura Pidcock, Shadow Minister for Labour
Bombing Syria solves nothing. It doesn't bring peace to the Syrian people, nor make the world a safer place. It only brings more chaos and danger. It's utterly disgraceful that @theresa_may has avoided Parliament to join this onslaught. pic.twitter.com/fVQyow3prg

— Laura Pidcock MP (@LauraPidcockMP) April 14, 2018
Dan Carden, MP for Liverpool Walton
Teresa May's decision to bomb Syria without recalling Parliament shows contempt for our democracy and undermines UK sovereignty. The decision to deploy British forces abroad should be led by our elected Parliament, not President Trump's tweets. #SyriaStrikes pic.twitter.com/gk3cepDCdw

— Dan Carden MP (@DanCardenMP) April 14, 2018
Jo Stevens, MP for Cardiff Central
For the many constituents who have contacted me, here are my initial thoughts on last night's air strikes on #Syria https://t.co/LeU23LBxo2

— Jo Stevens (@JoStevensLabour) April 14, 2018
More from LabourList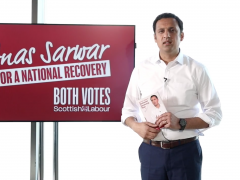 News
Scottish Labour leader Anas Sarwar has warned the 'Progressive Britain' conference today that his party's performance on May…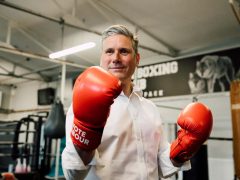 News
Keir Starmer has declared that Labour must "change our party to change Britain" and made the case that…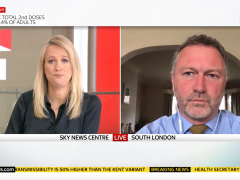 Video
Sophy Ridge on Sunday Shadow Communities and Local Government Secretary Steve Reed backed the easing of Covid restrictions…