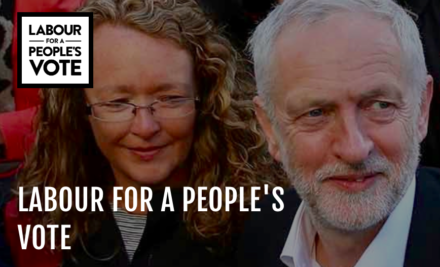 Today key left-wing figures call for another referendum on Brexit as party activists launch Labour for a People's Vote campaign. Supporters of the new movement include Ann Pettifor, an adviser to John McDonnell, the TSSA's Manuel Cortes and Momentum activist Michael Chessum.
The campaign has already got members in over 60 constituency Labour parties (CLPs) vowing to submit its motion for debate, and expects many more to join as the movement becomes public.
Those involved are almost all on the left of the party, some having worked with groups including Another Europe is Possible while others are simply pro-EU, pro-Corbyn local organisers.
Labour for a People's Vote is urging the Opposition to vote down Theresa May's final Brexit deal, which they say is likely to fail Keir Starmer's six tests, and subsequently to back another referendum on Brexit – including the option to remain in the EU.
Jeremy Corbyn, who has a Eurosceptic voting record and was criticised by many both within and outside of the Labour Party for not campaigning wholeheartedly enough for Remain during the referendum, has come under increasing pressure to back a 'people's vote'.
While in the past that pressure has mainly been coming from the Corbynsceptic wing of the party, namely MPs such as Chuka Umunna and pressure group Progress with its LabourSay.EU campaign, Corbynites are now emerging as a prominent lobbying force for the same cause.
Michael Chessum, who worked on Corbyn's 2016 leadership campaign, denied wanting to undermine the current leadership, saying the intention of Labour for a People's Vote was "quite the opposite". Leaders of the new campaign hope that its political tone, which is explicitly of the left, in addition to its grassroots nature, will have a better chance of making an impact.
Many on the left of the party are stepping up Remainer efforts in the belief that intra-factional pressure over Brexit will be more successful than inter-factional campaigns.  Valerie Bossman-Quarshie, a party member in Corbyn's own seat of Islington North, said she rejoined the party thanks to the Labour leader but supports LPV because "as a local activist I think we have to support a people's vote".
Last week, Momentum activist Alena Ivanova launched an online petition demanding a vote for all Momentum members on "whether to oppose Tory Brexit, and whether to campaign for Labour to hold a vote at annual conference in September on giving the people the final say on the Brexit deal". Ivanova said Momentum should have a clear position on Brexit.
The Labour for a People's Vote launch statement rejects the option of a Norway-style EEA deal, unlike 74 Labour MPs who recently defied the whip to vote in favour of the EEA, describing it as "untenable". The motion argues that a Tory Brexit is set to "wreck the British economy" and therefore "bind the hands of a future Labour government", making it more difficult for Labour to deliver manifesto promises.
The motion has been signed by activists including Billy Hayes, economist Ann Pettifor, TSSA general secretary Manuel Cortes, Paul Hilder, Julie Ward MEP, Seb Dance MEP, Richard Corbett MEP, Mary Honeyball MEP, journalist Zoe Williams, Professor Mary Kaldor.
More from LabourList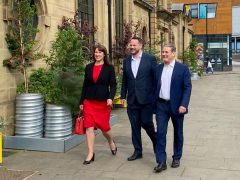 News
Keir Starmer has told LabourList that the candidate selection process in Wakefield was "handled well" following accusations from…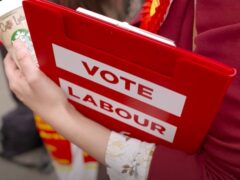 News
National executive committee (NEC) members are set to agree measures to deal with local Labour groups that have…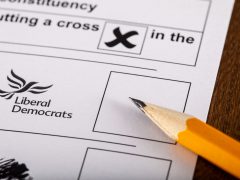 News
Keir Starmer has denied telling Labour frontbenchers not to campaign in the Tiverton and Honiton by-election following claims…