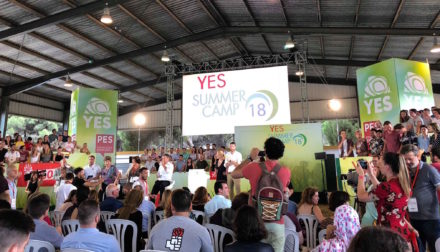 Earlier this month, more than thirty delegates from Labour Students, the Young Fabians and Rainbow Rose took part in the annual Young European Socialist ("YES") Summer Camp 2018. This was the largest UK delegation in living memory, with members from across the Labour movement joining our European comrades.
Historically, Labour has been reluctant to participate in YES events. To produce such a show of strength this year was striking, and perhaps reflected a desire to engage with the left across Europe at a time when Labour's future relationship with it remains uncertain.
UK political culture is markedly insular. Most continental youth wings are actively engaged in YES and other initiatives. In the UK, however, awareness of it, its strengths and weaknesses, and the possibilities it offers members are relatively unknown. The lack of a delegation to YES is usually perceived as a sign of weakness, but Labour's youth movement has rarely made participation a priority. The existence of two UK teams this year and their sheer size came as a genuine surprise to our European comrades, many of whom said "we've missed you".
YES is the youth wing of the Party of European Socialists ("PES"), the grouping of which UK Labour is a longstanding member. It is through this formal affiliation that we have sister parties in Europe. PES, meanwhile, has a relationship with the Socialist International and the Progressive Alliance, two global alliances that emerged through splits earlier this decade.
As such, activity in YES is a key component of participation in the European and worldwide left movement. It is an important part of situating our politics within what is happening in Europe and further afield. It offers young members the opportunity to realise that our struggle, the progressive fight in the UK, should not be seen in isolation, but as part of a broad effort.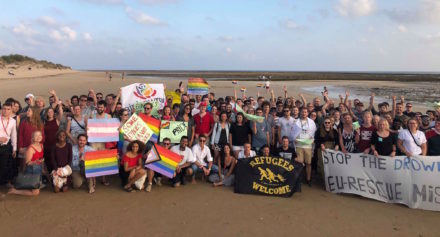 YES is not only a summer camp, but also offers European seminars on political economy, education and other pressing topics – all of which concern, or should concern, progressive activists in the UK. It is the biannual YES Congress that puts forward policies, which PES then pursue in the European Parliament. For one, YES Congress first formulated the idea of the European Youth Guarantee.
Perhaps even more crucial is the ability to share ideas. Delegates from as far away as Mali and Ghana were invited and funded to learn and share their experiences. Asif Mohammed, a UK delegate, spoke at a workshop on refugees. Isaac Stanley ran a workshop on social economy and economic democracy in collaboration with a representative from the Czech organisation Idealiste.cz. Leaders of PES and the Socialists and Democrats Group in the European Parliament join and socialise with participants. Delegates were able to meet with members of PES Women and Rainbow Rose, the women's and LGBTI networks within PES. One of the highlights of the Summer Camp, however, is bilateral delegation meetings, where activists are able to pool experiences with their counterparts in other states.
This year, the UK team met the German Jusos, with whom we discussed the dangers of Pasokification that the SPD face by entering a coalition government with the centre-right, and the problem of antisemitism on the left. We discussed Brexit and the Irish border with Irish Labour and SDLP in Northern Ireland and how to hold a diverse and divided country together with the Belgian JS. We shared experiences of the populist right with the Italian GD and debated how to combat the threat. We learned how to build about the successful experiences of Antonio Costa's socialist government from the Portuguese JS.
These are all key discussions that the UK left, and the UK youth movement, need to be a part of. Our views on Brexit in the delegation were diverse, from backing a second referendum to a clear Leave position, but we all came back enriched with an understanding of what our comrades in Europe think about the negotiations. If the course stays, we will have left the European Union by the time of the next camp – the experience of understanding the position of our friends in Europe will enhance our contribution to the debate on the left.
All this is to say it is vital we maintain this engagement even after Brexit. Maintaining youth engagement is a powerful way to sustain connections. Young members should have the opportunity to take part in YES activities and seminars in the years to come. The Labour Party should actively encourage it, through bursaries and funding. The Young Fabians have, after years of prevarication, affiliated as observer members, and there are hopefully enough voices in the organisation to safeguard that status. There are hopefully now also 30 more voices in the Labour movement to do so more broadly across Young Labour, Labour Students and the trade unions. For better progressive ideas, shared and pooled with like-minded comrades across Europe. If the workers of the world are to unite, it is through participation in these organisations and events.
The next YES event will be the Progressive Youth Forum on the 28th – 30th of September in Frankfurt. We urge all young members who want to become involved in YES to join the UK YES events Facebook group for details of all events here or see the YES website here.
Jade Azim
Phil Freeman
Danny Filer
Charlotte Norton
Marley Robinson
Zainab Mohammed
Hunter C Christopher
Tom Follett
James Potts
Eden Kruh-Atar
Sam O'Bree
Rachael Ward
Adam Allnutt
Marley Robinson
Beth Steventon Crinks
Gertrude Kennedy
Ramesh Mendis
Ruth Day
Aisling Gallagher
Aisha Malik-Smith
Kuba Stawiski
Isaac Stanley
Charlie Hindhaugh
Jack Parker
Stella Tsantekidou
Ben van der Merwe
Value our free and unique service?
LabourList has more readers than ever before - but we need your support. Our dedicated coverage of Labour's policies and personalities, internal debates, selections and elections relies on donations from our readers.
If you can support LabourList's unique and free service then please click here.