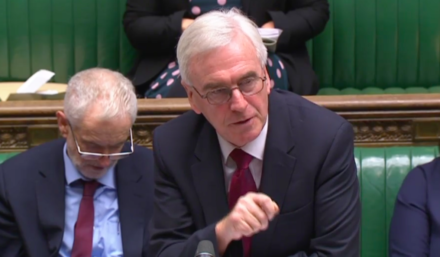 The economy is the subject of the Brexit debate on Day Three. Accordingly, Philip Hammond opened, and his words were entirely predictable. Hemmed in by Treasury forecasts that show any form of Brexit will make the UK worse off than it would be remaining in the EU, Hammond had no choice but to focus on the case for securing a deal in the first place. This is lucky, in a way, as the only thing going for Theresa May's deal is that it is a deal.
"I do not believe that we can afford the economic cost of a no deal exit. But I equally do not believe that we can afford the political and society cost of trying to undo the decision of the British people in the referendum," Hammond told MPs. It is key to the matter of Brexit that this argument could just as well have been delivered by Jeremy Corbyn. The Labour leader would also posit that 'no deal' is too harmful to jobs but that no Brexit may destroy the little faith in democracy still held by voters in places such as Mansfield and North East Derbyshire, which happen to be key marginal seats for Labour.
John McDonnell kicked off his response by acknowledging the importance of Tuesday's meaningful vote and quoting Corbynsceptic Labour MP Hilary Benn. "My final plea to the House is as follows: now is the moment to tell each other the truth. No one is going to get everything they thought they would get…. All of us are going to have to compromise." It struck a conciliatory tone with cross-factional, cross-party appeal – a particularly clever move at a time when MPs and ordinary voters are talking about the benefits of a national unity government. (Not that a Tory leader would countenance the idea, which from their perspective would risk offering credibility and authority to Corbyn.)
The Shadow Chancellor said he would focus on four key points:
Seeking to avoid 'no deal', "either by imposition or by default", which he described as an area of "widespread majoritarian common ground across the House".

Accepting that the Prime Minister's deal is "neither politically nor economically acceptable", and cannot win a majority in the Commons.

Establishing that Labour's plan could unite the country "by addressing the concerns raised in the referendum campaign while securing the benefits of

Recognising "the expression of a worrying concern, given our economy, of Brexit's impact on our communities".
The cross-party appeal soon fell away in favour of a divide and conquer strategy when the Shadow Chancellor aimed fire at the Irish 'backstop'. This is the reason that the DUP – which is holding the government together – will not vote for the deal currently on offer, and therefore has been highlighted repeatedly by Labour spokespersons at the despatch box. Quite understandably. But many are bemused by the identity of the fierce backstop opponents, especially McDonnell, who only in October said he still "longs for a united Ireland".
But more pertinent than an apparent U-turn on British unionism is whether Labour's critique of May's deal stands up. Corbyn, McDonnell and other frontbenchers have been to point out problems with the backstop – primarily that the UK cannot unilaterally withdraw from it, and it could apply indefinitely, as confirmed by the published legal advice. The assumption is that Labour's alternative Brexit plan would not require a backstop.
In the debate today, when the DUP's Ian Paisley asked "if his party would drop the backstop and the Northern Ireland protocol altogether", McDonnell replied: "We would not need the backstop because we want a permanent customs union and a relationship with the single market." Certain terms were used. But Tory backbencher Alex Chalk then raised the matter again: "Wouldn't there still need to be a backstop in any event, as the UK would be outside the single market?" This time, McDonnell replied: "I believe under a comprehensive customs union agreement, it is so much more unlikely there would be any need for that fallback position." The second answer was less definite. And it is this matter that would become of crucial importance if Labour got its preferred option of a renegotiated Brexit deal.
Value our free and unique service?
LabourList has more readers than ever before - but we need your support. Our dedicated coverage of Labour's policies and personalities, internal debates, selections and elections relies on donations from our readers.
If you can support LabourList's unique and free service then please click here.