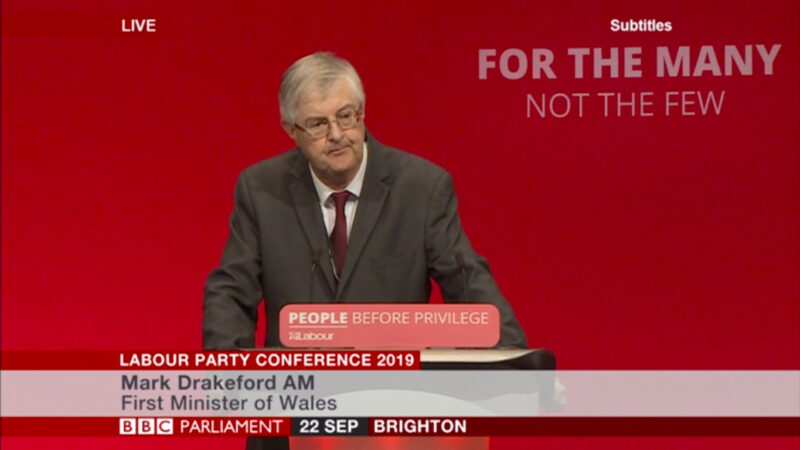 Below is the full text of Mark Drakeford's speech, in which he said: "I can tell you now that my Welsh Labour government will continue to stand up for Wales by campaigning wholeheartedly, vigorously and unapologetically, for Wales to remain in the EU".
Conference, it's always good to be back here in Brighton again. I've had the privilege of attending conference making times, over many years. Well over a decade ago, I sat in the audience here in Brighton, listening to Rhodri Morgan speak from a text I had helped to write.
He described a Labour Wales where we had:
• Abolished prescription charges
• Introduced free breakfasts for primary school children
• Taken hospital catering and cleaning services back into the NHS.
A man sitting next to me turned to his neighbour and said: "For a minute there, I woke up and thought I was at a Labour Party conference!"
Chair – it's become something of a tradition ever since for Welsh Labour First Ministers – for Rhodri Morgan and Carwyn Jones – to come to conference to show just what Labour can do in government.
In Wales, we are protecting people's life-time savings and helping shoulder the burden of paying for care. In Wales, we're standing up for our steel industry in the face of a Tory government which couldn't care less. And in Wales, we are working in partnership with our trade unions to protect workers rights and enshrine our social partnerships approach in law.
I could speak all morning about the difference a Labour government has and continues to make every day in Wales, and how we're making 21st century socialism real. But today conference, I want to explain why a Labour government in Wales can only do the things we want to; can only make the difference to people's lives that we need to make, if we al.so have a Labour government in Westminster.
Because conference, for the last ten long years we have faced a struggle to invest in public services; to reward hard-working employees and to protect the most vulnerable from the cruellest cuts handed down by a Tory government obsessed by austerity and by balancing the books on the backs of the poorest.
But that will be put right when John McDonnell is Chancellor and we have a Labour government in power, committed to social justice and equality.
In Wales, we are determined to play our part in responding to the defining challenge of our time – climate change. We know we have all the raw materials to make the second industrial revolution happen – we have the wind; the water and the waves.
But our efforts to create energy from the sea is being frustrated by the Conservative government, blindly wedded to the market; unwilling to invest to create new opportunities, in which the jobs of the future and the future of our planet go hand in hand.
It was terrific to hear Jeremy to say again in Swansea only a few weeks ago that a Labour government will build the Swansea Bay Tidal Lagoon. Labour governments working with a Labour council to keep Wales at the forefront of the renewable energy revolution and tackle climate change head on.
I turn to Brexit with something of a heavy heart. Three years on and we are no closer to resolving what we were promised would be simple. Conference, ever since the referendum, the Welsh Labour government has called on the UK government to do the right thing.
To recognise the national crisis we're so clearly in and to do the hard work of putting the country back together. To work across the aisle and find a way forward to protect jobs and our economy. And to heal the wounds of division which are splitting this country apart.
Theresa May's priority was keeping her party together. Boris Johnson's is to destroy it and recreate it in the image of Nigel Farage. Not a government, not even a party, but a single issue sect.
They've shut down Parliament and have even told the highest court in the land that they'd do it again if they don't get their way.
The Welsh economy could be ten percent smaller as a result of a no deal Brexit than if we stayed in the EU. A crash-out Brexit could cost up to 50,000 jobs in Wales alone. It would decimate our manufacturing sector in the same way that Thatcher decimated our coal and steel industries.
Wales didn't vote for that. It didn't vote to become poorer.
Faced with the deep and lasting damage this hard Tory Brexit will do to our country, we say it's time to go back to the people in a second referendum with remain on the ballot paper.
And conference, I can tell you now that my Welsh Labour government will continue to stand up for Wales by campaigning wholeheartedly, vigorously and unapologetically, for Wales to remain in the EU.
Brexit has torn at the very fabric of the things we cherish, including the United Kingdom itself. Those pursuing Brexit have used – and misused – the union for their own, narrow and ideological ends. To drive us away from the partnerships we have developed with our European friends over so many years.
We should be under no doubt that the voluntary union of our four sovereign nations here in the UK is under threat if that we do not act. It's at risk of splintering. Replacing one narrow nationalism with another.
To survive it has to be Labour – it can only be Labour – that articulates a different vision for those repelled by the poisonous politics of division and despair.
Our task under a new UK Labour government must be to build a new United Kingdom. One that genuinely works for its four constituent parts. A new political, constitutional and economic settlement for the UK founded on our values – of solidarity, equality and respect.
And if that's what we want to see for our country, we should want to see it in our party too.
As First Minister and leader of Welsh Labour I want to work with you and others across the UK in that task. Our job is to build common bonds between us – wherever they may be.
Through fundamental reform of our United Kingdom, and by remaining as proud and positive members of the EU, we can offer up to communities throughout the UK an alternative to the narrow nationalism and worn-out imperialism bleeding across our politics.
We have bitter and painful experiences in Wales of the vandalism wrought by successive and care-less Tory governments of the past.
We have been at the sharp edge of their economic and social destruction and dislocation.
Brexit risks moving the ground underneath even further if we cannot offer up a positive vision of something better.
A progressive and social democratic response to the easy answers of nationalism and populism across the world.
Let us instead ensure there is a UK Labour government in Westminster working with my Welsh Labour government in Cardiff to build a brighter, fairer future for everyone. Thank you.
More from LabourList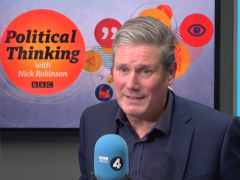 News
Keir Starmer has told Nick Robinson on his 'Political Thinking' podcast that he has not spoken to Jeremy…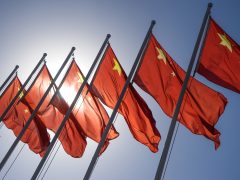 Comment
A recent report by the Labour Foreign Policy Group aims to outline a 'progressive' approach towards China, with…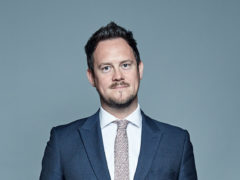 Comment
Gurkhas have served in Her Majesty's armed forces for more than 200 years. They have made an outstanding…