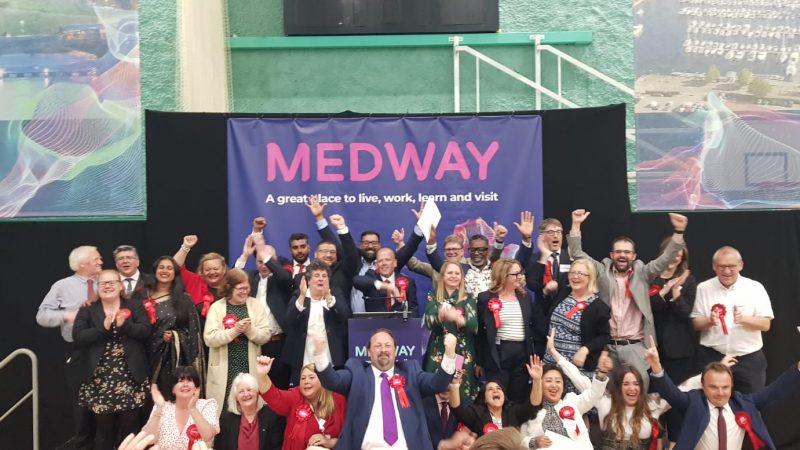 I am writing this from Labour-led Medway. Words I thought I would never write. But, as widely reported across the media, elections results earlier this month delivered an unprecedented victory for the Labour Party in Medway, as we took a council that had been held by the Conservatives since its inception 23 years ago. Sir Keir Starmer described it best – "[We] didn't just get it over the line, [we] blew the doors off", taking 33 seats out of a possible 59.
This was a win that I could not have imagined when I stood as a council candidate in 2011 (unsuccessfully, mind you), or in 2015, when I was first elected a councillor in Gillingham.
2019 looked like it offered an opportunity to shake up the political narrative, with an increasingly unpopular Conservative administration that had slashed Sure Start centres, erected a Japanese peace garden in the middle of a busy roundabout (I kid you not) and spent thousands of pounds of taxpayers' money on a fireworks display celebrating the Battle of Medway, a battle we lost. Not to mention a challenging national landscape that saw us in the midst of austerity, with council budgets depleted and services cut to the bone. 
And yet, while we made gains, the Conservatives secured a comfortable win with 33 seats, while Labour returned only 20.
A mountain to climb for Labour
For those who live here, it can feel like natural Labour territory, and it is often surprising that we have not electorally done better. Medway as a unitary authority partially covers three parliamentary seats, which from 1997 to 2010 were represented by three Labour MPs, but since then the Tories have gained significant ground, enjoying sizeable parliamentary majorities.
The 2014-2015 period saw the rise of UKIP, as Mark Reckless' defection saw Rochester & Strood return a UKIP MP and UKIP candidates hotly contested local council seats. Much of this vote then turned to a Conservative Party led by Boris Johnson, as the rise of the populist right peaked. Demographically, Medway is slowly but surely changing, boosted by movement out of London, but the core electorate remain the same; an aspirational working class that is representative of many across the country, a voter base that Labour needs to win over. So, what happened in 2023?
Out-organise your opponents
It would be easy, and indeed simplistic, to credit Labour's success in Medway to a national swing, which saw the Conservatives lose ground across the region. But closer analysis of the result shows that the Tory vote share remained stable at 34%, as it was in 2019, while Labour's jumped from 27% to 38% in the same time period. 
The truth is the vision to win Medway began four years prior (in a Burger King in Chatham's former dockyard of all places!). At a time when Liz Truss and 'lettuce' had not been uttered in the same sentence, the term 'partygate' had no relevance and the Conservatives were riding high following their general election success, key activists, smarting from yet another defeat, decided that 'enough was enough' and the Winning Medway strategy was born.
The premise was essentially a simple one, out-organising our opponents and ruthless targeting in our marginal wards. The fundamentals of the strategy were data-driven based on previous election results and close analysis of the opportunities. But delivering it required a culture change alongside buy-in from activists, councillors and the wider leadership.
The strategy was presented to our structures across the borough and a roadmap for how we get where we want. We were honest with everyone involved about what would be required, the hard work and dedication, as well as how our targeting would work. Selling the vision was the starting point, but following that, there were key elements that were needed:
Securing funding for a borough-wide organiser, something we had not achieved in every election cycle and was fundamental to our success.
Ensuring we had a strong pool of councillor candidates that met our gender balance requirements but also represented the diversity of Medway; we looked to the wider community for experience and encouraged those already active in civil society to join the party, almost three years in advance.
Establishing a culture of regular campaigning monitored through candidate contracts.

 

Capturing our core messaging, strapline and five key pledges to take to the voters – keeping things simple and memorable.
Preparing for upcoming boundary changes so we knew just what to expect and their potential impact on our vote.

 
Crunching the data
Campaign training was provided throughout the period, with activists encouraged to use the technology on offer from the party, as well as attend the Campaign Technology team's training – including, Contact Creator, Dialogue and the Doorstep App (with the exception of polling day, our entire doorstep campaign was paperless). Our postal vote sign-up operation was second to none, and our literature was all similarly branded, requiring central sign-off. 
Data supported all our core decisions, including how and who we targeted and how we resourced polling day. As Labour's position in the polls changed, the temptation to expand our reach was high, but we refused to be distracted ensuring discipline.
For a large part, the campaign remained under the radar, and we quietly plugged away at canvassing regularly, building capacity and creating momentum. But the closer we got to polling day, the pressure to win intensified. Visits from the Labour leader and shadow cabinet members added attention, but we knew that we could not afford to take any vote for granted and we did not waiver from that focus until polls closed on May 4th.
Lessons learned
The victory this month was years in the making. It required hard work and dedication and a relentless and unapologetic desire to win. It wasn't an accident, nor was it fated. 
However, Medway Labour has learnt what it takes to campaign and win, and it's not a lesson we will be forgetting any time soon.
More from LabourList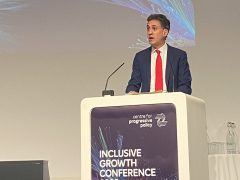 Daily email
With the Tories doubling down on anti-green attacks, Ed Miliband gave Labour's 'green jobs and lower bills' messaging…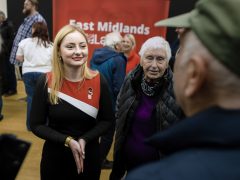 Comment
I was on day four of my honeymoon in Suffolk when I got the call to say Peter…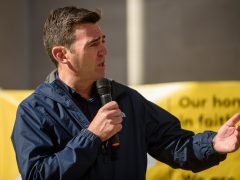 News
Andy Burnham has said "there is an argument for a basic income" and proposed overhauling inheritance tax to…