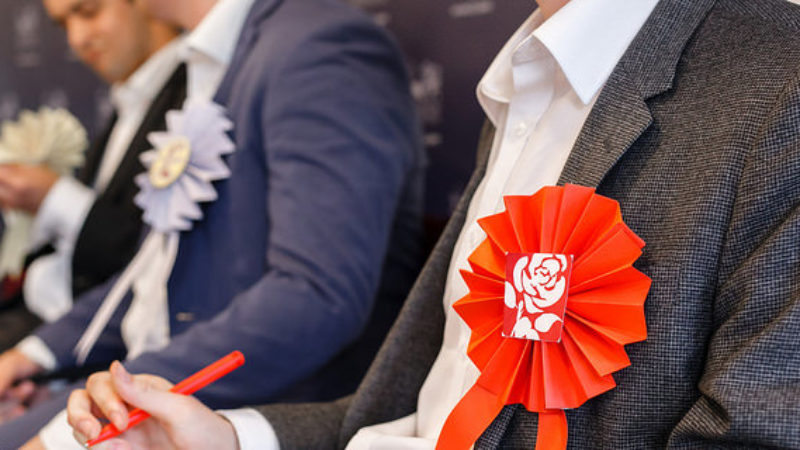 Labour policy chiefs are recommending the party makes more than 100 changes to a draft blueprint setting out its detailed policy programme.
LabourList has obtained a leaked list of 121 recommended amendments to Labour's current draft policy platform, which will be thrashed out by party representatives at a summit later this month. Some of the most notable revisions recommended for "endorsement", which range from minor wording tweaks to policy updates and announcements since documents were first drafted, are summarised below.
Proposed additions include commitments to ending "punitive" benefit sanctions, making Brexit work better by removing UK-EU "administrative burdens", making the NHS app a "one-stop shop" for patient information, extending freedom-of-information laws, supporting council housebuilding, reforming "suspicion-less" stop-and-search at protests, a smoking crackdown and nationalising railways not only as contracts expire, but also if firms breach contracts by failing to deliver.
Another change reaffirms Labour's commitment to workers' rights reforms. But a policy chiefs recommend cutting a reference to "endemic low pay, insecurity and lack of progression" in care, hospitality and retail, for fear of "alienating" firms when Labour must be "demonstrably the party of business".
Labour's joint policy committee, the steering group overseeing the party's national policy forum process, is encouraging the party to adopt the changes, initially submitted by a range of party representatives.
Other potential amendments, such as high-profile bids to make Labour back universal primary free school meals or proportional representation, will still be debated, but their chances of success now appear more limited.
If approved at the final meeting of NPF representatives in Nottingham the weekend after next, policy positions will be voted on at annual conference and then form "part of the final party programme", according to other internal documents.
Yet they still may not necessarily make the general election manifesto, widely expected to be a slim document. LabourList recently published a detailed summary of the 86-page draft policy programme the amendments relate to.
End 'punitive' benefit sanctions
A proposed extra line on the party's welfare reforms reads: "Labour will do this by overhauling the current unfair and punitive system and end punitive sanctions which strip away people's dignity, trap people in a cycle of low pay, insecurity and poverty."
It is not clear if this means scrapping sanctions per se or only sanctions deemed "punitive", however.
Tackle Brexit administrative burdens and food trade barriers
Remainers in the party will welcome proposals to strengthen language on EU ties, following recent comments by Shadow Foreign Secretary David Lammy on reconnecting with Europe being a "number one priority" in relationships with global allies.
The draft document's initial commitment to "begin to develop long-term structures to ensure cooperation" with the EU on areas like food security and protecting supply chains has been revised. The changed version explicitly highlights "protecting supply chains by removing trade barriers in food manufacturing and supply".
Elsewhere, a section on a stronger trading relationship could be changed to explicitly back "the reduction of other administrative burdens".
Nationalise railways where firms break contracts
One recommended amendment, first filed by rail union leaders, proposes that Labour's plans for rail nationalisation be changed so that the railways will be brought into public ownership not only "as contracts with existing operators expire" but also when contracts are "broken through a failure to deliver".
Some on the left will welcome the clarity about wider grounds for potential public ownership, though even the Tory government has stepped in sometimes to take over lines where firms have breached contracts.
An unchanged section of the document says the party's approach will be "consistent with our fiscal rules", however.
Make NHS app a 'one-stop shop' for patient information
Labour would make the NHS app a "one-stop shop for health information", with all health and care providers expected to "publish into it". The move reflects policies unveiled as part of Labour's health mission in May.
This would help "break down barriers" between primary, secondary and tertiary care and let patients see it in one place. Labour would set "clearer" directions for data system procurement to ensure they are "genuinely interoperable between providers and with wider public services".
Crack down on smoking
A detailed section is due to be added promising a "roadmap to a smoke-free Britain". It suggests growing Labour confidence on the issue, and similarly reflects changes outlined in Labour's health mission briefing.
It reads: "The first steps of this will be to make all hospital trusts integrate 'opt-out' smoking cessation interventions into routine care. We will also legislate to require tobacco companies to include information in tobacco products that dispels the myth that smoking reduces stress and anxiety.
"We will ban vapes from being branded and advertised to appeal to children and we will work with local councils and the NHS to ensure they are being used as a stop smoking aide, rather than a new form of smoking."
Support council housebuilding
Another amendment fleshes out Labour's housebuilding plans, saying that councils that do not have their own housing stock will be "supported to start building homes".
This expands on the aim set out in the initial document of putting "genuinely affordable housing and in particular council housing".
Scrap the government's Rwanda plan
Another amendment updates the party's stance on the government's Rwanda deportation scheme, reflecting the party's already-announced decision to explicitly back scrapping the policy.
The initial document said the party's approach would be to "[redirect] spending away" from the "unworkable and unethical" scheme, but an amendment recommended for immediate acceptance says the party will instead "end" the scheme.
Reaffirm commitment to the new deal for working people
An explicit commitment to Labour's new deal for working people document, which sets out wide-ranging workplace reforms, may relieve fears in some parts of the union movement that they could be ditched.
The added line explicitly highlights "our plan for better laws to enforce workplace rights, as set out" in the document. Another line on ending fire-and-rehire and establishing a single enforcement body adds "ensuring and restoring independent trade union and TUC representation".
Unions will welcome another amendment explicitly highlighting one policy in the new deal document, namely proposals to "introduce statutory rights for trade union equality reps". They currently lack the legal rights to paid time off that other specialist reps such as union learning reps and health and safety reps are entitled to.
Have higher food standards, cheaper uniforms and more creativity in schools
Amendments on schooling include plans to "encourage" schools to have high-nutrition, locally sourced ingredients "wherever possible".
Another proposes strengthening statutory guidance on school uniforms to cut costs, while a third says children's "broad and rich" school opportunities should include "creative activities such as learning an instrument".
Offer faster devolution to avoid plans looking a 'failure of ambition'
An existing section says local leaders can bid for central government funding deals in the "medium term", but a proposed change is to remove "medium term".
The explanatory comment notes that some combined authorities already have such deals and adds: "Indicating further settlements would only come forward in 'the medium term' risks Labour being accused of a failure of comparative ambition." It notes that other sub-regions that meet the criteria set out "should not be blocked from bidding for similar settlements at the earliest opportunity".
Another amendment says that the current government's "incremental 'deal-making' approach" will be replaced by a "more strategic, sectoral approach".
Change suspicion-less stop and search
One amendment adds Labour's position on the controversial Public Order Act, stating that the party believes measures in the act like suspicion-less stop and search at protests and the offence of being equipped to lock on "should be removed by the government now". Labour in government "would seek to change these provisions", it says, but it does not commit to remove them.
A separate amendment would see Labour commit to ensuring LGBT+ crime is "taken seriously" by the police and public bodies, "so we do not see biases leading to more victims". This follows on from plans outlined in the initial document to "strengthen and equalise" the law on hate crime and extend the aggravated offences regime to all five protected characteristics.
Expand freedom of information rights
It has also been proposed that Labour should add to existing plans to expand the Freedom of Information Act. The earlier document said the party would "ensure all outsourced services are… subject to the Freedom of Information Act, however they are delivered".
An amendment would see the act also extended to publicly-funded employers associations and gives the example of the Local Government Association.
Scrap lower minimum wage for over-18s but keep for under-18s
An amendment has been put forward to the section on ensuring the minimum wage is a "real living wage that people can live on" stating that Labour would "end age discrimination for adults aged 18+ in receipt of the minimum wage" – plans first outlined last summer.
But the amendment does not propose to end age discrimination for workers under the age of 18, unlike the party's 2019 manifesto, which set out plans to introduce a "real living wage of at least £10 per hour for all workers aged 16 and over".
Create a 'new generation of community energy owners'
An amendment has also been put forward building on Labour's plan to transform the UK into a "clean energy superpower", stating that the party "will expand renewable energy capacity through creating a new generation of community energy owners".
This echoes plans set out in Labour's energy mission last month, which included a "local power plan" that will see GB Energy, the party's proposed publicly-owned clean energy generation company, "partner with energy companies, local authorities and communities to build cheaper, cleaner power in villages, towns and cities".
Labour local government leaders have also put forward a separate amendment emphasising local government's role in the transition to net zero and stating that a Labour government will "learn from this and work in partnership with local government to harness the power of local leadership".
Make NHS the preferred provider
Several changes are proposed in a section on the NHS. One highlights that integrated care systems (ICSs) will be "empowered to act as a bulwark against privatisation" and says Labour would make the NHS "the preferred provider of commissioned healthcare services".
Another amendment says Labour would take advantage of its world-class life sciences sector, university strength and "unique" large NHS dataset to adopt new innovations and technology faster. "We will develop a comprehensive innovation and adoption strategy, working with industry, patients and ICSs."
Legislate to protect children online
Another amendment would beef up Labour's position on protecting people online, especially children.
The initial document had stated that the party would ensure there is "robust regulation that protects people from online harms".
The amendment would change the text to "robust legislation backed by effective enforcement". The amendment adds that the legislation "will include a focus on making sure children are protected from grooming, harmful content, bullying and online abuse".
Clamp down on tax havens
One amendment extends a clampdown on tax avoidance to highlight the activities of businesses as well as individuals and also to cover "the use of offshore tax havens". Meanwhile, Labour's plan to close the "loopholes" in the windfall tax on oil and gas firms is also added to the document.
Elsewhere, a plan to ensure the tax system is "fairer" treating different forms of income sees the proviso added "whilst ensuring the UK remains competitive and incentivising investment".
Stop firms paying foreign workers less
It has also been proposed that Labour adds scrapping rules that allow overseas workers coming to the UK for vacancies on the shortage occupation list to be paid 20% less than the going rate for those jobs – as the party announced it plans to do earlier this year.
An explanatory note alongside this amendment states that "paying some workers less than others is unjustifiable and entrenches inequalities".
Crack down on loopholes around freezing Russian assets
Labour has added plans to "swiftly" close loopholes in identifying frozen Russian assets, as seizing and repurposing them is "only possible if such assets can be identified".
A new section also says the party "must ensure" the completion of the Register of Overseas Entities, with many companies reportedly missing the deadline so far to confirm beneficial owners of land. The government calls the register "key" to tackling economic crime.
Focus on green jobs – and 'decent' ones
Labour has amended its plans for the energy market to place more emphasis on job creation. The earlier document said the party would "fundamentally reform our system of supply, generation and transmission and distribution so that it delivers cheaper bills for consumers and businesses, clean energy and energy security". An amendment adds that the party's reforms will also create "decent jobs".
This comes in the context of recent criticism by union leaders of Labour's plans to block all new domestic oil and gas projects, including from GMB general secretary Gary Smith who argued that "strangling" the North Sea oil industry would be "bad for jobs" and "bad for the environment".
A separate amendment – backed by the GMB – states that Labour would "tackle the damage done by the Conservatives' failure" to respond to the Inflation Reduction Act in the US and the EU's green deal industrial plan, "while learning from the success of those industrial policies that are delivering investment in manufacturing".
Attack the SNP
Perhaps unsurprisingly given the changing political winds in Scotland in recent months, several amendments have been put forward attacking the SNP's record in government.
One amendment proposes to note, alongside accusations that the Tories have put the economy "on a path of managed decline", that the SNP's "neglect of the economy has let productivity stagnate and inequality grow" in Scotland.
Another also widens Labour's attacks on the Conservatives to the SNP – "to reflect Scottish devolved context" – amending the text to read: "Unlike the Conservatives [and] the SNP, we will not offer short-term, sticking-plaster policies, but instead we will deliver a decade of national renewal."
N.B. This article has been updated to remove an amendment on Labour's wording about business, as a party source told LabourList it had only featured in an earlier draft of the amendment list and had not in fact been recommended. No further detail was given.
More from LabourList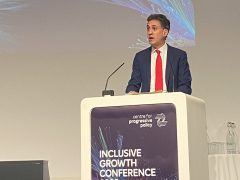 Daily email
With the Tories doubling down on anti-green attacks, Ed Miliband gave Labour's 'green jobs and lower bills' messaging…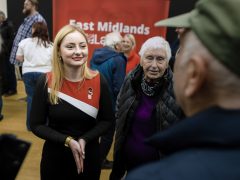 Comment
I was on day four of my honeymoon in Suffolk when I got the call to say Peter…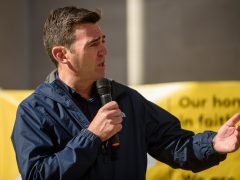 News
Andy Burnham has said "there is an argument for a basic income" and proposed overhauling inheritance tax to…