Times are tough.  We get it.  We live with it every day, and can't even escape the difficulty when we switch on the telly – watching the news is rivalled only by Enya's back catalogue for its unbridled, baffling and relentless misery.
British industry, despite a competitive fiscal environment, continues to face stiff challenges.  Our once world-beating manufacturing and engineering industries suffer permanent competition from the Far East who make things cheaper and faster than we do.  It's a trend that shows no sign of halting.
There is a view that we should 'go back' to the things we used to excel at – making stuff.
This country invented trains but we now languish behind countless major economies that were rolling out high speed trains years ago.  We used to make the biggest, best ships in the world.  Now most companies buy their vessels from the shipyards of South Korea and much of our maritime skill is slowly being forgotten.  We used to build cars. My God, what cars they were, roaring off midlands-plants onto forecourts the world over.  Now, even some of our most beloved and iconic cars are built in foreign-lands, with foreign Governments reaping the awards.  Britain still hosts plants belonging mainly to American and Japanese firms, where we diligently assemble the parts like skilled Ikea shoppers, but making cars from scratch is a dying British tradition.
What we've lost is not the dedicated, ready-and-raring-to-go workforce, nor is it the desire to compete.  What we've lost is innovation.  We simply don't think as big as we used to.
There will always be a place, an important place at that, for skilled workers doing the kind of things we've always done well, and we do need to put greater emphasis on manufacturing the things we need, but where we've excelled in the past is pushing the next big revolutionary thing.
Twenty years ago, the next big thing – the World Wide Web – was invented by a Brit.  But it was the Americans who unleashed their zeal in making it work.  Google, Facebook, Youtube, Twitter – even the earlier incarnations of Yahoo and Myspace, are all American.  It is their economy, not ours, that has benefited most.
All too often, we invent wonderful, pioneering things and then simply stop.  We have become a country that takes its foot off the pedal.
Now we can't undo the damage that has already been done to British industry.  Instead we need to ask what's next in engineering? What's next in manufacturing? What can we do now that every other country will be trying to do in the years ahead?  The battle is for the future economy, not the present one.
Maybe, just maybe, the answer lies in the stars.
Now I know space is a business sector that our American cousins have led the way on through heavy but now vastly reduced public investment, but Planet Earth is only at the Altavista stage of developing a space economy.  The Google age has yet to begin.  It won't be long before we think of the space shuttle as primitive and quaint.
Space is currently worth £8bn to the UK economy, yet only receives £310m in public investment (0.73% of global public investment in space technology).  It is the most private of UK industries and it's growing at a rapid 15% per annum.   By 2020 it will support 100,000 UK jobs.  But with the exception of the brilliant Skylon project (see below), our expertise is essentially an export; we give it to the European Space Agency and occasionally to NASA, but we don't keep much of it for ourselves.  Even Virgin Galactic, a revolutionary, pioneering company with British roots, chooses to base itself in the deserts of America because they take big ideas seriously, and we don't.
This week the Institute of Directors published a fascinating report encouraging the UK to invest in a Spaceport.  It sounds bonkers doesn't it? Well it's not.  It really is not.  As commercial space travel becomes reality, taking a lion share of a potential £16bn market would provide a major boost to our economy and show that Britain's ambition is back.  To boldly go where only New Mexico has gone before.
And unlike the costly idea of a new £2bn hub airport in London, we could build a Spaceport for as little as £100m – much of which could be funded privately – by extending and renovating the airstrip of one of the many underused RAF bases around the country.  We should do it – before a rival European economy does.
And it's not, by the way, an idea that will solely benefit the rich few lucky enough to be able to afford the £125,000 price tag of a trip to space.  Nor will it just provide skilled jobs through a new infrastructure project.   A UK firm is manufacturing technology ('Skylon') to deliver payloads into space via a reusable system that can take off every 48 hours. That's good old fashioned British innovation, but if we don't have the infrastructure to use it ourselves, then we are simply exporting a product not creating a new industry for the benefit of our country.  If we're not careful, we will once again be taking our foot off the pedal not because we don't have the ideas, but because we don't have the courage to see things through.
Several airlines are already pioneering new technologies that will allow holiday makers to travel from the UK to Sydney in well under 2 hours – via space.  If current technological advancements are maintained, we will see sub-orbital holiday flights becoming mainstream within decades.  If others are ahead of the game, we will lose out.
We must invest in building these technologies ourselves, and have the infrastructural capacity to use them commercially, then we can develop and create the markets that will soon dictate how we travel.  The brightest and best science companies will be desperate to invest here, creating jobs and boosting the economy. Then, not only will Britain's pride as an innovative, groundbreaking country be restored, but we will reap the economic benefits for generations to come.
More from LabourList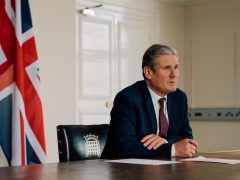 Comment
While it will be a relief to see the back of Boris Johnson, the Labour Party must not…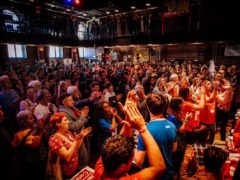 News
Momentum members have elected a new national coordinating group with candidates on the Momentum Organisers slate winning a…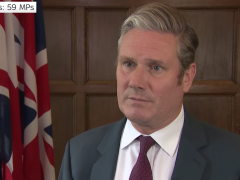 Video
Keir Starmer has declared that replacing Boris Johnson as Prime Minister with another Conservative MP is "not the…