A few days before Christmas, the Government announced the latest local government finance settlement for the next two years. Not content with the unprecedented cuts already in place; this settlement signals tougher times ahead for councils who will have to make impossible choices over which services to save and which services to cut. Some areas will face an extra 8.8% cut – a so-called 'bargain' for town halls.
And if we were in any doubt that the Government has failed to grasp the reality of these cuts; on the very same day that this announcement was made, they also gave councils 50 suggested ways to save money, which included leasing space in libraries to open coffee shops. But they have failed to realise that the scale of the cuts mean that many councils are faced with closing libraries altogether.
Predictably, said Eric, the doom mongers had been 'issuing dire warnings of the end of the world as we know it'. Undoubtedly making reference here to Birmingham's Labour Leader, Sir Albert Bore, who warned back in October that the £600m that must be taken from Birmingham's budget would be the 'end of local government as we know it'. But Eric glossed over one crucial point. If the Government continues with this scale of council cuts, within a generation, local authorities will be unable to provide any services at all, beyond adult social care and children's services (look at the Barnet 'Graph of Doom' for a visualisation of the scale of the challenge). With current levels of funding we face a real possibility that some local authorities will become unviable in the near future.
The government claims that the additional cuts are fair; concerns that poorest councils or those in the North would suffer disproportionately were 'wide off the mark'. While a cursory glance at the figures suggests that the Government has been a bit smarter in the distribution of these cuts; we cannot escape the fact that this only comes on top of previous rounds of cuts – which were vastly uneven. Those councils with the greatest deprivation and need were charged with the biggest cuts in 2011/12. Hackney, Manchester, Liverpool, and South Tyneside all had to take the maximum 8.9% cuts. Windsor and Maidenhead, Wokingham, Richmond upon Thames and Buckinghamshire all faced cuts of just 1% or less. Labour councils in poorer areas were hit hardest.
In exchange for cuts, the government promises greater flexibility and power to spend and raise funds. But we know that the supposed incentives will be tough for many Labour authorities. From April, councils will be able to keep a proportion of the business rates generated in the area. For some Labour councils – such as Manchester, with the weight of a City Deal behind them – this is a welcome measure. But for councils in the most deprived areas, which face both high levels of demand for services and weak local economies, this additional power isn't much of a sweetener. Their ability to raise finance locally is limited and they benefit greatly from redistribution.
With the Coalition having passed its midway point, Councils will be thinking about whether a future Labour government might be able to give local authorities a better deal. But we already know that that restoring public spending to the levels before the 2010 election is just not possible; there simply isn't the money that there once was. In any case, and as some have argued, the dramatically increased funding we saw in the noughties didn't get the dramatically increased results Labour hoped for.
Labour therefore must be in a position, before we head into the next election, to articulate our alternative. When activists are out on the doorstep we need to be able to tell hard-pressed families how a Labour government would deliver fairness and equality for those that are struggling most. This means difficult choices over where to spend and where to save; but crucially, we need to make choices over the extent to which we advocate localism and greater devolution to local government as the best way to achieve this.
On the one hand we want to protect the poorest communities – which may mean setting out our vision of universal service provision and the minimum standard. On the other hand however, localism, localised funding and tax raising powers and greater freedoms to spend will mean trusting councils and communities to make decisions over what is right for them without the central prescription and ring-fencing the previous Labour government felt more comfortable with. There is a clear tension here for Labour. We need to work through the challenge of allowing greater freedoms for local areas to act, whilst ensuring that the most deprived areas don't get left behind. What we know for now is that this level of cuts is not sustainable for the future.
Laura Wilkes is a Policy Manager at Local Government Information Unit. She writes here in a personal capacity.
More from LabourList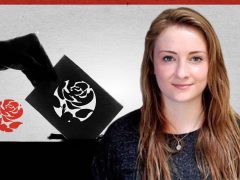 Comment
As a junior doctor working in the coronavirus wards, I have witnessed socialism in action. Health workers of…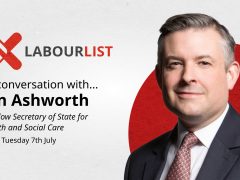 Video
Join us at 6pm on Tuesday, July 7th, for our latest "In conversation with…" online event featuring LabourList…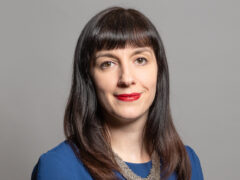 Comment
Rishi Sunak will deliver a statement in the Commons on Wednesday. Detail has been thin on the ground,…