It would be easy to be dismissive of Labour's proposed welfare cap on policy grounds. It would be equally easy to hail it on political grounds, as a brilliant landgrab of populist territory where Labour tends to fare badly. But either of these responses would be missing the point.
Certainly, in terms of its stated objective of limiting 'structural' (as opposed to cyclical) increases in benefits spending, the cap is a solution looking for a problem, as there hasn't been a 'structural'  increase  for a very long time. The idea that welfare is on an unsustainable upward trend is at best a folk memory from the postwar decades, with zero relevance to current circumstances (see chart).
The decade prior to the last recession saw the longest period of stability in welfare expenditure since Beveridge. Given that this was achieved without the gimmick of a cap, the question naturally arises, what is the point of this policy?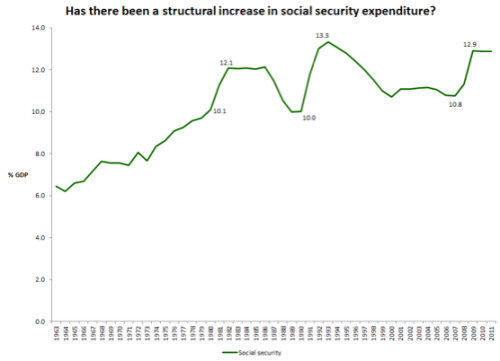 Source: National Accounts (Blue Book) Central and local government social benefits other than transfers in kind, excluding employee benefits and student grants. [There was a calculation error in the data underlying the version of the chart originally published. Declan has now corrected this. The correction does not change the picture of overall expenditure trends]
But the cap is more about sending a signal on future spending intentions than upgrading the armoury of fiscal discipline. Policy wonks might be well advised not to probe to deeply into the detail of a policy which is essentially symbolic in intent. Whatever fiscal stance Labour adopted were it  to form the next government, the idea that it would not have to make further reductions in spending is implausible. Better to get that message across now, both to the public and the party faithful.
And as a communication device, the cap really can't be faulted.
If Labour wins in 2015 the choices it will face will not be pretty. It will be almost inevitable that some decisions will run counter to values that are of fundamental importance to party members. But one of the clear messages from Ed Miliband's speech today is that Labour won't follow the coalition's strategy of selling cuts by pretending that everyone who is losing out deserves to suffer. 'I will tell you that there is a minority who don't work but should. He [Cameron]  will tell you anyone looking for work is a skiver.' This reframing of a toxic welfare debate deserves to be warmly welcomed. Less welcome is the unimaginative spinning of the speech in the very terms Miliband rejects – exemplified by today's Mirror coverage.
Whether the sort of aspirations on housing and the Living Wage set out in the speech are likely to  cushion the impact of cuts by reducing the need for welfare spending is open to question: these are longer term aims which wouldn't have much effect over the three year welfare cap period (even if successful). But the reasons for shifting focus to inequality before taxes and benefits, as Miliband's speech aimed to do today, go beyond mitigating the impacts of deficit reduction.
Addressing underlying inequalities is after all a large part of what social democracy is about. It can be argued that the sort of proposals outlined in the speech are inadequate given the scale of the task. But if that's the case, the imperative is to come up with better proposals, not to dismiss the objective.
Value our free and unique service?
LabourList has more readers than ever before - but we need your support. Our dedicated coverage of Labour's policies and personalities, internal debates, selections and elections relies on donations from our readers.
If you can support LabourList's unique and free service then please click here.