There's support for the government investing more money in jobs and economic growth, even if that leads to higher short term borrowing, our LabourList/Survation survey has confirmed.
This question is the third in a set of polling data which we'll be revealing each day this week on LabourList, as we seek to find a way towards "Securing Economic Credibility" for the party in a way that is also true to Labour values and electorally viable.
47.7% of voters say that they would be happy to see higher borrowing if it meant higher spending on creating jobs and stimulating economic growth, whilst 39.2% said that they would prefer the government not to borrow more – even if that meant less investment in jobs and growth. Unsurprisingly Labour voters were most supportive of investment in jobs and growth (it having been a mantra for the party over the past two years) with 70.6% backing such a course of action. Yet a significant 22.2% of Labour voters would prefer the government to avoid borrowing more – even if that means less growth and fewer jobs.
A third of Tory voters (33.9%) would also like to see investment in jobs and growth funded through borrowing, but that is dwarfed by current Lib Dem voters, more than half of whom (51.6%) would like to see greater investment, even if that means higher borrowing. Such a strategy is backed by all age groups, all social classes and voters in the vast majority of regions and nations.
Clearly there is a large constituency for a short term boost to the economy funded by a short term increase in borrowing, if any party is willing to take the leap. Although Ed Balls has made clear in recent days that he believes that what the economy needs right now is investment in jobs and growth, both he and Miliband have been wary of making the case for increased borrowing. And whilst Balls said at Reuters earlier this week that he would be in favour of an infrastructure/capital-spend stimulus if he were in the Treasury now, he has refused to be drawn on whether or not he'd pursue such a course of action in two years time.
What is clear though is that Labour's discipline in criticising Tory cuts as "too far too fast" appears to have had an impact on the public, who are open to the idea of a slower rate of deficit reduction (funded by borrowing) if it delivers – to quote another Balls mantra – growth and jobs. The question is whether there will still be substantial demand for such investment in two years time – and if so, whether any party will be brave enough to make the case.
Survation interviewed 1,121 adults aged 18 and over via online panel on May 24th 2013. The results have been weighted to the profile of all adults, and the data for the question referred to in this post can be found here
More from LabourList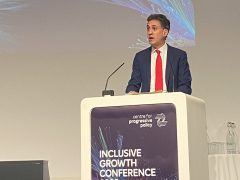 Daily email
With the Tories doubling down on anti-green attacks, Ed Miliband gave Labour's 'green jobs and lower bills' messaging…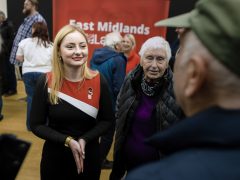 Comment
I was on day four of my honeymoon in Suffolk when I got the call to say Peter…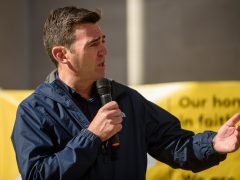 News
Andy Burnham has said "there is an argument for a basic income" and proposed overhauling inheritance tax to…